Warsaw's skyline, which in recent years has become one of the most impressive in Europe, continues to rise. A number of office buildings, with a combined total leasable area of around 760,000 sq metres, are currently under construction in the city, and almost half of them are skyscrapers. Warsaw's current highest office building, Ghelamco's Warsaw Spire will be joined by more skyscrapers: Varso Tower, Karimpol's Skyliner, Golub Gethouse's Mennica Legacy Tower or Ghelamco's two other buildings —  Warsaw Hub and Spinnaker Tower.
"Warsaw boasts a number of office towers under construction, which will change the capital's skyline significantly," Mateusz Polkowski, Head of Research and Consulting, JLL, told Emerging Europe.  "The main location of interest in terms of high buildings is the area around Daszyńskiego roundabout. There's land, excellent public transport connections and a central location. It is the most sought-after office hub in Warsaw, a place eyed-up by large, global brands, which so far guarantee the quick leasing of such buildings. Office towers are particularly interesting for companies looking for prestige, state-of-the-art office premises, expansion options, advantage in terms of recruiting processes and willing to pay a premium."
Tallest of all the new developments is the Varso Tower, which is being erected closer to the Palace of Culture and Science – one Warsaw's most recognisable landmarks – on the corner of Chmielna Street and Jan Paweł II Avenue. When completed, the Varso Tower will be the tallest building across emerging Europe. At 310 metres, it will be as tall as London's Shard.
"I am convinced that the countries of the CEE region will see a growing number of equally spectacular projects being developed within the next decade or so," Stanislav Frnka, country CEO at HB Reavis, tells Emerging Europe.
"Our main goal is for the buildings to stand the test of time in terms of architecture and functionality and bring a new quality to the office market but also, despite their scale, to be very open to their surroundings. Varso is our next step. We are happy to make it, creating a top-quality project that is not only prestigious, perfectly fitted and flexible but also incredibly empathetic towards the city. With Varso we are creating a new, friendly area of Warsaw: designed with people in mind, addressing their needs during and after office hours," he adds.
This shows that the approach started by Ghelamco is gaining in popularity, and increasingly more developers plan on revitalising less developed areas in CEE cities.
"Plac Europejski [European Square] and Warsaw Spire have breathed new life into the previously derelict and inaccessible parts of Warsaw's post-industrial district. Now it is one of the most beautiful places in the capital of Poland, with its bold and modern architecture and its attractively designed public space," Jeroen van der Toolen, head of Ghelamco in Central and Eastern Europe, wrote in an editorial.
Bringing abandoned areas back to life is important but so is the height, especially in Warsaw, which built its first skyscraper over 100 years ago — completed in 1908, PASTa was 51 metres high and was the tallest building in the Russian Empire. In 1934, Warsaw could boast another tower, 66 metres tall — the Prudential building.  Joseph Stalin's gift – the Palace of Culture and Science — has been Warsaw's highest building since 1955.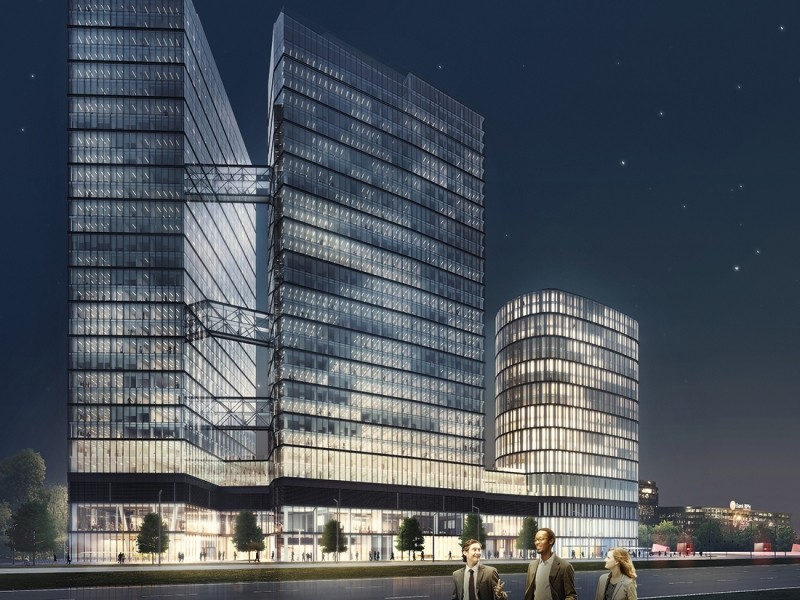 For a number of developers, the idea of taking part in a quest to construct the tallest building and contributing to the city's skyline is exceptionally tempting. Equally tempting might be a potential return on investment as affluent tenants are lured by prestige, high-quality and breath-taking views. According to Knight Frank, rates in Warsaw's city centre can reach 19-23 euros per sq metre a month compared to an average of 10.5 euros in other parts of the city. Centrally located top floor offices command even higher prices.
"We have successfully operated in Warsaw for over ten years," says HB Reavis' Mr Frnka. "This city offers us the best conditions for growth. Urban planning that allows high-rise developments, as well as favourable market conditions, including firm demand from customers of various sizes and from various industries. Both the largest corporations and BPO/SSC companies as well as local businesses. This is definitely the place for us."
(main photo: Varso Tower, courtesy of HB Reavis)