Russia's war on Ukraine has brought home the importance of investment in Central and Eastern Europe's railways. A new hub in Poland could be key to making those investments work.
In a study first published in 2018, the Vienna Institute for International Economic Studies (wiiw), a think tank, put forward its ideas for the construction of what it dubbed a "European Silk Road"; a great leap forwards in infrastructure investment in Europe. At its heart is a high-speed railway network that would connect the industrial centres of Western Europe with the less developed east of the continent.
---
---
A response to China's Belt and Road Initiative (BRI), wiiw's European Silk Road was a call for Europe to create a coherent infrastructure network and transport strategy that can leverage the continent's full economic potential.
The Vienna Institute believes that it should not rely on the BRI to achieve this, but invest itself to ensure that it suits European priorities.
Since the Vienna Institute first made its proposals, Europe has been hit by two game-changing events: the Covid-19 pandemic and Russia's war on Ukraine. The latter in particular has focused minds, especially in Central and Eastern Europe. While the need to improve both East-West and North-South connections across the region has been apparent for decades, Russia's war on Ukraine has led to a profound rethink amongst policymakers of what the continent's transport priorities should be moving forward.
"What's needed is quick action and fresh money; grants and not necessarily loans," says Mario Holzner, executive director of the Vienna Institute.
In Ukraine itself, the resilience of the country's railways has been a key part of its response to Russia's invasion, even making something of an international star of Oleksandr Kamyshin, who heads the country's railway network.
However, the Russian blockade of Ukrainian Black Sea shipping routes – which for months threatened global food security until the UN brokered a deal during the summer allowing Kyiv to resume grain exports – brought home the need to improve cross-border railway connections, in order to provide an alternative to the sea.
Ukraine exported around six million tonnes of grain a month before Russia launched its invasion, but volumes fell to about one million tonnes by May, with Kyiv forced to transport grain by train via its western border. Bottlenecks arose due to the different rail gauge used in Ukraine, dating back to the Soviet era, which meant that shipments needed to be transferred to new wagons at the country's border with Poland.
Europe reacted admirably. In November, the European Commission, the European Investment Bank (EIB), the European Bank for Reconstruction and Development, and the World Bank Group, announced that they had mobilised one billion euros for what have been dubbed Solidarity Lanes to increase global food security and provide a lifeline for Ukraine's economy.
This came just a day after the European Parliament approved two new EU road transport agreements which temporarily facilitate road freight transport, allowing Ukrainian, Moldovan and EU hauliers to transit through, and operate between, each other's territories without the need for related permits.
Long term solutions are needed
As welcome and necessary as these developments are, their somewhat ad hoc nature has highlighted the importance of investing for the long-term in better connectivity and faster means of transport – particularly rail – between non-EU Eastern European countries and the EU.
More promising for the long-term has been the EU decision to extend its planned network of roads, railways, airports and water infrastructure (known as the Trans-European Transport Networks, or TEN-T) into Ukraine, including the ports of Mariupol and Odesa. "These corridors will be a key priority in rebuilding the transport infrastructure of Ukraine once the war ends," said European Commissioner for Transport Adina Vălean last year, announcing the TEN-T extension.
While the scramble to reroute Ukrainian grain through Europe has arguably concentrated minds, the EU was already aware of the fact that it needs to offer better options to its near neighbours to finance important and much needed investment in infrastructure.
Last December it launched its Global Gateway initiative which aims to mobilise 300 billion euros in public and private infrastructure investment between by 2027. It sees Global Gateway as bringing together member states and financial and development institutions including the European Investment Bank (EIB) and the European Bank for Reconstruction and Development (EBRD) to mobilise the private sector in order to leverage investments for what it calls "transformational" impact.
However, Holzner believes that Global Gateway may not be the best source for the connections needed now.
"EIB's projects typically need a very long time for the documentation, and these projects are not allowed to be 'political': they need a concrete business plan and I am not sure that any connections to Ukraine would be 'bankable' any time soon," he suggests. "What we might need is a new fund providing both grants and the expertise to construct new connections very fast. There we could potentially bring in external players such as the US and Japan to help set up such a fund."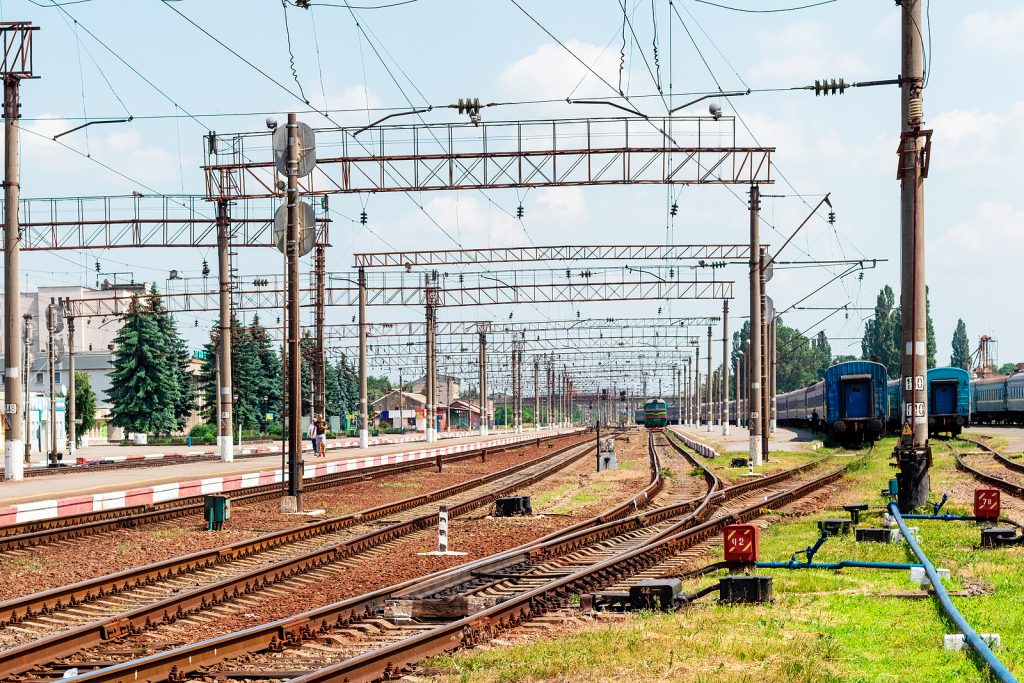 Different strokes
For the Commission, the solution to the problem that trains – whether they transport goods or people – hit at the Polish-Ukrainian border is simple: extending the EU railway gauge across the border into Ukraine.
In October, in partnership with the EIB, the Commission even launched a feasibility study to better connect the Ukrainian (and neighbouring Moldovan) railway networks with the EU, with such a solution – regauging Ukraine and Moldova's railways – in mind. The study is due to be completed this summer.
According to Jon Worth, a leading European authority on cross-border rail, regauging Ukrainian railways is not the solution, however. He suggests investing heavily in dual gauge railway technology for passenger trains. "It's expensive, but it works," he says.
There is also a simpler solution, ideal for the short term, he suggests. "I know that there is a symbolism to direct trains, but there are other options available. I would look at the trains themselves rather than the lines. Sort out the timetables: make sure that passengers on trains out of Ukraine can simply cross a platform straight onto a Polish train. And if the Ukrainian train is late, the Polish train waits. Coordinate them. It's a boring solution, very simple, and therefore no one really considers it as an option. But it would work."
A similar arrangement has recently been put in place on the Poland-Lithuania border, where a daily railway connection between Warsaw and Vilnius was relaunched in December for the first time in almost a decade. Polish trains pull in at the border town of Mockava, where Lithuanian trains are waiting. Until the ambitious, high-speed Rail Baltica project, which could link Warsaw and the three Baltic states, is completed, it is the best option.
For Ukrainian freight heading to Europe, Worth puts forward the idea of investing in state-of-the-art transshipment infrastructure at the Poland-Ukraine border: "Containerise everything. Trains from Ukraine arrive, Polish trains are waiting. The containers are quickly lifted from one to the other. It's the simplest and fastest way of dealing with the problem. And it's much cheaper than regauging lines."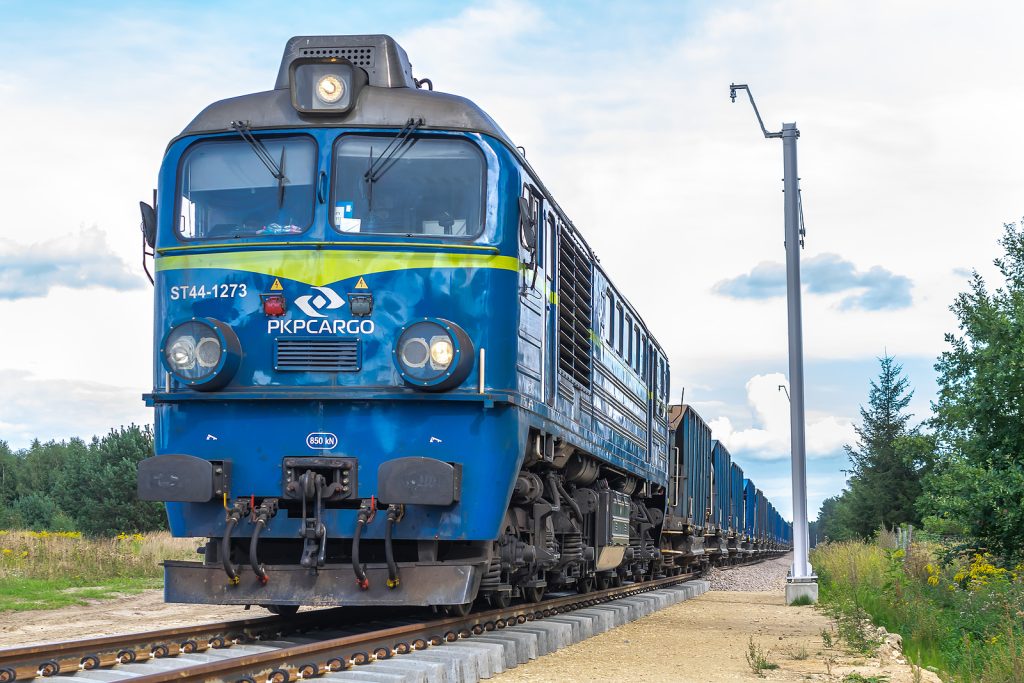 Poland: Central and Eastern Europe's new railway hub?
Whatever solution Europe eventually chooses, Poland will play a key role in connecting Eastern and Western Europe's railways.
It's just as well that the country has seen much improvement in its railway infrastructure over the past decade. "Steady, incremental improvements, that – importantly – work," says Worth.
The improvements have paid off. A record 58.9 million journeys on PKP Intercity, Poland's main long-distance train operation, were made last year. That was almost 10 million more than the previous annual high of 49.6 million, set before the Covid-19 pandemic in 2019.
Poland's transport infrastructure ambitions go well beyond steady improvement, however, and centre on what has become known as the Centralny Port Komunikacyjny, or CPK. The plan may also be central to the development of better railway infrastructure throughtout Central and Eastern Europe.
Located in the centre of Poland around 40 kilometres west of Warsaw, CPK is intended to integrate air, rail and road transport. In addition to being the largest airport in Central and Eastern Europe, CPK will deliver roughly 2,000 kilometres of new, largely high-speed railway lines linking Warsaw to Poland's regions and beyond, including Rail Baltica.
Indeed, according to Rail Baltica's CEO, Agnis Driksna, the two projects have become almost symbiotic. "Rail Baltica and the CPK railway projects are important to integrate the region more closely into the EU's transport network and achieve environmental benefits by shifting traffic to rail," he says.
According to CPK, the total cost of the project is estimated to be around 38 billion euros, of which some eight billion euros will be for the construction of the airport and around 30 billion euros for the railway investments. European funds will form a significant source of financing for the railway investments related to CPK, says the project's CEO Mikolaj Wild, who points out that the European Commission incorporated the railway element of CPK into the new TEN-T network last year.
For the airport, CPK plans to secure 60 per cent debt financing and 40 per cent private capital from the company which will manage the airport. One of the companies in play is Seoul's Incheon Airport, which is currently acting as a strategic advisor.
Wild adds that the opening of the airport is scheduled for 2028, and it is hoped that the completion of all rail investments will happen by the end of 2034. The project is politically sensitive, however. It is a flagship initiative of the current, Law and Justice (PiS)-led government, and with a parliamentary election due this autumn, the country's opposition parties have yet to fully commit to the CPK.

How Russia's war changes things
Ongoing events in Ukraine may be changing that. CPK advocates for the extension of the Baltic-Black-Aegean Sea line, incorporating Rail Baltica before running through Ukraine and eastern Romania towards the latter's Black Sea ports. It also envisages a high-speed link between Warsaw and Lviv in western Ukraine.
Crucially, this combination would create the shortest Baltic-Black Sea land connection, giving Ukraine a new export corridor to circumvent naval blockades, says Wild. Rail Baltica's Driksna, meanwhile, says that in the current geopolitical and environmental context, it has become "an obligation".
Then there's the security element.
The movement of military forces within TEN-T is currently hampered by the same physical, legal and regulatory barriers faced by passengers and goods: incompatible infrastructure or cumbersome customs procedures. To overcome these barriers, dual-use (civilian-military) co-funding of transport infrastructure projects has been proposed within the next Connecting Europe Facility (CEF).
Currently, CPK airport is not located on the TEN-T network, so the CPK cannot apply for funding for the airport from the Military Mobility (CEF) pool.
"However, a TEN-T network amendment, entering into force most likely in mid-2023, will confirm the military operational capabilities of the CPK airport," says Wild.
The investment has also been recognised by the former commander of US ground forces in Europe, General Ben Hodges, as offering a "capability and capacity that no other transport Hub in Poland or elsewhere in Eastern Europe can match".
For many waverers in Poland's opposition, that may be enough.
---
Unlike many news and information platforms, Emerging Europe is free to read, and always will be. There is no paywall here. We are independent, not affiliated with nor representing any political party or business organisation. We want the very best for emerging Europe, nothing more, nothing less. Your support will help us continue to spread the word about this amazing region.
You can contribute here. Thank you.