If Westerners know anything about Uzbekistan, it is the country's historical Silk Road cities. But 21st century Uzbekistan is dynamic and ever-changing. Understanding it has never been more essential for investors and policymakers.
Since taking office just over six years ago, Uzbekistan's president, Shavkat Mirziyoyev, has radically changed Uzbekistan's domestic and international outlooks by introducing liberal reforms at home and embracing regional integration abroad.
---
---
However, as Uzbekistan embraces these changes, it remains to be seen how far reforms will go in creating a pluralistic democracy and sustainable water-use strategy to equip the country for future challenges.
As the country embraces its strategic location in the centre of Eurasia, three key trends are likely to dominate the agenda: the need for continued reform; diversity and regional integration; environmental and social challenges.
New president, new reforms
Islam Karimov ruled Uzbekistan from its independence in 1991 until his death in 2016. Since taking office in December 2016, his successor, Mirziyoyev, has taken a markedly different approach to domestic and international policy.
President Mirziyoyev has openly recognised the human rights abuses that occurred during Karimov's time in office, and officials who used torture while Karimov was in power have been prosecuted. Forced labour in the cotton industry has been abolished, and Mirziyoyev has introduced reforms to allow Uzbeks more freedom to express political opinions, including criticism of the government.
Professor Gulnoza Ismailova is a lawyer and academic who now serves as the vice-rector of the University of World Economy and Diplomacy in Tashkent and as a member of Uzbekistan's Central Election Commission (CEC).
At a recent roundtable of Uzbek academics looking at reform in Uzbekistan and its impact on Central Asia, organised jointly by the Cambridge Central Asia Forum (CCAF) and the Embassy of Uzbekistan in London, she said, "Before 2017, it was difficult to imagine talking openly about policy in Uzbekistan. Now, we are more open, we can talk about it, we can write articles, we can criticise some aspects of policy and the legal system."
Professor Ismailova said that while Karimov worked to establish an independent Uzbekistan with "strong state organs" and state capacity at the regional and central levels, liberal reforms were now at the top of the agenda and that it is now possible to critically discuss human rights in the country in a way that wasn't possible just a few years ago.
President Mirziyoyev has also implemented judicial reforms to increase transparency and even launched a website, in partnership with the United States Agency for International Development (USAID) and the United Nations Development Programme (UNDP), that allows Uzbeks to track court trials in real time.
Uzbekistan's government is still widely recognised as authoritarian, but the US human rights organisation Freedom House has repeatedly increased its freedom index score over the last few years—more than tripling it since Mirziyoyev took office.
The Organisation for Security and Co-operation in Europe (OSCE) election observers have also praised recent reforms and the administration of the 2021 presidential election, but determined that the four candidates running against Mirziyoyev did not meaningfully challenge him in a "genuinely pluralistic environment."

Focus on diversity and regional integration
Professor Mirzokhid Rakhimov, head of the Centre for Contemporary History at the Uzbekistan Academy of Sciences, told the CCAF roundtable that while the United States has been a melting pot for 200 years, Central Asia has been one for 3,000.
Zoroastrians, Jews, Buddhists, Christians, and Muslims have lived together in the region for millennia, and most spoke multiple languages to ensure easy communication. Many Bukharan Jews speak Bukhori, a dialect of Tajik Persian written in the Hebrew alphabet, as well as Hebrew and Russian; Muslims who study at madrasas learn Arabic, Farsi, and Turkish. Karakalpak, a Turkic language, is spoken throughout the region of Karakalpakstan in Uzbekistan's west, while Tajik, a variety of Persian, is widely spoken in the cities of Samarkand and Bukhara.
For most of Central Asia's history, there was no notion of individuals having a single language linked to an ethno-national identity. But in the early 1990s, Soviet Central Asia was split into five nation-states which rushed to differentiate themselves by promoting distinct national histories and languages. Most citizens of Uzbekistan speak Uzbek and Russian, but today, there is less insecurity about defining Uzbek identity and renewed interest in promoting multilingualism to facilitate international engagement.
Mirziyoyev has rejected Karimov's isolationism and border disputes with neighbours and has sought to position Uzbekistan as a leader in regional integration efforts. The administrative boundaries between sub-national Soviet Social Republics became de facto international borders overnight in 1991, but after decades of disputes, Mirziyoyev signed a landmark border demarcation deal with the president of Kyrgyzstan, Sadyr Japarov, on January 27.
A planned Uzbekistan-Kyrgyzstan-China railroad will open a new shipping route between China and Europe that bypasses, Russia by filling the gap between existing an Turkmenistan-Iran-Turkey rail link and western China.
Dr Akram Umarov, deputy director of the Institute of Advanced International Studies in Tashkent, told the roundtable's audience about "policy synergy" with Kazakhstan—where, as in Uzbekistan, a new president recently replaced a ruler who had led the country since its independence in 1991.
Both Uzbekistan and Kazakhstan have prioritised anti-corruption initiatives and constitutional reforms, and a new high-speed rail link is set to connect Shymkent and Turkistan in Kazakhstan to Uzbekistan's existing high-speed rail network from the capital of Tashkent to the touristic Silk Road cities Samarkand and Bukhara.
It was Central Asia that, by trading with each, historically connected Europe to China, and Uzbekistan is eager to embrace its strategic geographical centrality to become a connectivity hub for not only its Western and Eastern neighbours, but its Southern neighbours as well.
Dr Umarov spoke of growing interest among Uzbekistan's policymakers to integrate their neighbour, Afghanistan, into the political unit of Central Asia by incorporating it into regional institutions and exchanges rather than maintaining the status quo of bilateral engagements.
While 'Central Asia' is often used to refer to the five post-Soviet states of Uzbekistan, Kazakhstan, Kyrgyzstan, Tajikistan, and Turkmenistan, for centuries, Afghanistan played an important role connecting khanates and empires in the region with South Asia, Persia, and the Middle East.
Dr Umarov says Tashkent now recognises Afghanistan as an "historical, integral part of Central Asia" and that, while the seizure of power by the Taliban reduced opportunities for political cooperation in the short-term, he is hopeful about other approaches to engage with the country's people and economy.
Environmental and social challenges
While Uzbekistan is committed to moving forward politically, it will need to successfully navigate environmental challenges and social change.
The water sources that irrigate Uzbekistan's fertile farmlands – filled with fields of cotton, vineyards, and fruit orchards – are threatened by climate change and a history of unsustainable water use.
Around 90 per cent of the Aral Sea, once the world's fourth-largest lake, has vanished since 1960 due to unsustainable water usage. The Aral Sea once helped moderate the surrounding climate, which is now hotter and drier. The Amu Darya, a river that feeds the Aral Sea and delineates much of Uzbekistan's southern border, is now dying as well.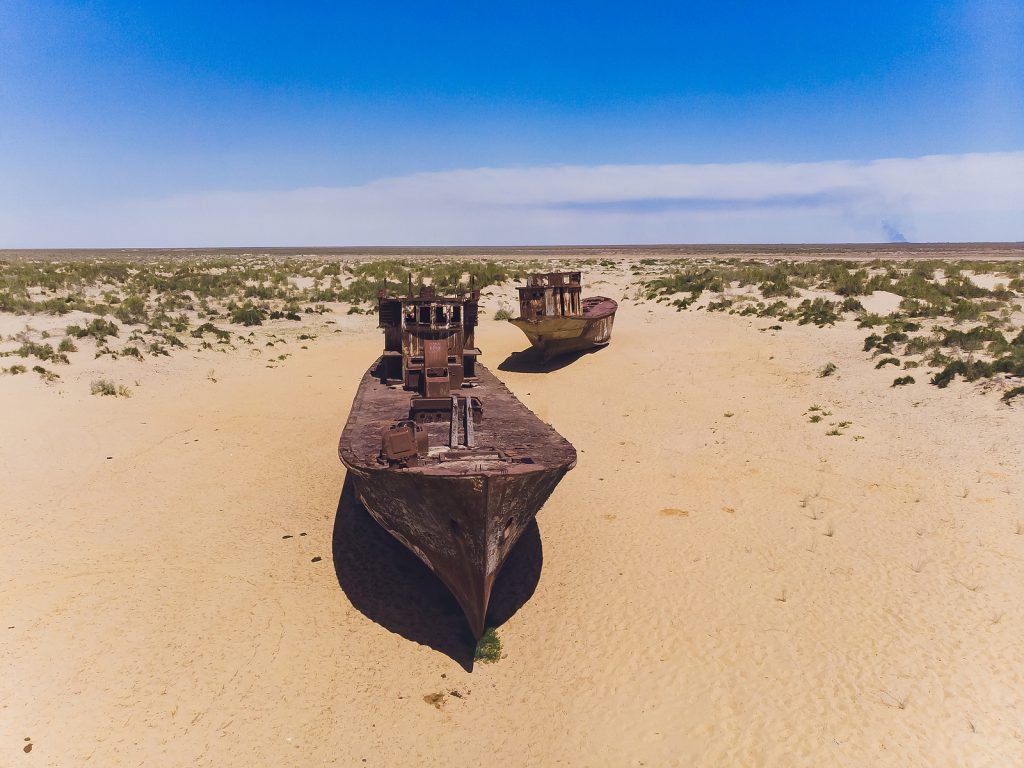 Agriculture accounts for 90 per cent of water use in Uzbekistan, but up to 37 per cent of water passing through the country's canals leaks out before reaching fields. Starting in 2020, the Uzbekistan government began a push to increase water-saving drip irrigation, but despite government-subsidised credit and tax breaks, drip irrigation is still only used on 0.11 per cent of land, according to the UN Food and Agriculture Organisation (FAO).
Modernisation is also affecting what has long been the foundation of Uzbek social life: the mahalla. Mahallas are traditional neighbourhood social units and self-governing bodies through which many weddings, funerals, religious ceremonies, and informal social events occur. Elected representatives from mahallas communicate the needs of the community to local officials. However, in many areas, youths are less interested than past generations have been in participating in mahalla functions in a social space that can be more conservative than those found elsewhere in major cities.
Mirziyoyev has codified mahallas as formal government institutions and, last year, introduced the role of youth leader to mahallas in an apparent bid to increase youth engagement.
Last summer, in another proposed constitutional amendment, Mirziyoyev sought to remove the autonomous Republic of Karakalpakstan's right to hold a referendum to secede. Crowds in Karakalpakstan protested the proposed changes and Mirziyoyev withdrew the amendment in a bid to deescalate tensions, but clashes between demonstrators and security forces still resulted in deaths and critical injuries.
To date, 22 people have been sentenced in relation to the unrest.
---
Unlike many news and information platforms, Emerging Europe is free to read, and always will be. There is no paywall here. We are independent, not affiliated with nor representing any political party or business organisation. We want the very best for emerging Europe, nothing more, nothing less. Your support will help us continue to spread the word about this amazing region.
You can contribute here. Thank you.