Emerging Europe is full of people who have lived remarkable lives, but few are more remarkable than the Hungarian gymnast Ágnes Keleti, the oldest living Olympic medalist.
Hungarian gymnast Ágnes Keleti last week celebrated her 100th birthday. In her remarkable life, she has narrowly escaped the the Holocaust, won 10 Olympic medals for her country in the post-war period, and was forced to claim political asylum in Australia after the Soviet Union invaded Hungary in 1956.
Having returned to Hungary since the fall of communism, she is now enjoying a peaceful life at her home in Budapest.
---
---
Keleti won four medals, one of which was gold, at the 1952 Olympic Games in Helsinki, and four gold and two silver medals at the 1956 games in Melbourne: she is the most decorated female Olympian in Hungarian history.
It has been suggested that the number of her wins could have been even more impressive, had she been able to compete in her prime. Regardless, she can at least claim the title of the world's oldest surviving Olympic medalist.
At the age of 19, Keleti was set to be part of the Hungarian gymnastics team for the 1940 Olympics, but the event – which was due to be held in Tokyo – was cancelled due to World War II. In 1941, Keleti was expelled from her gymnastics club for being 'non-Aryan'. Soon after, she managed to purchase a fake identity and began working as a maid in the Hungarian countryside.
While she was able to save her own life in this way, her father and a number of her relatives were amongst the more than 400,000 Jewish Hungarians killed at Auschwitz.
Yet not being able to compete throughout most of her twenties, and the hardships she endured, did not prevent her from becoming the oldest female gymnast to win an Olympic gold – in 1956, at the age of 35. It is another record she holds to this day.
The Hungarian Revolution
At the Melbourne games she competed against Soviet gymnast Larissa Latynina against the background of the 1956 Hungarian Revolution, which ended when the Soviet Union invaded Hungary just two weeks before the games began.
At those same Olympics the infamous Blood in the Water water polo match between Hungary and the USSR also took place: the name was coined after Hungarian player Ervin Zádor emerged during the last two minutes with blood pouring from above his eye after being punched by Soviet player Valentin Prokopov. Hungary won the match 4-0, and would go on to beat Yugoslavia in the final to win gold.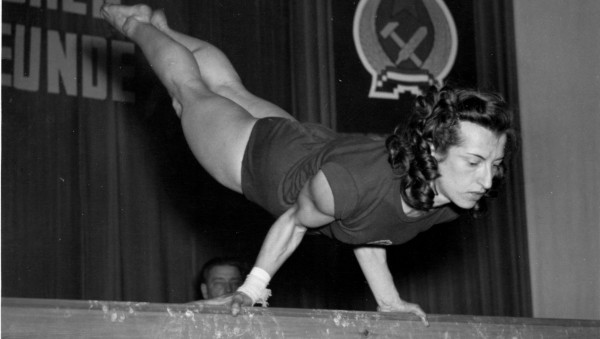 With the Soviet Union crushing the revolution at home Keleti took the decision to remain in Australia. Most of the 48 members of the Hungarian Olympic delegation did likewise. A year later Keleti relocated to Israel where she coached the Israeli Olympic gymnastics team until she was well into her 70s.
In 2015, she moved back to her place of birth, Budapest, for good. A place that had become much different to that she had unexpectedly had to leave almost six decades before.
Her life there now seems to be much less eventful, as she enjoys good health despite her age and does her best to follow her doctor's advice to restrain from performing full leg splits.
'Athlete of the Nation'
Today, Keleti is one of Hungary's most loved athletes. In 2004 she was named as one of the country's 12 Athletes of the Nation and in 2005 an asteroid discovered by Hungarian observer Krisztián Sárneczky was named for her.
In honour of her birthday, dancer Sándor Dávid and Vice President of the Hungarian Sportswriters Association Dezső Dobor last year published an English-language book about her life, titled The Queen of Gymnastics.
The book presents the story of the past century from Keleti's point of view through 300 photos and interviews with teammates, family members, students, and friends from Hungary, Australia, Israel, and the United States.
Keleti modestly declines the title of The Queen of Gymnastics, but she most certainly deserves it.
---
Main photo: Hungarian Olympic Committee
---
Unlike many news and information platforms, Emerging Europe is free to read, and always will be. There is no paywall here. We are independent, not affiliated with nor representing any political party or business organisation. We want the very best for emerging Europe, nothing more, nothing less. Your support will help us continue to spread the word about this amazing region.
You can contribute here. Thank you.