A new colony-building simulation game from Serbia, Going Medieval confirms the country's position as a global gaming leader.
When Foxy Voxel published its first game in early June, Nino Rajačić, the firm's co-owner, didn't expect immediate success.
---
---
"Even though we knew there was a lot of interest in this concept and believed that Going Medieval would be successful, we didn't expect such a positive reception from players from day one," he tells Emerging Europe.
"We had the good fortune to get a deal with a publisher, The Irregular Corporation, very quickly, and they supported further development," he says.
Going Medieval also received support from the Republic of Serbia Innovation Fund.
Positive reception
On the online game store Steam, 91 per cent of more than 4,000 reviews are positive.
Professional outlets have noticed the game as well, with Wired calling it a great entry point into colony simulation.
Colony simulation is a sub-genre of management games, where players are tasked with building and maintaining a colony, usually in a situation where resources are scarce and the environment inhospitable.
In recent years, the genre has enjoyed a lot of popularity bolstered by breakout hits such as Rimworld and Dwarf Fortress. Going Medieval has been favourably compared to both.
Where Going Medieval departs from its peers is in the addition of a third dimension: most colony simulators only allow for building in two dimensions. This "z-axis" addition has been received well by gamers, with many praising both the increased challenge that comes with it and the potential for player-driven creativity.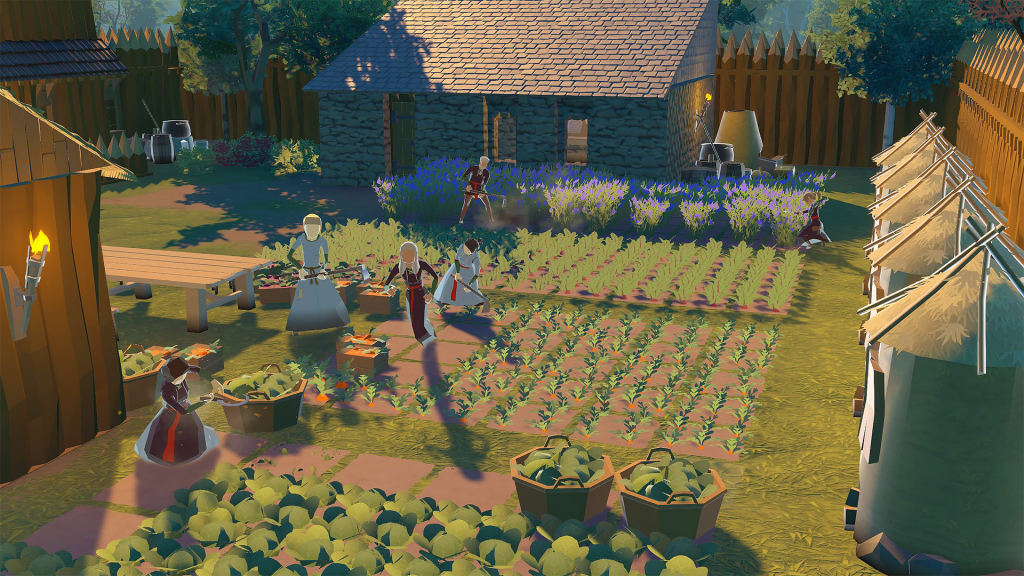 Add in the stylised and charming medieval setting, and the game has a lot going for it. Set in 14th century England in an alternate timeline in which the Black Plague killed 95 per cent of the population, it challenges players to build and manage a colony of survivors, keeping them alive, and if they play the game right, even thriving.
The warm welcome from gamers and reviewers has translated into financial success too. For a while after its launch, Going Medieval topped the Steam global sales chart and in the first week alone the game has sold more than 175,000 copies — a stunning success for any indie game.
"After only a week, we reached a point we hoped we could reach at the end of the first year," says Rajačić.
But, he adds, this doesn't change their plans for the developing the game further.
Early access
Going Medieval was released in what is known in the gaming industry as an "early access" model. This means that players are getting a game where all the main features and building blocks are already in place, but that the development team is not yet fully done.
According to Rajačić, a great benefit of the early access model is that the player community can be included in the development of the game, meaning they can influence it while also supporting the development team financially.
"For us, in addition to the clear benefit of financial independence, this type of development also brings a much better understanding of what the players want and that helps with design decisions," Rajačić says.
"If executed correctly, it's a win-win combination where both developers and players get the ultimate prize — a polished, well-balanced, fun, and successful game."
In fact, Foxy Voxel has already revealed a very ambitious roadmap for what it plans to add to the game in the coming months. Social interactions among settlers, the option to raid other settlements, religious influence, and diplomacy, are just some of the features that players can to look forward to.
In 2020, the Serbian game industry passed an important milestone: 120 million euros in revenue. Although problems such as taxation – Foxy Voxel was forced to find a UK publisher – continue to affect the industry, the success of titles such as Going Medieval is yet another indication that Serbia and the emerging Europe region as a whole are now genuine players on an international scene once dominated by Western Europe, Japan, and the United States.
---
Photos courtesy Foxy Voxel.
---
Unlike many news and information platforms, Emerging Europe is free to read, and always will be. There is no paywall here. We are independent, not affiliated with nor representing any political party or business organisation. We want the very best for emerging Europe, nothing more, nothing less. Your support will help us continue to spread the word about this amazing region.
You can contribute here. Thank you.