Before Covid-19, Emerging Europe's editor Craig Turp rarely walked anywhere. Now, he writes, its his favourite form of transportation, even in a city as ill-prepared for pedestrians as the Romanian capital Bucharest.
Bucharest does not readily lend itself to walking. The quality of its air is not the best, and badly parked cars often make some of the Romanian capital's streets little less than obstacle courses.
Since the beginning of the Covid-19 pandemic however, walking has – for this correspondent at least – become the preferred mode of transport.
---
---
Where once I may not have reached the magic daily figure of 10,000 steps (widely regarded as a sound target to help ensure good health) in a week, now I often walk twice that amount each day.
Just as it has for many people, Covid-19 has made me wary of public transport. When Romania's government initially introduced restrictions last March – restrictions which, amongst much else, required all passengers to wear masks on all forms of public transport – they were broadly (although not fully) respected.
(Something that is sadly no longer the case, one of the many reasons Covid-19 is all but out of control throughout Romania).
Nevertheless, early on in the pandemic I made a conscious decision to avoid public transport if I could, something that applied to taxis as well as ridesharing services such as Uber and Bolt.
Instead, I began walking.
It helps that living close to the city centre means that just about everything I need is within walking distance. My local pub, my favourite restaurants, the post office, the supermarket, the chemist.
But since the beginning of the pandemic I've broadened my walking horizons, and it's something I do not regret: I will be walking as a matter of course long after Covid-19 is but a distant memory.
Today, a long walk is a regular occurrence. Just this week I had to visit my dentist, whose surgery is a good seven kilometres away. I would never have considered making the journey on foot before the pandemic. Now, I walk: there and back. I feel healthier for it, and can avoid arguments with covidiots who refuse to wear masks.
Bucharest's charms
Then there are Bucharest's charms: some of which, despite living in the city for more than 20 years, I had quite simply missed owing to my reluctance to walk anywhere.
It can get a bad press, Bucharest, and not entirely without reason. It's dismissed as a city of concrete blocks, hurriedly built in the 1960s, 1970s and 1980s to accommodate the hundreds of thousands of workers who were brought in to work in its many industrial plants.
But to walk its streets is to discover that there are vast areas of the city which pack an architectural punch, particularly the area immediately east of the city centre, between central Bulevardul Magheru and Calea Moșilor. It's home to a wealth of magnificent modernist, art deco houses from the early 20th century which sit side-by-side with slightly earlier, neo-Romanian style houses.
Here and there small parks, often little more than the size of large gardens, offer green respite. As do houses covered entirely in creepers.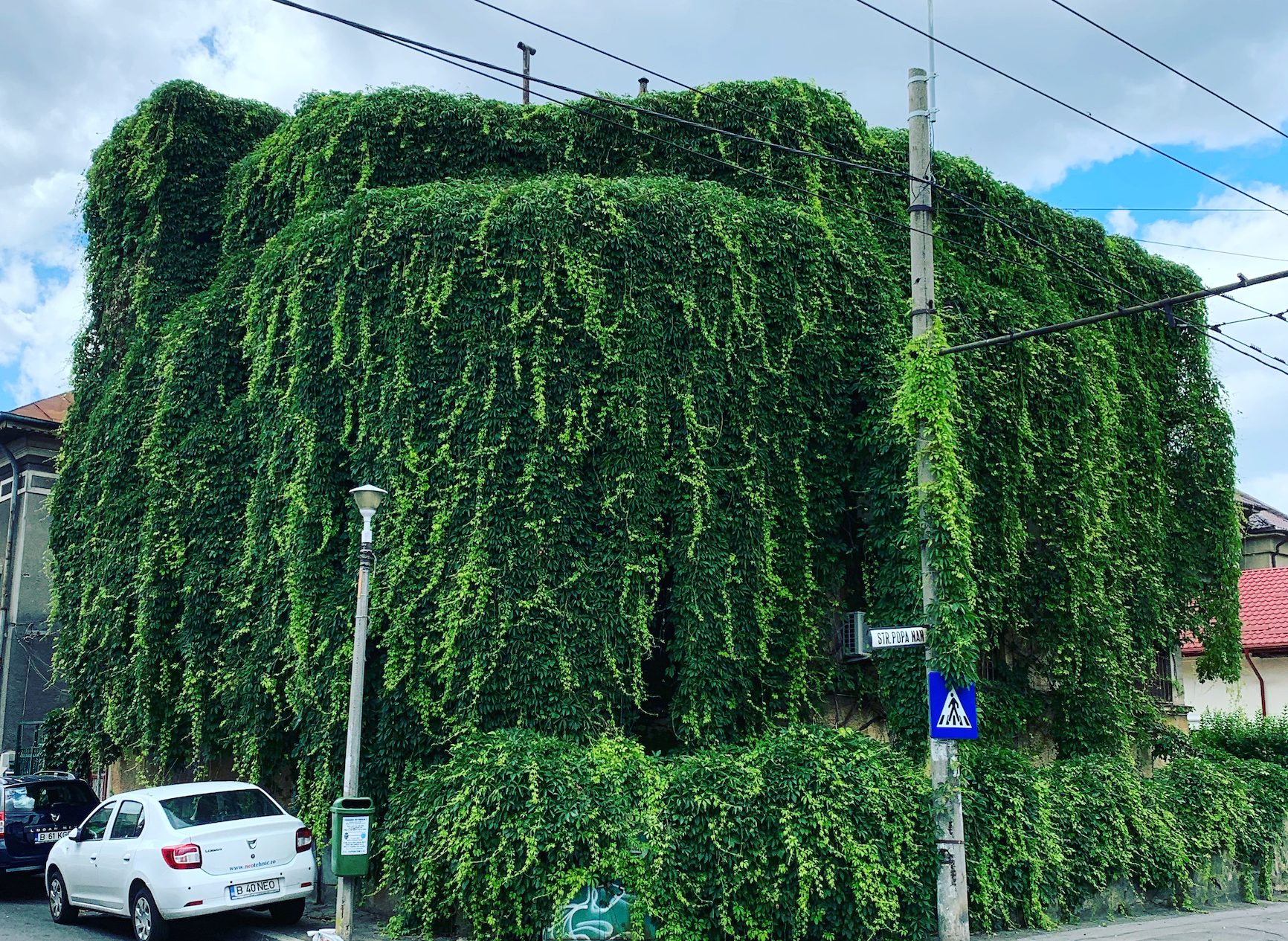 Prior to Covid-19 I knew nothing about architecture, but over the past 18 months I have become a self-taught expert in the various styles that characterise what remains of pre-communist Bucharest. To anyone who will listen (usually my wife and children) I will offer a running commentary on the buildings we pass, and bemoan the fact that so many once glorious houses are alas being left to rot by owners unwilling (or financially unable) to restore them.
Every now and then I'll spot renovation work, but just as often I'll see that yet another historic home is being knocked down, to be replaced by a nondescript small block of "luxury two-bedroom apartments" – sadly all that seems to get built these days.
Calea Victoriei
During weekends this past summer, Bucharest's authorities closed the city's most historic street, Calea Victoriei, to traffic, making it pedestrian-only.
It became a promenade that was almost Mediterranean, a haven for cyclists, families, hipsters. Its cafes, bars and restaurants were full: it was joyous, but it couldn't last. The street is now once again the sole property of cars.
This is a shame. Bucharest – as with the rest of Romania – is about to once again be placed under tight restrictions in order to try and stem, at least in part, the current surge of Covid-19 infections, which this week reached record highs of almost 20,000 per day.
Walking may soon become a necessity again, one of few ways in which we can get out and meet people safely. It would help if we could at least get our favourite street back.
Undeterred, my own pedestrian odyssey will continue. There are still large parts of the city centre I have yet to fully explore. I'm eager to do so before everything that makes Bucharest so unique – its bizarrely eclectic mix of architectural styles – is gone for good, replaced no doubt by luxury two-bedroom apartments.
---
Unlike many news and information platforms, Emerging Europe is free to read, and always will be. There is no paywall here. We are independent, not affiliated with nor representing any political party or business organisation. We want the very best for emerging Europe, nothing more, nothing less. Your support will help us continue to spread the word about this amazing region.
You can contribute here. Thank you.