Despite its beauty, the surprising prevalence of English speakers, visa-free access for citizens of 52 countries, and unrivalled hospitality, Tajikistan's second city of Khujand receives very few international visitors.
When Western tourists visit Central Asia, they visit Uzbekistan's Silk Road cities and Kyrgyzstan's mountains. They don't visit Tajikistan.
When Westerners do visit Tajikistan, they hire a car and drive the scenic Pamir Highway in the country's eastern Gorno-Badakhshan Autonomous Oblast. They don't visit Khujand.
---
---
Hiring a car was not in my budget, but Khujand had, oddly enough, been on my bucket list for several years.
I had only heard of Khujand because, some time ago, I looked at the application for an internship at a non-governmental organisation based in the city. I never did the internship, but I researched the city extensively and vowed to one day go.
Khujand is the second-largest city in Tajikistan – the capital, Dushanbe, is the largest – and is in the country's Sughd region. Most of Tajikistan is filled with arid high mountains, but Sughd protrudes north from the rest of Tajikistan into the fertile Fergana Valley and is encircled by Uzbekistan and Kyrgyzstan.   
Sughd is connected to the rest of Tajikistan by a mountain pass that is impassable during winter and a narrow corridor wedged between its neighbours. I would have to traverse that mountain pass and its infamous five-kilometre-long Shahriston Tunnel to travel on from Khujand to Samarkand (it would end up being a beautiful and pleasantly smooth trip), but now, I was in Tashkent.
Khujand is a three-hour bus or taxi ride south of Uzbekistan's capital. I took a taxi to the Uzbekistan-Tajikistan border with a friend, and, after crossing, we got in a minibus, a marshrutka, to Khujand.
Tales from a marshrutka
Immediately upon taking our seats in the back of the marshrutka, a lovely linguistics professor from the Institute of Economy and Trade (IET) at the Tajik State University of Commerce in Khujand began a conversation with us and invited us to the campus the next day.
We decided to take him up on his offer, and the next day, we met him and were introduced to Saidqosim Mukhtorov, the Institutional Erasmus+ coordinator and director of IET's international centre and global engagement. After meeting some students and scholars visiting from Uzbekistan and Finland for a conference, Saidqosim gave us a tour of Khujand complete with a delicious lunch of pumpkin dumplings called mantu and green tea.
Saidqosim explained that, in Sughd, a host only fills a cup halfway full of tea at a time to minimise the amount tea able to cool down in the cup at any time and to allow the host to serve a guest more times per kettle in a relaxed environment. In Dushanbe, Saidqosim said hosts fill cups all the way full because, he joked, they are in a rush and want you to finish sooner.
Khujand was beautiful. June is hot in the Fergana Valley, but the city's streets are lined with mature trees that provide ample shade. Cable cars carry families between parks on opposite banks of the shimmering blue-green Syr Darya river.  
While Tajikistan's brutal civil war in the 1990s damaged many buildings in other regions, Sughd's geographic isolation insulated Khujand from the worst of the fighting and protected older buildings.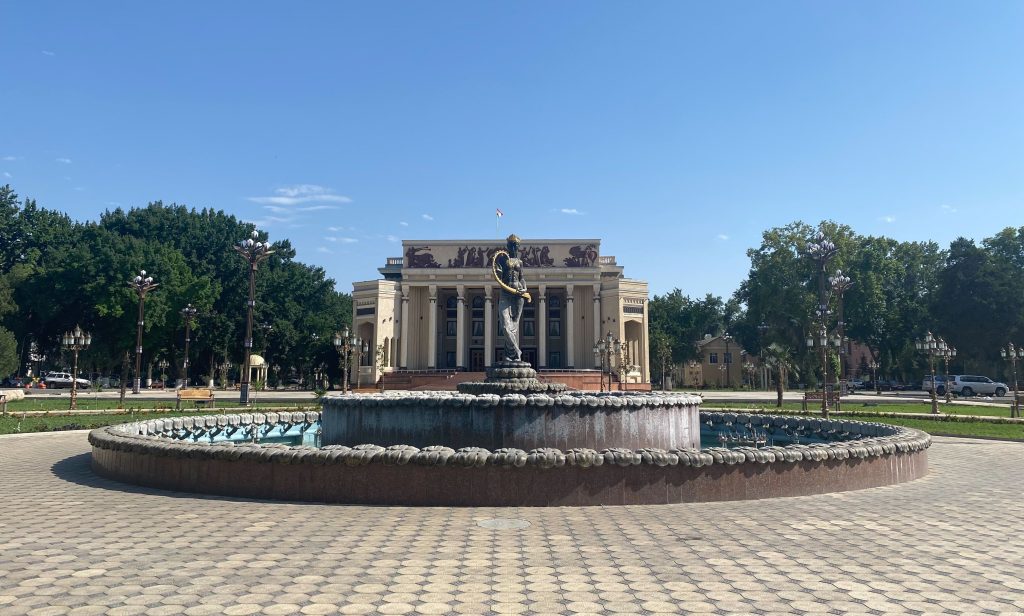 Khujand's aesthetics are influenced by its Persian, Hellenistic, and Soviet pasts. It is thought to have been founded 2,500 years ago as Cyropolis by Cyrus the Great. Alexander the Great captured the city in 329 BCE and renamed it "Alexandria Eschate" — the Furthest Alexandria. It would become an important Silk Road city and was known by its Tajik name, Khujand, until it was renamed to Leninabad during Soviet times. However, many buildings built during its Soviet era incorporated friezes in homage to its Persian and Hellenistic past. One park features a large sculpture of the Capitoline Wolf. 
A mosque, mausoleum, and World War II memorial border a giant square and the Panjshanbe Bazaar – one of the largest in Central Asia. Small carnival rides provided children with entertainment in the square during the day, but at night, these were cleared out and the square transformed into an unrecognisably busy market and food hall.
While English-speakers were few and far between in the bazaars I visited in Kyrgyzstan and most of Uzbekistan, I was surprised to find myself conversing in my native language with potato farmers and plov cooks about everything from my time in Khujand to the US Democratic party. Multiple food vendors at the bazaar and adjacent square refused to accept any payment.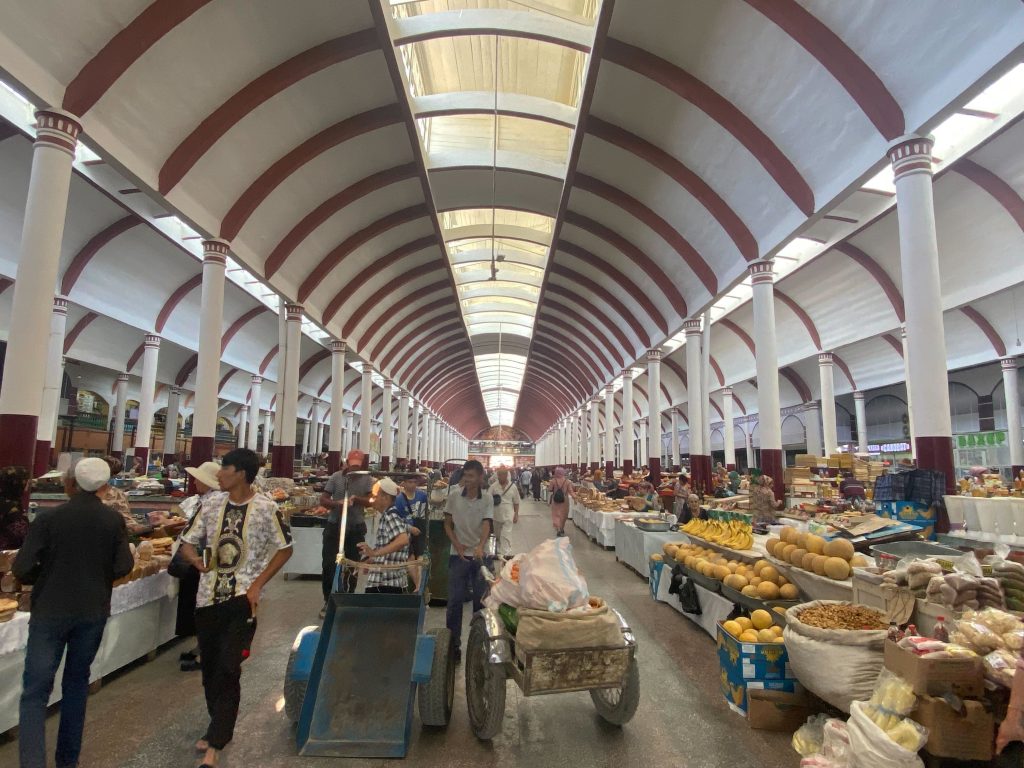 Visitors welcome
Despite its beauty, the surprising prevalence of English speakers, visa-free access for citizens of 52 countries, and unrivalled hospitality (even by Central Asian standards), Khujand receives very few international visitors.
Saidqosim told me that every year, dozens of IET students and staff seek Erasmus+ scholarships to study at European partner universities – enough to exhaust IET's side of the budget. However, there are often no students or faculty at the European partner institutions interested in participating in the exchange by spending time in Khujand, even though there is ample funding for them to do so.
Saidqosim is working to change that. He is organising international weeks to allow groups of participants from partner universities to visit Khujand and the stunning mountain lakes of Iskanderkul and Haftkul. He wants people to know that Tajikistan is a friendly and safe place and showed me a 2021 Gallup report finding Tajikistan to have the second highest Law and Order Index in the world – just above Norway and Switzerland – and the third highest rate of people feeling safest walking alone.
Months after the end of an incredible trip that included globally recognised destinations like Samarkand, Bukhara, and Khiva, I have found myself longingly remembering my days in Khujand the most. I rarely feel the need to revisit a place less than a year after leaving it, but I desperately want to return to Khujand and explore more of Tajikistan. Hopefully, soon, more travellers will join me.
---
Unlike many news and information platforms, Emerging Europe is free to read, and always will be. There is no paywall here. We are independent, not affiliated with nor representing any political party or business organisation. We want the very best for emerging Europe, nothing more, nothing less. Your support will help us continue to spread the word about this amazing region.
You can contribute here. Thank you.