Craig Turp takes the fast train to Samarkand, home of Uzbekistan's most memorable sights and the country's tastiest plov.
It's lunchtime at a busy conference centre in the Uzbek capital Tashkent. A local bemoans the quality of the food being served. "This isn't plov", he says, and begins to explain how Uzbekistan's ubiquitous dish should be carefully layered with rice, carrots, peppers, chickpeas and either beef or lamb on top. The version we're eating resembles biryani. "They clearly have no idea what they are doing. Come with me to Samarkand, I'll show you some real plov."
---
---
Two days later I am on an early morning train from Tashkent to Samarkand. It's some train. Known as the Afrosiyub, it's been in service since 2011 and is the fastest train in Central Asia. A digital display informs me of our speed, which tops out at 190 km/h.
The Afrosiyub makes the 350-kilometre run from Tashkent to Samarkand in just over two hours. Previously, the journey took over five. On slower trains, it still does.
Prices for the Afrosiyub are relatively cheap, just 190,000 som (around 16 euros) for a one-way trip in VIP class, half that for economy. Tickets are hard to come by, however, and often sell out weeks in advance. In all classes, complimentary drinks and snacks are served by staff in crisp, immaculate uniforms. The train is impeccably clean, as are the stations – impossible to enter if you are not in possession of a valid ticket. Airport-level security enforces the rule.
At Samarkand station (which looks remarkably like Tashkent's, and Bukhara's, and Khiva's, as well as Tashkent's domestic flight terminal and Bukhara airport, as if they were all bought in a cut price deal) I am greeted by my guide for the day: my new friend from the conference centre in Tashkent.
A chilly November morning, Samarkand is free of the heat, dust and tourists that can make visiting during the warmer months a chore. Even Registon Square, the jewel in Samarkand's crown and star of every Uzbek travel commercial, is devoid of crowds. Only a few parents watching their children rehearse a performance ahead of Uzbekistan's flag day break the blissful silence.
Later, I visit the Shah-i-Zinda necropolis, and have it (almost) to myself. It's genuinely one of the most stunning places I have ever been fortunate enough to visit, the beautifully tiled tombs, all bright blues and arabesques, at once elaborate yet delightfully simple. I spend hours here reflecting, thinking, photographing.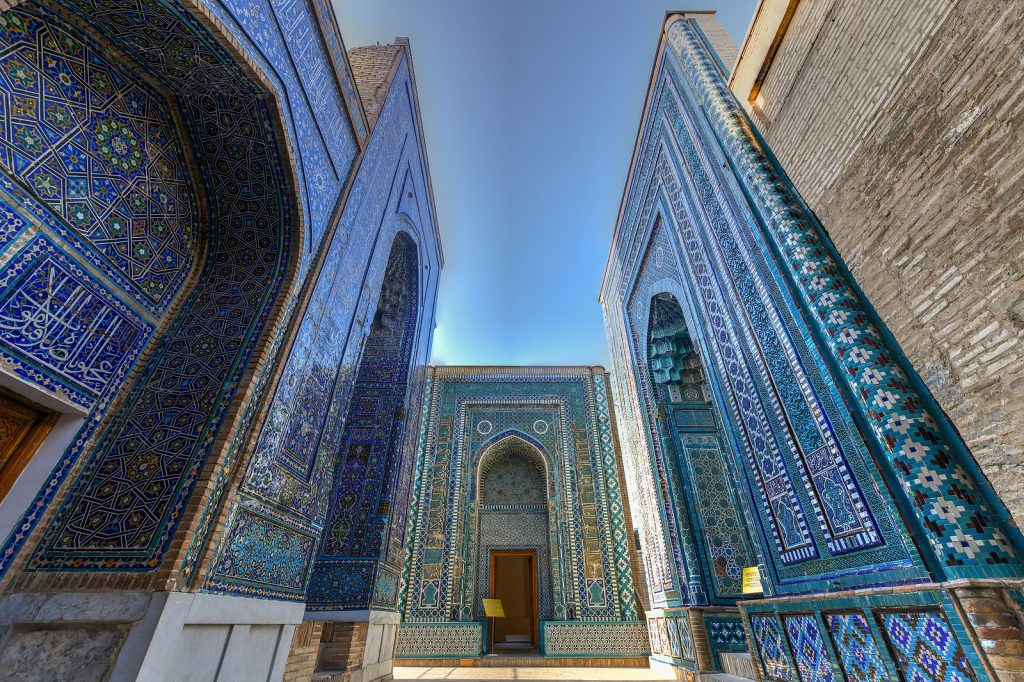 Timur's curse
There's more treasure at the early 15th century Amir Timur Mausoleum. Timur was the begetter of the Timurid Empire, which covered much of modern-day Central Asia, Iran and Afghanistan. Undefeated in battle, Timur is widely regarded as one of the greatest military leaders and tacticians in history, as well as one of the most brutal.
Timur's remains were exhumed on the orders of Stalin in 1941, defying a curse inscribed on the tomb that warned, When I rise from the dead, the world shall tremble. Two days later, Nazi Germany began its invasion of the Soviet Union. Stalin ordered the remains reburied, although not before Soviet scientists had been able to create a reconstruction of Timur's facial features.
Next, the enormous Bibi-Khanym Mosque. Timur would allegedly interfere frequently in its design, causing delays that meant it was not complete by the time of his death in 1405. As my guide tells me of Timur's constant meddling, I can't help thinking of Romania's Nicolae Ceaușescu, who micromanaged the design and construction of Bucharest's ghastly Palace of the People.
Tyrants they might both have been, but Timur clearly had infinitely better architectural taste. Who will still be visiting Ceaușescu's monstrosity 600 years hence?
Opposite the Bibi-Khanym Mosque is Samarkand's largest market, the Siab Bazar. Noisy and chaotic it's everything you hope an Uzbek market would be. Spices, nuts, and bread abound. I buy naan for the trip back to Tashkent, and kilos of tiny yet delicious Uzbek pistachios.
But before I leave Samarkand, I want my plov, that real, genuine, Samarkand plov. My guide brings me to a place that declares itself, in Cyrillic lettering, to be Центр Плова. Plov Centre. I think I am in the right place.
It's packed, but we grab a couple of seats at a shared table. Pots of strong tea are placed on the table before we've even taken off our coats. Then come meze, spreads, bread, followed by the plov. It's just as I was promised, a layer cake of perfectly cooked rice, carrots, peppers and chickpeas, topped here with the most delicious, tender beef.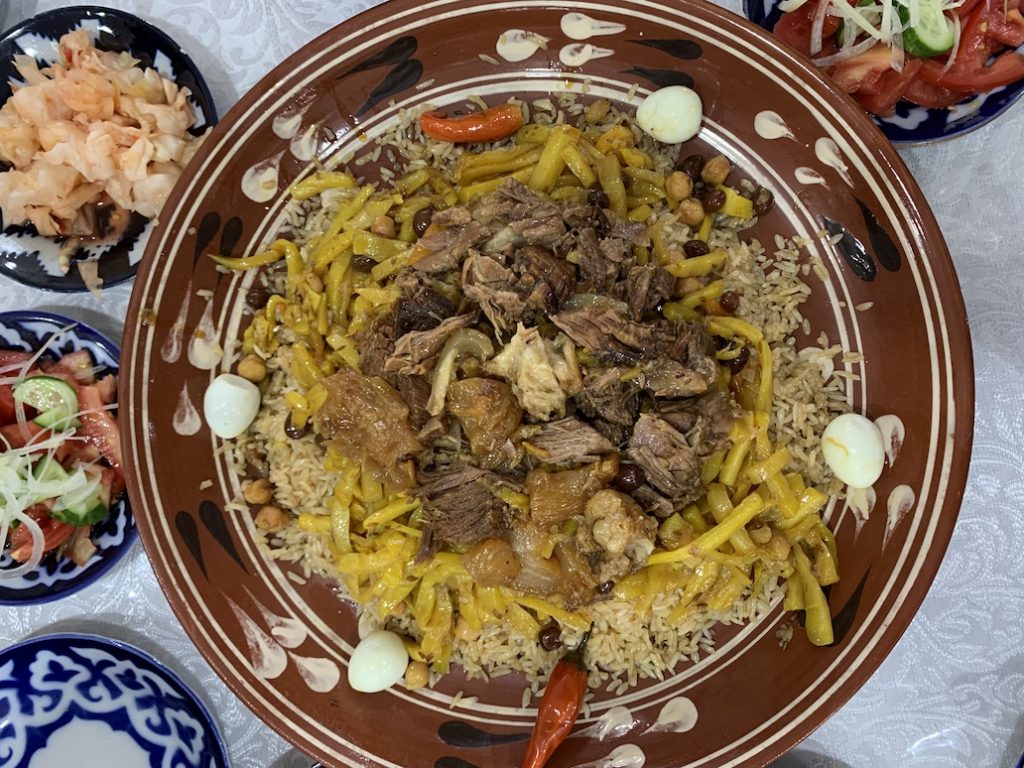 Samarkand's open book
After a full day pounding Samarkand's ancient streets, it's almost time to leave. But having by now realised from my incessant questioning about the Afrosiyub train that I'm something of a transport buff, my guide promises me one final, most modern of surprises in this oldest of cities: Samarkand's brand new airport.
Opened in April, Samarkand International Airport fortunately looks nothing like its Tashkent or Bukhara brethren. Its exterior resembles an open book, the design inspired by the New Guragan astronomical tables, a manuscript published by the 15th century Uzbek astronomer, Mirzo Ulugbek. At night, its roof lights up with depictions of the constellations Ulugbek discovered, visible as planes make their final descent.
Samarkand Airport, together with a large tourist and conference complex just outside the city, was built at a cost that some estimates place at around 800 million US dollars, half of which came from private investors and half from the Uzbek government: one of the first public-private partnerships in the country's history, and a sign, perhaps, that the current government is serious about liberalising the economy.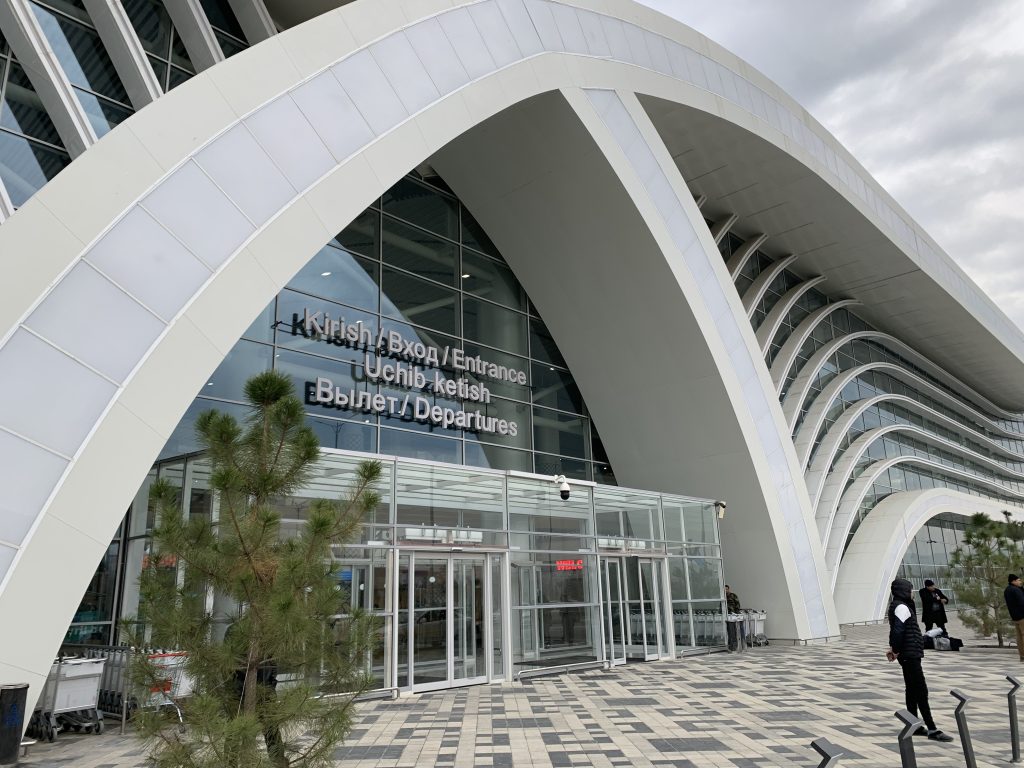 With a capacity of two million passengers per year, it will allow visitors to access the Silk Road cities without first travelling to Tashkent (for as one Uzbek confided in me, "If I were to list the 10 best sights to visit in Uzbekistan, Tashkent does not make the list". I disagree: parts of Tashkent's metro system are stunning). Flying to Samarkand in search of the Silk Road does not even have to mean missing out on the Afrosiyub: it already runs on to Bukhara, and soon to Khiva.
As I take photos of the empty terminal, a security guard grumbles and motions at me to show him my phone. I decline and exit quickly. It's almost reassuring. I did not expect to find one of the world's fastest trains in Uzbekistan, nor one of its most stunning airports. I did expect to find surly security guards, however. Oh, and plov.
---
Unlike many news and information platforms, Emerging Europe is free to read, and always will be. There is no paywall here. We are independent, not affiliated with nor representing any political party or business organisation. We want the very best for emerging Europe, nothing more, nothing less. Your support will help us continue to spread the word about this amazing region.
You can contribute here. Thank you.