The latest edition of the Human Rights Watch World Report outlines some stark differences between emerging Europe's EU and non-EU members.
Emerging Europe's 11 European Union member states espoused a commitment to human rights and democratic values in 2022, and in some instances, lived up to those values, Human Rights Watch (HRW) claims in its World Report 2023, an annual review of human rights across the globe.
However, the EU and member states often fell short of translating this commitment into policies and actions, leaving the most marginalised and vulnerable people exposed to abuse.
---
---
The rapid and largely effective response of the EU to the mass displacement of Ukrainians stood in marked contrast to the abusive treatment of migrants and asylum seekers from other regions of the world at many of the EU's other external borders.
In an unprecedented move, the European Commission invoked the Temporary Protection Directive for Ukraine asylum seekers, demonstrating that when there is political will, the EU can come together to uphold its human rights values and protect those fleeing persecution, war, and violence.
"We've seen in the past year with Ukrainian refugees that with the right political will the European Union can meet human rights challenges with humanity and dignity," says Benjamin Ward, deputy Europe and Central Asia director at Human Rights Watch.
"The task for the coming year is for the EU to find ways to match that response in areas such as Hungary and Poland's undermining of the rule of law, abuses at external borders against other refugees, and a cost-of-living crisis."
The HRW report reviews human rights practices in close to 100 countries. In an introductory essay, the organisation's executive director, Tirana Hassan, says that in a world in which power has shifted, it is no longer possible to rely on a small group of mostly Global North governments to defend human rights.
"The world's mobilisation around Russia's war in Ukraine reminds us of the extraordinary potential when governments realise their human rights obligations on a global scale," she writes. "The responsibility is on individual countries, big and small, to apply a human rights framework to their policies, and then work together to protect and promote human rights."
Ukraine
Outside of the EU, the human rights situation across much of emerging Europe is far more concerning.
In Ukraine, Russia's war has wrought a devastating toll on civilians and shattered civilian life in much of the country.
Russian forces have committed apparent war crimes and crimes against humanity, including torture, summary executions, and enforced disappearances. They have carried out indiscriminate attacks on civilian areas and repeatedly targeted energy infrastructure, leaving millions of civilians periodically without electricity, water, and heat as winter temperatures plunged. More than 14 million Ukrainians have been forced to flee their homes since the Russian invasion began in February.
"Throughout the war, Russian forces have carried out horrific abuses in Ukraine with unconscionable disregard for civilian life," says Yulia Gorbunova, senior Ukraine researcher at Human Rights Watch. "Accountability is crucial, both to bring justice to victims and survivors and to ensure that there is no impunity for these grave crimes."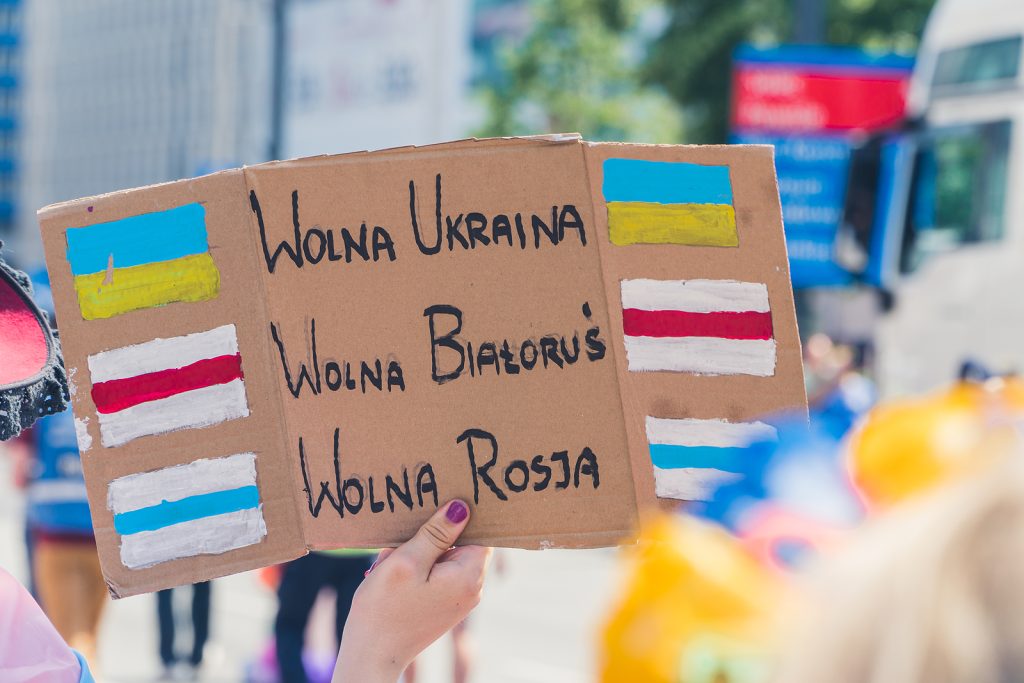 Belarus
In neighbouring Belarus, authorities further escalated their crackdown on dissenting voices and doubled down on eviscerating the vestiges of civil society during 2022.
Belarusian authorities have prosecuted human rights defenders, journalists, lawyers, opposition politicians, trade union representatives, activists, and peaceful protesters, and brutally suppressed protests against Russia's war on Ukraine.
According to the leading Belarusian human rights group, Viasna, by the end of November, at least 1,443 people faced prosecution on politically motivated charges. Six Viasna activists remained behind bars on trumped up criminal charges, including the organisation's leader and Nobel Peace Prize 2022 laureate, Ales Bialiatski.
According to Tanya Lokshina, associate Europe and Central Asia director at Human Rights Watch, "the country has become a zone of raging repression and absolute impunity for rights violations."
Western Balkans
In Bosnia and Herzegovina, authorities failed to prioritise human rights protections in 2022, HRW claims. Discrimination against minorities remained a serious concern, while progress in war crimes prosecutions was slow.
In October, the European Commission published its annual progress report on the country, granting it European Union candidate status, even though "significant reforms are still needed to ensure that all citizens are able to exercise their political rights" and a lack of progress on rule of law and election reform.
In Serbia, independent journalists continued to face intimidation, threats, and violence. War crimes prosecutions remained slow, inefficient, and marred by delays. A pan-European pride parade in Belgrade took place with police protection, despite authorities having banned it, underscoring the precarious situation for LGBT people in the country.
The October European Commission progress report on Serbia said further efforts were needed to improve cooperation between civil society and the government as verbal attacks and smear campaigns against civil society organisations continued. The report also expressed the need to strengthen human rights institutions by allocating sufficient funds and human resources.
In Kosovo there was also slow progress on accountability for war time abuses. Tensions flared after Kosovo authorities ordered that ethnic Serbs in the north may not enter Kosovo with Serbian issued IDs or license plates. Ethnic Serbs raised barricades close to the border in protest, and Kosovo authorities kept border crossings closed until barricades were lifted.
The October European Union Commission progress report on Kosovo noted slow and inefficient administration of justice prone to undue political influence.
South Caucasus
Political tensions and growing insecurity from the unresolved conflict over Nagorno-Karabakh dominated events in Armenia, although the authorities pursued ambitious judicial, police, and constitutional reforms.
Human rights problems included ill-treatment by law enforcement, interference with freedom of assembly, domestic violence, discrimination against people with disabilities, and violence and discrimination based on sexual orientation and gender identity.
Azerbaijan's human rights record meanwhile did not improve in 2022. In May, authorities released more than 20 individuals imprisoned on politically motivated and bogus charges, but at least 30 others remained wrongfully imprisoned while authorities continued to target its critics and other dissenting voices.
Restrictive laws continued to impede nongovernmental organisations (NGOs) from operating independently. Other persistent human rights problems included systemic torture and ill-treatment in custody and restrictions on media freedoms.
in Georgia, freedom of the media suffered setbacks, with numerous attacks against media professionals and the jailing of a critical TV director. Other areas of concern included lack of accountability for law enforcement abuses, illegal surveillance, unfair labor conditions, and violence against women and lesbian, gay, bisexual, and transgender (LGBT) people.
In June, the EU stated that it was conditioning Georgia's candidacy for membership on progress on 12 issues, many connected to human rights.

Central Asia
In Central Asia, authorities in Kazakhstan, Uzbekistan, and Tajikistan used unjustified lethal force to respond to protests in 2022 and have utterly failed to ensure accountability for a multitude of human rights violations.
Dozens of civilians also died during armed clashes in September at the border between Tajikistan and Kyrgyzstan, where in October, the human rights situation took a notable turn for the worse after Kyrgyz authorities began a concerted crackdown on activists and shuttered independent media. Turkmenistan has taken no steps to account for dozens of people who have been forcibly disappeared or held in incommunicado detention.
"Reform claims by Central Asian leaders ring hollow in the face of impunity for serious human rights violations committed by law enforcement officials," says Hugh Williamson, Europe and Central Asia director at Human Rights Watch. "If Central Asian governments want to turn a page on the violent suppression of protests and other grave human rights abuses that occurred in 2022, they should stop ignoring calls for independent investigations and accountability,"
---
Unlike many news and information platforms, Emerging Europe is free to read, and always will be. There is no paywall here. We are independent, not affiliated with nor representing any political party or business organisation. We want the very best for emerging Europe, nothing more, nothing less. Your support will help us continue to spread the word about this amazing region.
You can contribute here. Thank you.