Not only is the city of Vilnius growing its population, unlike the rest of Lithuania, but it is also becoming increasingly younger, says Remigijus Šimašius, mayor of Vilnius. He talked to Emerging Europe about the city's most recent infrastructural projects, its key sectors and the challenges it is facing.
What are some of the new major infrastructural and real estate investment projects that Vilnius city hall is planning, that could be interesting from an investor's perspective?
Vilnius is working on a new master plan that will be finalised by the end of 2017. It will include the setting aside of plots of land for high-tech manufacturing and logistics companies, as well as the development of a strategic sustainable urban mobility plan, to be finalised by April 2018.
As far as the most notable city infrastructure projects are concerned, there are quite few of them. A big portion of the Vilnius Western Bypass project was finished at the end of 2016. The project aims to alleviate traffic congestion in the city centre. The bypass is under constant review and additions to the project are currently being planned. The city is investing heavily in a bicycle infrastructure, with about 60 kilometres of new cycle-paths expected to be constructed by the end of 2019.
A project dedicated to the modernisation of the Neris River banks to make then attractive to businesses that are interested in leisure infrastructure is also currently underway. This initiative is part of a broader plan to invest in and develop the city's parks and gardens. The total investment in this is approximately €24.7 million planned for between 2017 and 2020.
The wellness infrastructure is also among the priorities of the city. A multifunctional complex – the national stadium project – is in progress. The construction works are expected to begin in 2020. Construction is expected to start on a wellness centre in Lazdynai, in May 2017.
Other important city infrastructure projects are related to the management of storm water systems with approximately €26 million set aside for between 2016 and 2018; the street lighting project at some €25 million and local road development projects at €8.7 million.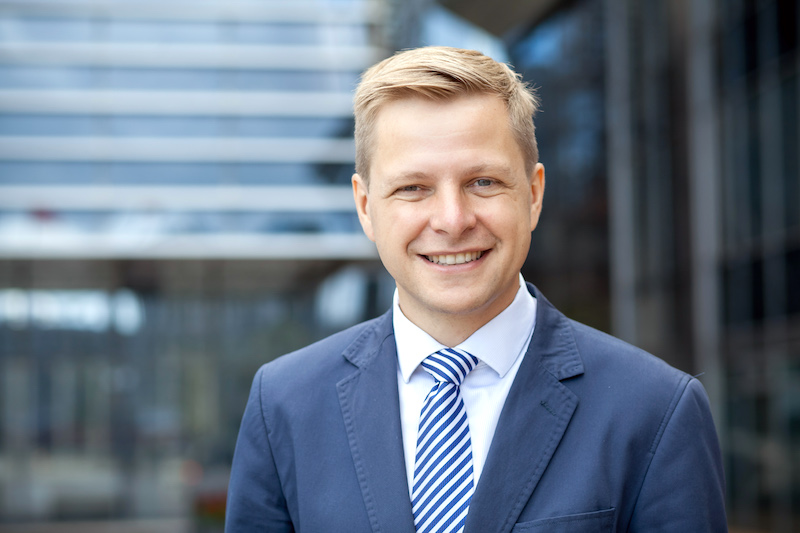 Which sectors is Vilnius promoting?
We are already very strong in biotech, lasers and optics. Our scientific heritage in these fields dates back to work that was initiated in our universities in the 1970s. Vilnius-based companies such as Teva, Moog, Sicor, Thermo Fisher Scientific, Light Conversion, Ekspla and Brolis Semiconductors are using state-of-the-art technology as well as the country's highly skilled talent pool to generate enormous value for our economy. As an example, half of all picosecond lasers sold worldwide are produced by companies in Vilnius, while Lithuanian-made femtosecond parametric light amplifiers (used to generate ultrashort laser pulses) account for as much as 80 per cent of the total world market.
The outsourcing of business and legal processes have been two rapid-growth areas, with companies that started as modest back-office operations (after quickly realising the potential that Vilnius offers) evolving into centres of excellence that offer a range of services. This is undoubtedly why Vilnius received the award for the "Most Dynamically Developing City" for the second year in a row, at this year's CEE SSC and Outsourcing Awards. As example is Western Union, which hired its first employee in Vilnius in 2010, and which now has a regional centre of excellence that is the company's largest in the world, with more than 1,600 employees. This is, first and foremost, a tribute to the quality of our workforce, which is driven by talented, industrious and flexible professionals. Company managers confirm as much. Since 2005, the shared service industry has tripled and we now have more than 60 business services centres operating in Vilnius.
Fintech is particularly hot right now and Vilnius has a unique value proposition for this industry. Our national bank moved extremely quickly to adapt to this new sector and, as a result, we are rolling out the red carpet for Fintech, with the fastest licensing in the EU, access to SEPA directly through our national bank and a "sandbox" regulatory environment that promotes innovation with friendly regulatory guidance instead of rigid sanctions and bureaucracy. It's a sign of confidence that Barclays chose Vilnius as the location for one of its seven "Rise" Fintech start-up hubs and the only one in continental Europe. We are also forging ahead in cyber security, game development and other ICT industries, with the people and infrastructure that companies need, including lightning-fast internet and talent from Lithuania and the greater Baltic Sea Region.
We are doing a lot to promote start-ups in general, with Vilnius Tech Park as an example of a partnership between the City of Vilnius and private investors. Covering nearly 10,000 sq. m, it is the largest tech park in the Baltic Sea Region. It offers start-ups access to an exclusive network of business partners, all available on-site to provide individualised support.
What are the capital city's advantages over other cities in the country and the region?
Vilnius is developing sustainably. Unlike other parts of the country, our population is growing, by about one percent each year. Also, unlike the general trend, our city is getting younger, as more and more young people seek out the opportunities that Vilnius offers. We estimate that 25-39-year-olds will make up nearly one-third of Vilnius's total population by 2021.
We are upgrading our public transport system and are developing new ways to commute, including car-sharing, ride-sharing, public bicycles and more. We have shown our openness and eagerness to embrace new solutions by being the fastest city in the world to get a local Uber service up-and-running. What we are finding is that once people discover Vilnius, they start looking for ways to stay. We are cosy and compact. Commute times are measured in minutes, not hours. Vilnius has a vibrant, UNESCO-listed Old Town which is full of life and culture and is anything but a boring tourist trap. Vilnius features green space galore – nearly one-half of our urban area – with plenty of active leisure options close by, and together with our excellent life-work balance in general are just a few of the reasons Vilnius was voted Europe's Happiest Capital, in a recent resident poll.
What challenges does the city have to overcome now?
The major one is infrastructure. Although we are among the top cities in terms of internet availability (public Wi-Fi, 4G and fibre optics at offices or homes) and are improving our public transportation and social infrastructure (such as the availability of kindergartens), we are still focusing on the continued improvement of infrastructure to make lives cosier.