Ukraine hasn't bought Russian gas since November 2015. In January 2017, Gazprom charged Naftogaz $5.3 billion for gas it had not purchased, under a take-or-pay clause covering the second through to the fourth quarter of 2016. The applicability of the take-or-pay principle is currently being reviewed by the Arbitration Institute of the Stockholm Chamber of Commerce within the context of the arbitration proceedings between Naftogaz and Gazprom that were initiated in 2014. Naftogaz doesn't intend to pay the invoice until the final decision has been reached in the arbitration.
Yuriy Vitrenko, Group Chief Commercial Officer at Naftogaz, spoke to Andrew Wrobel, about the reforms of the Ukrainian gas market that have already been introduced and the challenges that the sector is facing now as a result of a slowdown in further reforms.
How do you see the position of Naftogaz in the market? Are you looking for partners?
There are many value chains that are fragmented in Ukraine's gas market. We are a major player in upstream and in the wholesale market but we are almost not present in retail. At the same time, another group controls some 85 per cent of the retail segment.
We would rather prefer to have a vertically integrated business, across the value chain. This will have a positive impact on the sustainability of market development, including fostering competition. I would also note, that we would like to gain more experience in gasoline or LPG or natural gas retail and we might need partners for these particular fields.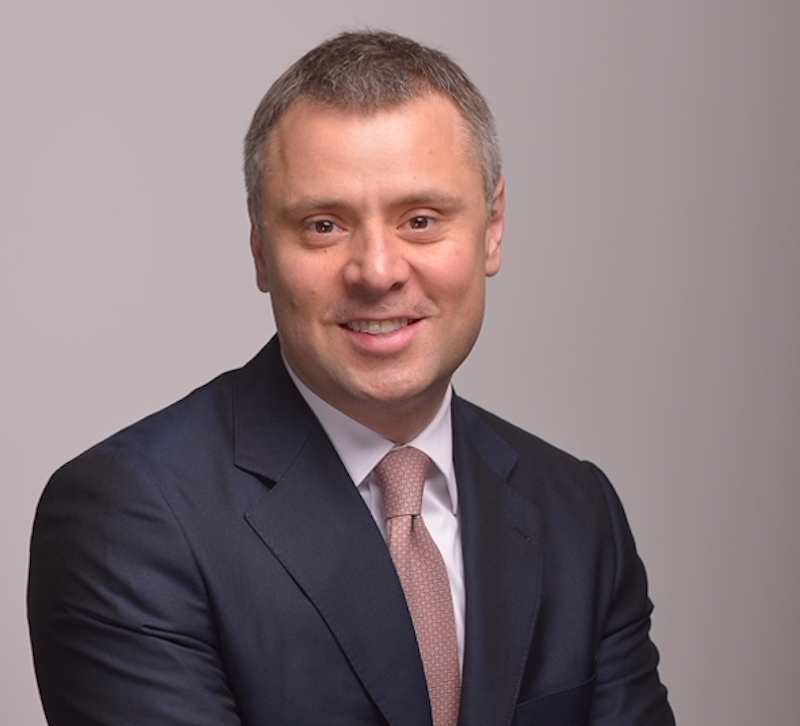 As for gas transmission; Ukraine is looking for a partner to operate the system. Our gas transmission business is a cash cow. It generates sufficient cash flows to cover its investment requirements, so it is not an issue of investment. This business will be fully unbundled from Naftogaz to implement the Third Energy Package. However, we, as a market player, need a reputable and experienced western company to co-manage the system and to bring trust, commercial know-how and technologies.
In the upstream business, we are comfortable with the geological risks in Ukraine and we have the funds, but we may need the right technologies. We have a huge subsidiary that produces gas in Ukraine, and we could consider, for example, bringing reputable international partners into certain fields in order to develop those fields and improve the efficiency.
What is your view on the reforms in the energy sector, particularly the ones regarding Naftogaz? In an interview, Elena Voloshina, country representative of the International Finance Corporation in Ukraine, says there is a certain amount of progress being achieved in the implementation of the Naftogaz corporate governance action plan and an independent supervisory board of Naftogaz has been established, but further changes are needed in Naftogaz.
For the last three years, I think I can praise our achievements. There has been tremendous success. For example, three years ago we were fully dependent on gas supplies from Gazprom. Today, we are not buying gas from Gazprom at all.
In the past, we were hugely loss making. Naftogaz had a deficit of $10 billion. It was a huge burden for the state budget. Now, we are by far the biggest tax payer. We have profitable operations and we are a driver for gas market reform. Ukraine has moved from hidden subsidies to explicit or targeted subsidies supply of gas to households. These particular reforms have saved the state budget at least $2 billion per year.
Energy efficiency has also increased, unfortunately not because of technological investments or enhancements, but more because of behavioural factors. It is very important that people have started to think about how much gas they consume, even if it has happened because of the price increase. Consumption decreased by some 20 per cent for past two consecutive years and imports decreased by 2.5 times.
Sometimes it's even hard for us to believe what has been achieved. At the same time, and to be open and objective, we must admit that reforms have slowed down significantly recently. In 2016, we didn't see much progress. The slowdown is very frustrating because, after such a rapid start and with a very clear picture where we were heading to, it's now really frustrating that we are stuck half-way.
So what has made these reforms slow down?
First of all, there is the gas market reform, for example. There was this shift from hidden subsidies to explicit subsidies. From 1 April 2017, the market was supposed to be fully liberalised but it's already clear that the government is not ready to do it. We won't have competition in retail for households, or for heating companies. That's very frustrating again, because prices have increased, but at the same time the competition was not enabled.
Then, we implemented the European primary legislation; the so-called gas market law. In fact it's a transposition of the EU third energy package which makes the Ukrainian market easy to operate for European companies. However, Ukraine did not implement the standard European network code and opted to have some transitional Ukrainian network code.
Then, there is the corporate governance reform which is another important process. This idea of this reform is to insulate Naftogaz, the state owned company, and other state-owned companies in general, from political meddling and graft. There was a lot of international attention on this reform. There were some, again, public statements and finally, again, there was some success.
Unfortunately, while I cannot say that the implemented steps are complete window dressing, there was no real change in substance. So, yes, our supervisory board was elected and appointed; it includes a majority of independent members but the government has so far failed to delegate its authority to this board. The opportunity for potential political meddling and graft was left open.
There's the formally approved Corporate Governance Action Plan. All of its stages were supposed to be completed in the first half of 2016. However, only 50 per cent of the first stage has been finished up until now. There are also delays in the implementation of the unbundling plan which was adopted in the summer of 2016.
What is the potential of the Ukrainian gas market? What will the market look like in ten years' time?
First of all, there will be no pricing regulations. It will be a liberalised market with free competition.
We also expect that the Ukrainian gas market will be fully integrated into the EU market. So the existing bottlenecks at major interconnectors will be removed. We also expect that there will be international partners co-managing the Ukrainian gas transmission system, meaning that European companies will be comfortable in using our GTS and coming to operate in the Ukrainian market.