Emerging Europe speaks to George Ramishvili, the founder and chairman of Silk Road Group, one of Georgia's leading investors and the force behind the restoration of the historic palace and winery at Tsinandali, now the venue for a magnificent annual classical music festival.
Georgia was at a particularly difficult point in its transition in 1997, the year when George Ramishvili founded the Silk Road Group. At the time, Ramishvili himself was only 27. He recalls it as a time of "political and economic struggle", marked, he says, by Georgian companies concentrating on pursuing business opportunities in the West.
"There was an opportunity to promote Georgia as a crucial point on the Silk Road axis, between East (not least China) and West. That was the founding vision of the Silk Road Group," he tells Emerging Europe.
"Georgia has partnered with China in recent years as part of the Belt and Road Initiative, however this collaboration is only part of the work ongoing in Georgia to establish links between East and West," he adds. "Our work in transportation, for example, predates the Chinese initiative, and is fundamental to our business."
Challenges overcome
The group has faced a number of challenges over the years, not least the 2008 financial crisis which impacted its operations. "However, by remaining true to our vision and continuing with the development of our projects and raising our own funds, we were able to weather this storm, and have been growing ever since," says Ramishvili.
SRG is today focused on many different sectors: real estate, tourism, IT, energy, infrastructure. For Ramishvili however, there is one common thread: connecting Georgia to the world and acting as a bridge for the country and the wider region:
"In each area of SRG's operation, we are established as a leader, whether through Silknet, which holds 48 per cent of the fixed telephone market or Silk Road Hospitality, which partners with international luxury hotel companies. Our focus has long been on turning Soviet-era assets into best-in-class profitable operations, combining local know-how and expertise with the highest international standards. Georgia itself is also an appealing destination for investors, as sixth place in the World Bank's Doing Business report demonstrates. It is true that Georgia still faces some challenges, however this is to be expected for a post-Soviet country; and our attractiveness for foreign investors remains strong, while our own businesses continue to flourish."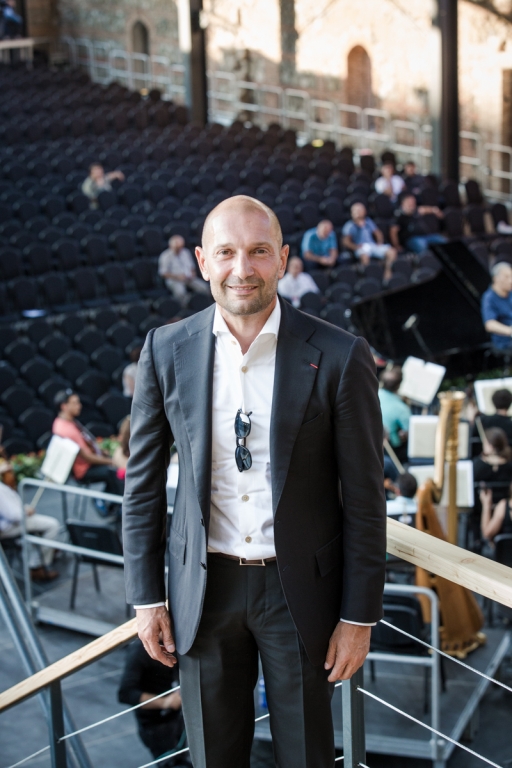 Euronews Georgia
Ramishvili believes that Georgia's relationships with the EU and the United States are vitally important for the country and for the Silk Road Group: the EU is Georgia's main trading partner, with a 27 per cent share of total trade.
"For SRG, partnerships across both regions are crucial," he says. "For example, our telecommunications division Silknet recently signed a deal with Euronews to launch a Georgian franchise of this hugely successful European media outlet, which will host original Georgian content alongside Euronews editorial content."
What's clear from speaking to Ramishvili is that all of SRG's initiatives point in one direction: to make Georgia a major player in a number of key areas. Tourism is one of the most important, he says:
"In recent years Georgia has increasingly been recognised as an attractive tourist destination, and this is a key part of how SRG sees Georgia's future – as a country with 60 per cent mountainous terrain, as well as seaside towns and a fascinating and ancient wine culture – we know we have a lot to offer international visitors. SRG has been fundamental in promoting these aspects of the country, through our sponsorship of the developing Georgian Ski Federation and the Tsinandali Estate and classical music festival. As our popularity as a tourism destination increases we will also continue to draw investors from associated sectors who see the opportunities for growth."
With its rich culture and fabulous wine, Georgia does indeed have much to offer visitors. However, following Russia's ban (in place since July) on direct flights to and from Georgia, the country has to attract more tourists from the rest of Europe and beyond.
"While it is true that the majority of visitors to Georgia come from surrounding countries, its popularity with travellers from further afield is increasing," Ramishvili tells me. "For example, journalists from the UK, America and France, have all written about visiting Georgia, whether for skiing trips, wine tours or to visit our stunning historical sites. The popularity of these activities will only grow as awareness increases."
Winter sports
Ramashvili is particularly passionate about promoting Georgia as a destination for winter sports.
"Along with partners from FIS and the Georgian Ski Federation, we are bringing the 2023 FIS Freestyle Championships to Bakuriani – this will help us to put Georgia's mountains on the radar internationally and boost overseas visits," he says.
SRG's hospitality division is dedicated to bringing best in class tourist accommodation to Georgia and has partnered with leading international firms such as Radisson. "We currently have 11 operational sites offering luxury accommodation and entertainment, with more under development," he adds.
Tsinandali
One of the projects that George Ramishvili is most proud of is the Tsinandali Festival of Classical Music, which he considers to be SRG's crown jewel. It takes place at the Tsinandali Estate in the Khaketi region of Georgia. The estate was initially founded by Prince Alexander Chavchavadze, often referred to as 'the Father of Georgian Romanticism' and was the first place to bottle Georgian wine, with the architecture of the estate being one of the first examples of a blended European and Georgian design.
"SRG first invested in the Tsinandali Estate in 2007, and has restored this beacon of the country's history and culture to its former glory," says Ramishvili. "The festival allows us to show off the beauty of the estate and region while creating a sustainable cultural and educational centre in Georgia. It brings together some of the biggest names in classical music and young emerging talents from the region. I believe that music is the most powerful ambassador for peace, prosperity and for strengthening cultural and economic ties between Caucasian nations."
And between East and West, much like the Silk Road Group itself.