A pro-Russian junior partner in Serbia's government has proposed the country join BRICS—amid that organisation's enlargement—instead of the European Union. As of now, the scale, scope, and aim of BRICS are hardly comparable with the EU.
Serbia's Socialist Movement (PS)—a junior partner in the ruling Serbian Progressive Party (SNS) coalition—has submitted a resolution to parliament urging the country to limit "Western hegemony" and ensure the "fundamental reform" of international financial institutions by joining the BRICS bloc. Named for its members—Brazil, Russia, India, China, and South Africa—the bloc agreed to accept new members at its August meeting for the first time since South Africa joined in 2010.
"Aware of the fact that the world we live in is changing irrevocably, we express the need to open a broad social dialogue before the public of the Republic of Serbia about the indisputable fact that Serbia's so-called European path has a clear alternative embodied in the process of joining the BRICS organisation, as currently the most current global economic-political integrative process," says the PS resolution.
Milorad Dodik, the leader of Bosnia's Serbs, made a similar suggestion this week, suggesting that Bosnia and Herzegovina should apply to join BRICS as an alternative to the European Union.
---
---
The PS is led by Aleksandar Vulin, head of Serbia's principal intelligence agency. During the 1990s, Vulin was a close political ally of Mirjana Marković, the wife and government partner of former-Serbian leader Slobodan Milošević. He was blacklisted by the United States for alleged corruption and the promotion of Russian interests this July.
Serbia applied to join the EU in 2009, but public support for accession has waned as the long process has dragged on. A poll conducted in June found that the 46.7 per cent of Serbians opposed entry into the EU compared to 43.7 per cent in favour.
The Non-Aligned Movement (NAM), originally Third World states uninterested in both the American- or Soviet-led Cold War blocs, was founded in Belgrade by then-Yugoslav leader Josip Tito and the leaders of India, Egypt, Ghana, and Indonesia. Its mission was to fight "against imperialism, colonialism, neo-colonialism, racism, and all forms of foreign aggression, occupation, domination, interference or hegemony as well as against great power and bloc politics."
Since the end of the Cold War, the NAM has continued to promote collaboration between countries in the Global South even as its members have re-aligned after the Soviet Union's collapse.
The five namesake states of BRICS are all NAM members or observers. This month, BRICS invited five NAM members—Egypt, Ethiopia, Saudi Arabia, Iran, and the United Arab Emirates—and NAM observer Argentina to join it.
There is still significant nostalgia in Belgrade for the era when it was a major player on the global stage. Some there see BRICS as a new NAM—despite its member, Russia, being anything but "non-aligned" and opposed to aggression and occupation.
Narrow common ground among rivals
Although it does promote collaboration between the countries of the Global South, unlike the NAM, BRICS was not founded on shared foreign policy principles. Instead, BRICS—initially BRIC, before South Africa joined—was originated by Goldman Sachs analyst Jim O'Neill as an acronym for large developing economies he thought would grow rapidly.
Although Goldman Sachs eliminated its BRIC fund in 2015, after it lost 21 per cent in five years and prompted an exodus of investors, the leaders of those countries began to meet as an economic forum to accelerate their development and boost their global standing.
Despite the framing of the PS resolution, BRICS in its current form is hardly an alternative to the EU. BRICS has neither a single market nor free trade agreements nor common foreign policy nor single currency (despite past rhetoric).
The members of BRICS—old and new alike—often find themselves opposed to each other on a host of international relations issues.
New Delhi maintains warm relations with Moscow but is increasingly working with Washington to counter Beijing's power. India has a border conflict with China and has banned many Chinese apps while tightening restrictions on Chinese direct investment and imports.
Saudi Arabia, a possible new BRICS member, is a US ally which recently hosted a summit for peace in Ukraine that was attended by Ukrainian President Volodymyr Zelensky—and officials from the US and China alike—but which was boycotted by Russia.
Iran, Saudi Arabia's chief regional rival and Washington's perennial foe, also joined BRICS. While Tehran and Riyadh normalised relations earlier this year after Chinese mediation, they continue to back opposing factions in civil conflicts in Yemen and Syria.
New members Egypt and Ethiopia are also engaged in a dispute over a dam that could disrupt downstream access to the Nile River.
Sub-groupings of BRICS states do cooperate on political and regional initiatives, but they do so when their real, strategic interests coincide—not because they happen to be in BRICS together. The aforementioned disagreements between members have ruled out work by BRICS at an organisational level on a wide range of political and security issues, so the group has instead focused on economic cooperation with a lofty goal of de-dollarisation and disrupting US dominance in the global financial system.
---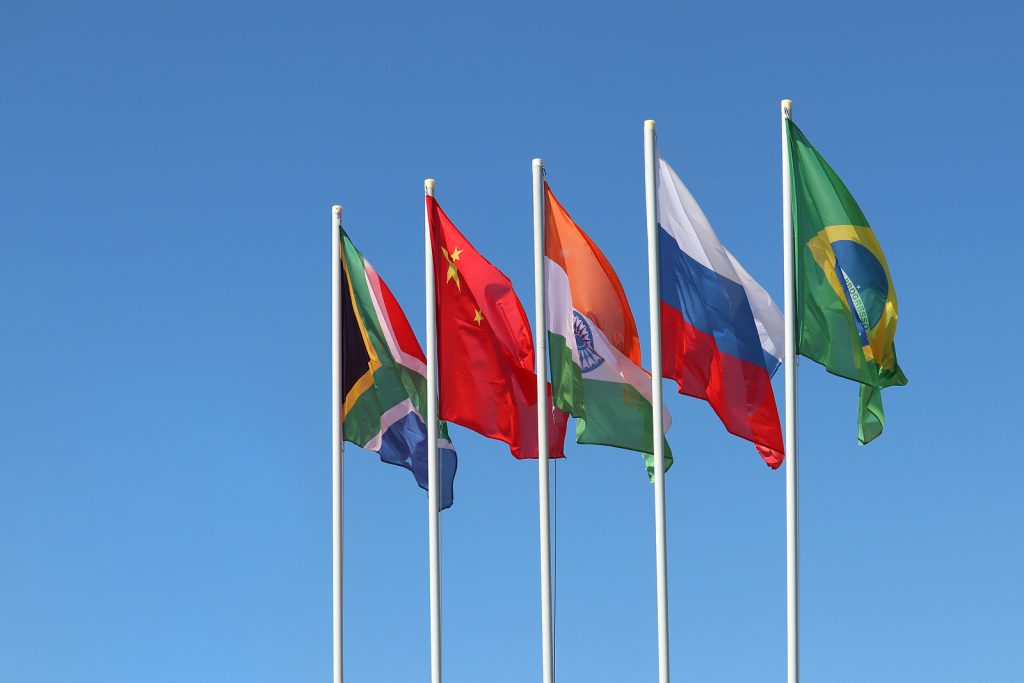 ---
New life for the New Development Bank?
Central to BRICS's mission to end US financial dominance is the New Development Bank (NDB). BRICS founded the NDB in 2014 amid criticism for the choice by the International Monetary Fund (IMF)—largely seen as Western-led—to have yet another European leader and give insufficient decision-making power to developing countries.
But the NDB's achievements have so far been modest and it stands accused of the same lack of transparency for which it criticised the IMF.
The NDB declared one project it financed—a highway through Brazil's Amazon blamed for accelerating the deforestation of one of the Earth's largest carbon sinks—to be "sustainable" despite widespread concern from environmentalists, and political and economic instability in Brazil and South Africa have exacerbated its work.
Sanctions on Russia following its illegal annexation of Crimea in 2014 made lending to Russian companies difficult. The NDB announced just days after the Kremlin's February 2022 invasion of Ukraine that it would cease funding all new projects in Russia and freeze its 1.7 billion US dollars existing exposure to Russia as investors' concerns drained its liquidity.
In July 2022, Fitch Ratings downgraded the NDB's credit rating from AA+ to AA, citing the "reputational risk associated with a bank with large Russian ownership" for US financial institutions who would work with the NDB.
O'Neill called the NDB "quite disappointing so far – almost anonymous."
While there is hope that Saudi Arabia's BRICS membership could open new funding streams and hedge the Russian political risk, NBD bonds still include a sizable risk premium over comparable dollar-denominated bonds, such as those from the World Bank.
As BRICS accepts another heavily-sanctioned member in Iran and hyperinflation-afflicted Argentina, the NDB will also take on new headaches.
Nevertheless, while mounting Serbian impatience at sluggish EU integration is more than understandable, BRICS's NDB is unlikely to provide a meaningful alternative to European development programmes.
---
Unlike many news and information platforms, Emerging Europe is free to read, and always will be. There is no paywall here. We are independent, not affiliated with nor representing any political party or business organisation. We want the very best for emerging Europe, nothing more, nothing less. Your support will help us continue to spread the word about this amazing region.
You can contribute here. Thank you.

---