A lack of awareness about a specific location can be a real obstacle to investment, and for the firms already located there, to international growth.
Trade missions can be a good business expansion tool, allowing companies to familiarise themselves with business opportunities and the business landscapes of foreign markets prior to committing to a substantial investment. A study published by the Swinburne University of Technology, concludes that, on average, businesses that participate in missions more than double their exports.
I recently joined a trade mission (or a study tour) and conference held in Sandomierz, in south-east Poland, both organised by the Marshall's Office of the Świętokrzyskie Voivodship.
---
---
For the journey to that picturesque yet slightly remote region of Poland, I set out a few objectives.
I really wanted to explore Sandomierz, as I had never been, and learn more about the kind of businesses and entrepreneurs operating from the region and the products they offer. For me, it is important to speak with people, to understand their thinking and their ideas and their approach to doing business. It is essential to build trust and connections.
I am particularly interested in nation branding—due to the research I have been doing—and in understanding how national, regional and local authorities build the location's value proposition and how they 'sell' it.
And finally, as someone who regularly speaks with those on the importing or buying front, I also wanted to see how my fellow trade mission participants would receive what they were exposed to.
Little Rome and beyond
Nicknamed 'Little Rome', the town of Sandomierz is—just like the ancient city—located on seven hills and a river, in this case, the Vistula. It is known for its royal medieval castle and a film festival, and is an attractive tourist destination. Sandomierz, which developed economically and became one of the largest towns in Poland in the 16th century, now has a population of almost 25,000. More broadly, environmentally protected areas account for two thirds of the entire Świętokrzyskie Voivodship.
During the trade mission, we also had an opportunity to visit businesses in neighbouring counties. We started at Sambor, a fruit concentrate and a not-from-concentrate (NFC) juice producer based in Samborzec. We then went to see Dreher Poland, located in Koprzywnica—the most efficient, fully automated and sustainable, not-from-concentrate (NFC) juice-producing facility that I have ever imagined. Storing apples and preparing them for transportation is essential so we dropped by Refal Fruit Producers' Group in Wilczyce.
Of 89.5 million tonnes of apples produced globally per annum, according to the Food and Agriculture Organisation of the United Nations, Poland is the fifth largest apple producer across the world. Last year's harvest in Poland was five per cent higher than in 2021 and exceeded 4.2 million tonnes. The official data website says that in the first four months of this year, Poland exported almost 312 million tonnes of apples, nine percent more than in the same period of 2022, mainly to Romania, Egypt, Kazakhstan, India and Spain.
It is no wonder that around Sandomierz there is a special apple trail for tourists if the Świętokrzyskie Voivodship is the second biggest source of apples in the country. There is another trail for those more interested in winemaking. The official website lists nine vineyards. We had a chance to visit one of them—Winnica Płochockich in Daromin, which intrigued me with their orange, similar to the one I had tried only in Georgia before.
Dairy production appears to be essential in the region with several dairy cooperatives. We visited one in Będziny. It specialises in the production of fudge but also happens to sell other foods such as buckwheat and rice.
A local focus
What I was really impressed by was the engagement of and reliance on local talent and the commitment to building local prosperity. And to being inclusive and providing employment to seniors who perhaps do very basic and repetitive work that could easily be automated, such as wrapping up fudge candies. But if such employment has an impact on the local society, it is important to maintain that.
I also had a feeling that this local focus also translates into the markets the companies operate in, perhaps with the exception of Dreher, which is a subsidiary of a German family business and has an international or global approach in its DNA. It doesn't mean that these businesses do not export their products. It just means that their marketing and communications appear to be addressed to a Polish customer. The companies' website is one example — they usually don't have an English version and if they do they show at least some room for improvement.
I raised the topic of internationalisation and a global mindset from the start during the conference that followed the study tour and mentioned the example of Hi-Tech Corp from North Macedonia which was set up in 1981 by Savo Stanković in the basement of a home in Skopje and is now a leading manufacturer of printed circuit boards (PBCs). He knew from the start that he needed to focus on exports, even when it was still not allowed for a private business in former Yugoslavia to sell products abroad.
Building that global mindset is important, especially today in the volatile, uncertain, complex and ambiguous world. In the past, aspirational companies viewed 'global' as a tool to access one or more international markets. But over the years, the true meaning of "going global" has changed. It is no longer a mere recommendation. It has become an absolute necessity for continued growth and success. And here I see the biggest support local and national governments can help businesses with.
The other area is sustainability and automation, which are clearly the future, and I echoed the plans the manager of Dreher had laid out for us—a fully automated facility with its own solar panels generating electricity and a waste recycling centre.
---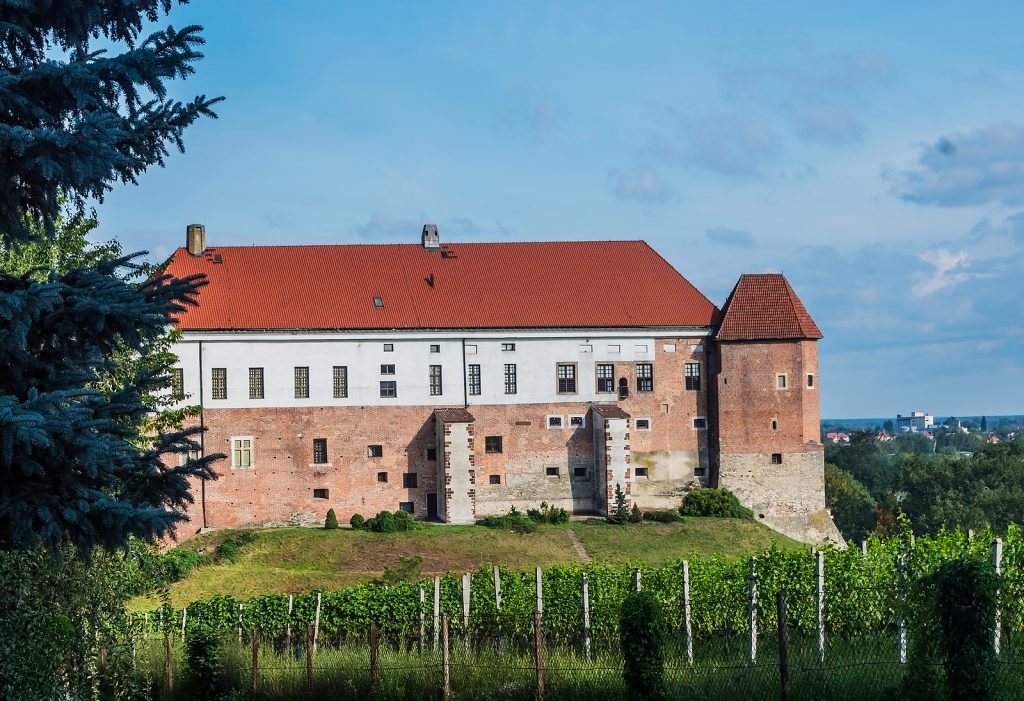 Sandomierz Castle
---
Case studies for the world
I can say from experience that visiting a new place and looking at it from a business perspective, exploring challenges and obstacles changes the perspective. And I don't only mean challenges related to individual cases, like with Savo Stanković, who had to dismantle all the machines he bought in Germany in the early 1980s so he could import them to Yugoslavia, but also those related to the lack of awareness about a specific location or its not necessarily positive image.
Before going to Rwanda to help the local government create a value proposition for investors in the global business services sector and IT last year, my association with the country had focused on the genocide 30 years ago. What I saw was a safe and welcoming country committed to making a change and talent willing to go above and beyond to make it happen.
Taking a deeper dive into what Sandomierz and its vicinities have to offer was—for me and I believe for the other participants of the study tour—another great learning experience and an opportunity to collect new case studies of businesses operating in the emerging Europe region and share them with other entrepreneurs both in the region and globally.
---
Unlike many news and information platforms, Emerging Europe is free to read, and always will be. There is no paywall here. We are independent, not affiliated with nor representing any political party or business organisation. We want the very best for emerging Europe, nothing more, nothing less. Your support will help us continue to spread the word about this amazing region.
You can contribute here. Thank you.

---