Kyrgyzstan's government hopes an entirely new city on Lake Issyk-Kul will increase foreign investment, boost tourism and offer skilled Kyrgyz well paid jobs.
With 90 per cent of its territory covered by the snowy peaks of the Tian Shan mountains, Kyrgyzstan is sometimes dubbed 'the Switzerland of Central Asia' for good reason. Hikers can follow multi-day treks in the mountains around Karakol without needing to pack a tent by making use of numerous yurt camps, or see the Ak-Sai glacier on a daytrip from Bishkek to Ala-Archa National Park, just 35 kilometres from the capital.
Holidaymakers can relax in Soviet-era sanatoriums on the shores of Lake Issyk-Kul, the second largest mountain lake in the world, or scour the spawling bazaars of the multi-ethnic second city, Osh, to find the best Uzbek plov—usually written simply as Osh on menus from Vilnius to Tbilisi.
---
---
But for the first decade of Kyrgyzstan's independence, its tourism potential went unrealised. Tourism gradually increased after it liberalised visa requirements for many Western tourists in 2003, increasing from 342,000 international arrivals that year to 2.45 million in 2009 according to World Bank data.
Since a sharp dip to 1.22 million arrivals in 2010, tourism recovered and reached a pre-Covid-19 peak of 8.51 million arrivals in 2019. Since the pandemic, tourism has been resurgent, with Kyrgyzstan working to continue finding ways to attract new visitors.
Bloggers and eco-tourism
While Kyrgyzstan is reasonably well-known as a holiday destination in Commonwealth of Independent States (CIS) countries and was one of the ten most visited countries by Russian tourists in the first three quarters of 2022, increasing its name recognition and word-of-mouth reputation in other regions remains a priority.
To this end, its government has helped organise informational tours for bloggers and travel agencies and is negotiating the implementation of visa-free travel for Chinese citizens amid a much wider deepening relations with Beijing.
Eco-tourism has emerged as a preferred paradigm for both encouraging visits and incentivising the preservation of Kyrgyzstan's natural heritage. After the success of "eco-lodges" and "eco-resorts" at attracting Western tourists, even mountain yurt camps managed by local nomadic herdsmen have been re-named "eco yurt camps".
However, while most of these eco-establishments offer visitors opportunities to immerse themselves in Kyrgyz nature, some environmental activists have increasingly voiced concerns about greenwashing in tourism by groups that do little to reduce their environmental impacts.
A planned 'eco-city' for medical tourism
Continuing the trend of eco-ification, Kyrgyzstan plans to build what it calls the Asman Eco-City of the Future on the shores of Lake Issyk-Kul. The project's website says it hopes the city will house 300,000 inhabitants, although Kyrgyzstan's president, Sadyr Japarov, has suggested even more could eventually live there.
"From 500,000 to 700,000 people will live in the future city," Japarov said ahead of laying an inaugural capsule at the construction site in June. "The total area of the city is 4,000 hectares. The construction will be financed by external investors—foreign companies."
So far, the three French firms Finentrep Aspir, MEDEF, and Mercuroo have pledged to invest five billion US dollars in the project—a quarter of the total needed.
The city—whose grid will resemble a Kyrgyz string instrument, the komuz—is supposed to have a car racing track, lakeside water sports facilities, traffic control managed by artificial intelligence, malls, and gourmet restaurants. The head of the Asman project, Ruslan Akmataliev, hopes it will draw educated Kyrgyz professionals who have sought better-paying jobs outside the country back home while creating jobs for Kyrgyz labourers who would otherwise go to Russia for work.
---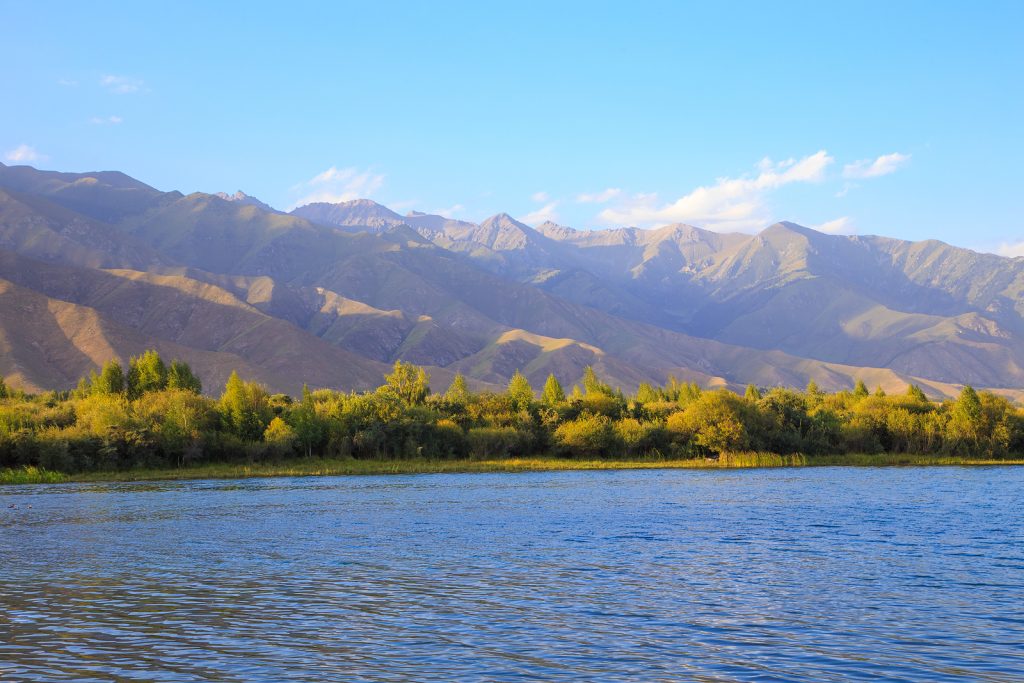 Lake Issyk-Kul
---
Ending the remittance trap
Today, Kyrgyzstan is tied with neighbouring Tajikistan for the title of the world's second-most remittance-dependent economy (first place goes to the tiny island nation of Tonga) with a third of its gross domestic product coming from money sent home from its diaspora.
"If we create [work and life] opportunities here, many Kyrgyz will return to our country to work. We will take the best from all over the world — the latest technologies for Asman," said Akmataliev. "We will have the newest hospitals for medical tourism and also the Kyrgyz people won't have to travel to Turkey, India, or Israel for treatment anymore."
Creating a hub for medical tourism from scratch is a novel endeavour, and the project hopes to draw healthcare providers from South Korea, Israel, Germany, Turkey, the United States, and Russia to Asman.
Kyrgyzstan is already a hub for South Asian medical students—hosting 15,000 Indian and Pakistani students across several medical schools as of 2020—and could build on this source of human capital.
For now, however, Asman remains in its early stages, and given that other planned city projects in Central Asia have met with mixed success, it remains to be seen whether Asman will be economically viable in the long run.
Environmentalists also worry that poorly-regulated construction, waste and sewage management issues, and a mass influx of people will pollute the land, air, and water around one of the country's most pristine lakes—whose surroundings are home to 39 endangered species of animal.
But if Asman can prove successful and sustainable, it could facilitate a higher volume of medical and eco-tourism to Issyk-Kul and employ thousands of Kyrgyz.
---
Unlike many news and information platforms, Emerging Europe is free to read, and always will be. There is no paywall here. We are independent, not affiliated with nor representing any political party or business organisation. We want the very best for emerging Europe, nothing more, nothing less. Your support will help us continue to spread the word about this amazing region.
You can contribute here. Thank you.

---