Currently enjoying the highest economic growth of any country in Central and Eastern Europe and Central Asia, Kyrgyzstan is a failed state no more. 'Tell investors we're coming', says the deputy chair of the country's Cabinet of Ministers, Edil Baisalov. 
Edil Baisalov spent years fighting for democracy in Kyrgyzstan as a human rights and anti-corruption activist. He survived an attempted assassination, briefly lived in exile in Sweden, and played a vocal role in the 2005 Tulip Revolution which ousted long-time ruler Askar Akayev. United States Supreme Court Justice Ruth Bader Ginsburg presented Baisalov with the American Bar Association's international rule of law award in 2006 for his advocacy.
---
---
After decades campaigning for accountability for his country's government from the outside, Baisalov accepted appointments in its Ministry of Social Development and as its Ambassador to the United Kingdom. In October 2021, he was sworn in as the deputy chair of the new Cabinet of Ministers in Kyrgyzstani President Sadyr Japarov's administration.
It was signal that Kyrgyzstan is a failed state no more, says Baisalov.
"You know, we used to be a failed state. We looked like one. We acted like one," he tells Emerging Europe. "But this leadership – that of President Japarov – is consolidating the state and is putting it into order. There has been a lot of significant achievement over the past two years, and a lot more to come."
The president and the gold mine
Before his landslide victory in January 2021's presidential election, Japarov served as an anti-corruption official and member of the country's parliament. He played a prominent role in protests against the Kumtor gold mine, the largest in Kyrgyzstan and the second-highest mine in the world.
It was operated by Centerra Gold, a Canadian company, and has long been a lightning rod in Kyrgyzstan's politics over allegations of corruption, foreign exploitation of natural resources, and the use of practices harmful to locals and the environment. Gold is Kyrgyzstan's largest export, and the Kumtor mine alone is responsible for 12 per cent of the country's Gross Domestic Product (GDP).
In 2013, at a rally to nationalise the mine, Japarov's supporters locked the local governor in a car. A court labelled this a kidnapping, and when a lawsuit was filed against him, Japarov left Kyrgyzstan for three years, returning only in 2017. He was immediately jailed on the 2013 kidnapping charges.
However, when thousands took to the streets in October 2020 to demonstrate against alleged vote-rigging in parliamentary elections, protestors stormed parliament and sprung Japarov from his cell so he could join the crowds in Bishkek's largest square. The election results were annulled, a judge threw out Japarov's conviction, and the president resigned. Japarov became interim PM, then interim president.
In the new elections, Japarov ran a campaign that was frequently characterised as "nationalist" and "populist". He won in a landslide. Election observers from the Organisation for Security and Co-Operation in Europe (OSCE) nevertheless called the election "well organised" and said, "fundamental freedoms were generally respected".
Upon taking office, Japarov immediately turned his attention to his old foe: the Kumtor gold mine.
"In May 2021, we initiated the dispute with Centerra as the largest shareholder," Baisalov says. "A lot of our detractors were expecting that we would pursue some primitive, savage way of just nationalising, grabbing the mine. But actually, we entered into negotiations, we avoided costly and protracted litigation, and we ended it amicably. In April 2021, we signed an agreement, and by August, we were done. So they went away, and we kept our gold mine."
Baisalov says nationalising the Kumtor mine will be a "huge game changer" in increasing Kyrgyzstan's revenue to fund its ambitious social and infrastructure projects and debt payments to China.
Prior to the nationalisation, Centerra made 11.5 billion US dollars from the mine while Kyrgyzstan's government only received 1.44 billion US dollars in revenue from royalties and taxes—despite owning over a quarter of shares in the mine. "Before, over the 30 years of our independence, we would rely on some meagre foreign investment and some donor driven development. We never had any access to this kind of money."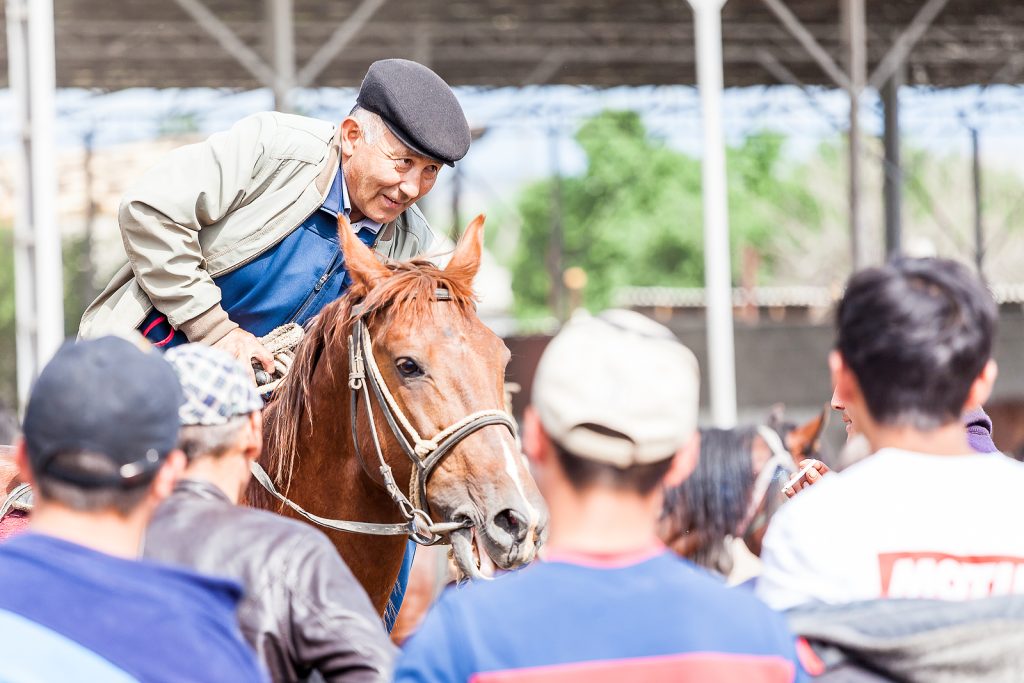 Thoroughbred growth
Owing to improved tax collection and the nationalisation of the gold mine, Baisalov says that the budget for 2023 is "double" the budget of 2021. He says that most teachers' salaries have been doubled while younger teachers' salaries have been tripled. Healthcare workers and other public servants have also seen their salaries increase.
These salary increases for public sector employees – along with increased demand for migrant workers in Russia – saw Kyrgyzstan to lead the European Bank for Reconstruction and Development's (EBRD) regions in real wage growth in 2022.
A third of Kyrgyzstan's GDP is remittances, making it tied with neighbouring Tajikistan for the title of the world's second-most remittance-dependent economy (first place goes to the tiny island nation of Tonga). Because most of these remittances come from Russia, the World Bank and many economists predicted contraction for Kyrgyzstan's economy after the imposition of sweeping Western sanctions on Russia following its invasion of Ukraine.
But as many Russians were conscripted or fled their country, Russia's labour market tightened. Remittances from Russia to Kyrgyzstan actually increased 11 per cent in the first half of 2022, and in late September, the EBRD forecast seven per cent growth in Kyrgyzstan's GDP for the year. Growth in 2023 will be equally strong, the bank predicts.
The war in Ukraine
The war in Ukraine has forced Kyrgyzstan to walk a fine line to maintain neutrality without offending its important security and economic partner, Russia. After Russia invaded Ukraine, President Japarov said the war "has a negative impact on all countries of the world" but that "we are a small republic. We cannot influence to stop the war. Therefore, we have to adhere to neutrality".
As Western aircraft are restricted from using Russian airspace, Kyrgyzstan's Minister of Foreign Affairs Jeenbek Kulubaev said, "All European planes arrive in Central Asia using roundabout routes. The complexity of logistics directly affects food prices. In this regard, everyone is interested in the speedy end of the conflict".
Many of Kyrgyzstan's intelligentsia are educated at Ukrainian universities, and Ukraine is an important source of Kyrgyzstan's pharmaceutical products. After the Kremlin's mobilisation announcement, the Kyrgyz Embassy in Moscow released a statement warning Kyrgyz workers in Russia that they would face up to ten years in prison and the confiscation of all their property if they fought in Ukraine and asking them to notify the embassy if they received any conscription documents.
But as a member of the Collective Security Treaty Organisation (CSTO), of which Russia is the largest military, Kyrgyzstan has had to tread cautiously to avoid appearing pro-Ukraine. Even as many in Kyrgyzstan have been eager to attend international forums to court Western investors, officials have had to avoid events that could appear to have an overwhelmingly anti-Russia tilt.
The war at home
In Central Asia, the CSTO was placed under considerable pressure when a conflict broke out between two of its members – Kyrgyzstan and Tajikistan – in September.
"This was the most significant military conflict in the history of independent Central Asia," Baisalov says. "It wasn't border skirmishes. It was a direct attempt of invasion by Tajikistan that was very well prepared along the whole perimeter of our border – planned in advance – and using heavy artillery to fire inside Kyrgyz territory."
Clashes have occurred along the two countries' border – which is not fully delimited and includes exclaves and contested water resources – at various points in their three decades of independence, including recently in April 2021 and January 2022. September's conflict was the largest to date in terms of casualties and displaced people. Dozens of civilians were killed and 137,000 people were evacuated from regions of Kyrgyzstan's Fergana Valley affected by the fighting.
Both countries' presidents were in the same room in Samarkand for a Shanghai Cooperation Organisation (SCO) summit when the conflict broke out and met to discuss the violence, but an initial ceasefire agreement did not hold.
Official statements from Tajikistan blame Kyrgyzstan for "armed aggression" and dispute Kyrgyzstan's official death tolls. The conflict concluded six days after it began with a peace agreement.
Baisalov attributes Kyrgyzstan's successes in the conflict with Japarov's purchase of armoured vehicles and Turkish Bayraktar TB2 drones after the clashes in April 2021.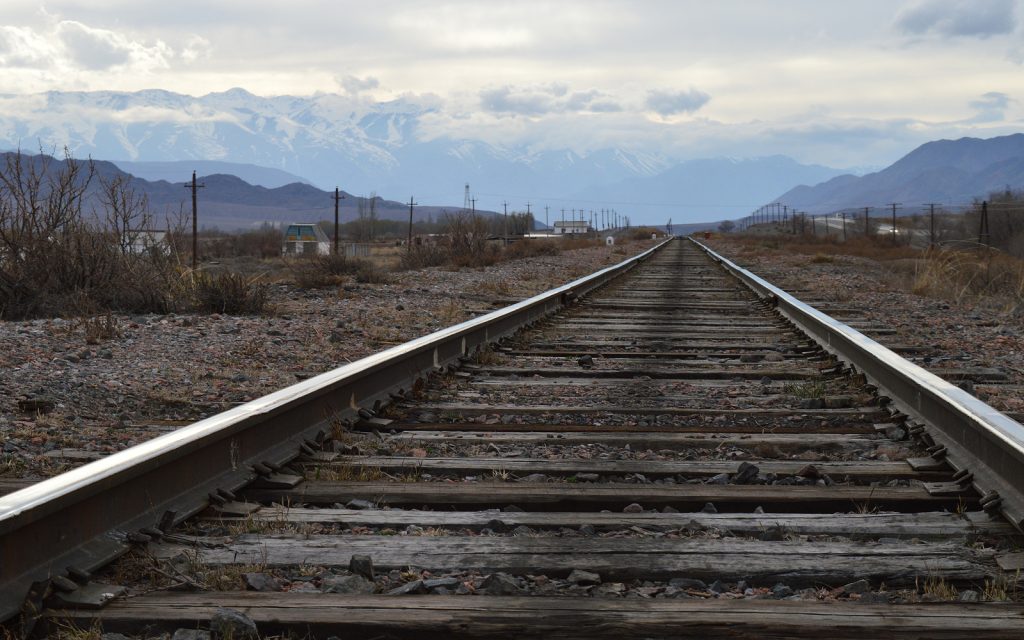 From China with trains
At the same SCO summit where Japarov met with Tajikistan's long-time president Emomali Rahmon, he also met with Uzbekistan's president, Shavkat Mirziyoyev, and signed a deal for a China-Kyrgyzstan-Uzbekistan (CKU) railway. The CKU route has been discussed for two decades but is believed to have been opposed by Russia as it would open a new rail route between China and Europe via Iran and Turkey that entirely bypasses Russia (and Kazakhstan, for that matter).
With 2022's Western sanctions on Russia, China is more interested than ever in alternatives to shipping via its northern neighbour, and double-landlocked Uzbekistan is eager for shipping access to the Asia-Pacific.
On January 27, Presidents Japarov and Mirziyoyev met again to sign a landmark border demarcation deal agreement in Bishkek. The border between Kyrgyzstan and Uzbekistan had been disputed since the two countries became independent three decades ago and administrative Soviet boundaries across which people had moved freely for decades became international borders overnight.
The border deal, however, cedes a reservoir to Uzbekistan, and in late October, prior to its signing, over 20 activists and politicians in Kyrgyzstan protesting the deal were arrested for planning mass unrest. Human Rights Watch (HRW) called for the detainees' release.
"We do not apologise for keeping the public order," Baisalov says. "This is what democracy looks like: borders are not negotiated and agreed by mass referenda. It is give and take. It is a compromise. It's always very sensitive, but what's important is that we needed to do it. We needed to do it, and there's always one person whose garden will be affected. The national interest is above local interests."
In a call on February 14, Baisalov reiterated to Emerging Europe, "This is a historic agreement. 100 per cent of Kyrgyz-Uzbek border [demarcated]. There are hundreds of textbooks saying that it's impossible because Stalin deliberately drew those borders to make it impossible to make any settlement on borders in the future. But the goodwill of the two nations and their leaders made it possible." He said the protestors still in detention would be given due process.
Radio Free Kyrgyzstan
Since late October, President Japarov's Ministry of Culture, Information, Sports, and Youth Policy has sought to shutter Radio Free Europe/Radio Liberty's (RFE/RL) Kyrgyz service, Radio Azattyk, after it refused to remove a report about September's conflict between Kyrgyzstan and Tajikistan that allegedly showed bias towards Tajikistan's narrative. The Ministry has blocked Azattyk's website in Kyrgyzstan, frozen its bank account, and on January 23 petitioned a court to shut down Azattyk entirely.
The lawsuit triggered backlash from HRW, Amnesty International, the Committee to Protect Journalists, and US Senators. On February 10, President and CEO of RFE/RL Jamie Fly met with President Japarov in Bishkek to advocate for Azattyk. RFE/RL called it a "productive conversation".
"The fact that our President [Japarov] received the President of RFE/RL shows that dialogue is ongoing," Baisalov says. "We value freedom of speech and the participation of civil society, and we are committed to ensuring the preservation of human rights in their full scope."
Baisalov noted that, after the fall of Kabul to the Taliban, many journalists at RFE/RL's Afghan service, Radio Azadi, were evacuated and around 20 now work freely from Bishkek. He said the Japarov administration's suit against Azattyk would not affect Radio Azadi.
He rebuffed international criticism of the government's actions, saying, "The current debate about the limits of free speech in Kyrgyzstan is no different than the discussions in British society or in the United States about the proliferation of fake news on social networks. If those age-old institutions of democracy are somehow threatened by irresponsible reporting and fake news, we are no different."

Tell investors we're coming
Baisalov is aware that Kyrgyzstan still has more work to be done – he mentioned addressing air pollution in Bishkek as a priority. But after what, to him, felt like decades of corruption and stagnation, there is historic progress. Not only is the Kumtor gold mine nationalised and the border with Uzbekistan demarcated, but plans to develop a large ore deposit are underway, an agreement with Uzbekistan and Kazakhstan has been signed to build a giant hydroelectric dam, and a new football stadium is being constructed in Bishkek.
Baisalov recently led a finance and industry delegation to his old stomping grounds in London to meet with major multinational investment firms and says, "We had huge progress. Before, they wouldn't even talk to us. But nowadays, of course, they are very much interested".
"It's not that we are already blooming," Baisalov says. "But the story Emerging Europe should be telling the markets – before we emerge in full bloom – is that we are coming. We are not rushing. We understand that we need to take our time. We cannot just repackage and brand our companies and have them listed next month. It will take at least another year. But we are doing a lot to attract international investment and further integrate into the world economy."
---
Unlike many news and information platforms, Emerging Europe is free to read, and always will be. There is no paywall here. We are independent, not affiliated with nor representing any political party or business organisation. We want the very best for emerging Europe, nothing more, nothing less. Your support will help us continue to spread the word about this amazing region.
You can contribute here. Thank you.