In Uzbekistan, gender-related forms of discrimination remain widespread. However, the country's rapidly growing private sector is now working alongside the Uzbek government to solve this pressing issue.
Issues such as domestic violence and the low representation of women in the workplace are an unfortunate reality of daily life in Central Asia's largest nation, Uzbekistan.
Nonetheless, in recent years, the country has grown increasingly aware of the importance of female inclusion in the economy and society.
---
---
As part of that, in 2019 the country introduced a law to protect women from oppression and violence, meaning that victims of gender-related violence can now access a protection order, as well as financial, medical and psychological assistance.
In the same year, Uzbekistan also introduced a law guaranteeing equal rights for women and men in hiring, the management of societal affairs, the state, and in family relations.
However, according to Uzbek journalist and activist Nozima Tashpolatova, for the country to continue to make strides towards full gender equality, all sectors of society need to work alongside the government to promote a wide-spread change in attitudes.
"It is something that we, as a society, should be working on together and force this critical issue further and further into the public sphere. We should be putting more effort into fostering role models and creating educational opportunities for women. We should also be united in our condemnation of domestic violence, or other critical issues that are clearly immoral," Tashpolatova tells Emerging Europe.
The role of the private sector
A number of Uzbek private organisations, businesses, and individuals are already active in the fight against gender-based discrimination, while in the public sector, the effects of efforts to increase women's representation in the workplace are already visible.
"More than 15,000 women have been included in leading positions in politics, economics and public life," Tanzila Narbaeva, chairperson of Uzbek Senate, tells Emerging Europe.
"For the first time in Uzbekistan's history, in 2019, the number of women in the national parliament reached 32 per cent. According to the Inter-Parliamentary Union's Women in National Parliaments ranking, in 2020, the parliament of Uzbekistan ranked 44th among 193 states. The share of women in political parties has now reached 46 per cent," Narbaeva adds.
However, as Uzbekistan accelerates private job creation, gender equality should go beyond the public sphere.
"We, as a private company, can have a huge impact just by tackling this issue in our operations," Kamola Sobirova, a spokesperson for the Uzbek manufacturing company Artel Electronics LLC (Artel), tells Emerging Europe.
"At present, Artel has more than 9,000 workers and we would be happy if we can influence people's mindset on this topic within our company. Around 30 per cent of employees at Artel are female, a good figure for Uzbekistan, particularly in the manufacturing field," Sobirova explains.
She further acknowledges that the company still has some work to do and is hoping to go even further in the future in order to improve the gender balance.
"Within the framework of Artel, we plan to implement induction courses on company policy which will include information on gender equality and its importance for the development of society. Our HR team is also introducing a specific policy on how to deal with gender discrimination and harassment," she says.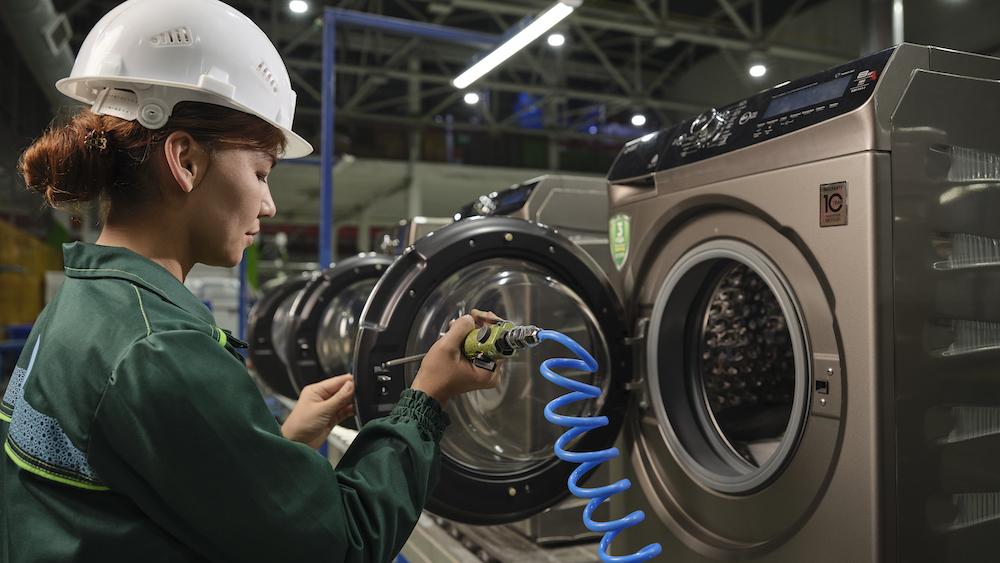 The importance of gender awareness
While the nation's private businesses and government continue working towards gender equality in the workplace, some have pointed to the importance of addressing the stigma and stereotypes career-seeking Uzbek women face in their country.
"Gender-based discrimination is widespread within Uzbek society. Very few women are present in the management of Uzbek companies – whether national or private," Tashpolatova points out.
The journalist believes that this is the case partially due to Uzbekistan having a rather traditional society where few women tend to work.
However, according to her, the most pressing cause is the general lack of education on the topic, the low value that is given to women in the workplace, and the lack of familial support for women to enter the job market.
"Awareness on the topic of gender-based violence is very limited, and the level of debate about the issue is at a very early and immature stage," she further argues.
According to Sobirova, private businesses can be a driving force in ameliorating such hurdles faced by women across Uzbekistan.
"We understand the need to raise the legal literacy of women. That is why, at Artel, we are introducing a legal clinic, where our lawyers will provide advice to our employees about their rights under the law, documentary requirements for various issues, and answer basic questions that are difficult to find information about," she says.
Domestic violence
Sobirova further explains that Artel has been sponsoring the production of video material on the importance of educating young women as part of an international women's community, known as Wonder Women Hub, based in Kazakhstan.
"We hope that this will be just our first project with the community and we are looking forward to building on this in the coming years," she adds.
Amongst the various social initiatives supported by Artel, this month the company responded to a call for help in refurnishing a women's shelter in the Samarkand region of Uzbekistan.
Another way in which the business has supported the victims of domestic violence is by using its platforms to promote the International Day For the Elimination of Violence Against Women.
"As a private company, we know that we have a real opportunity to effect change right across our country, both within our own community and externally. We are excited to be involved in this," Sobirova concludes.
---
Unlike many news and information platforms, Emerging Europe is free to read, and always will be. There is no paywall here. We are independent, not affiliated with nor representing any political party or business organisation. We want the very best for emerging Europe, nothing more, nothing less. Your support will help us continue to spread the word about this amazing region.
You can contribute here. Thank you.