Leszek Miller, a former prime minister of Poland, has sparked outrage across the country after apparently jumping the queue for the Covid-19 vaccine.
Poles old enough to remember the country's communist period, like most of the nations of emerging Europe, know a thing or two about queuing.
The country can even boast a strategy board game, Kolejka!, dedicated to queuing. Created in 2011, its designer Karol Madaj wanted to show young Poles how difficult it was to buy everyday supplies such as sugar or bread during Poland's bleak 1980s. His idea was then picked up and developed by the IPN, Poland's Institute of National Remembrance, which funded its release. It has since become enormously popular, not just in Poland but in other former communist countries.
---
---
With memories of long queues therefore still prominent, those in contemporary Poland who do not wait their turn are frowned upon, a reminder of the days when the well connected could jump queues (Kolejka has a wild card that allows players to do just that).
It is therefore no surprise that a post on the social media platform Twitter by Leszek Miller, a former prime minister of Poland, showing off his Covid-19 vaccination certificate and writing, "this is the best way to resolve the question: to get vaccinated or not vaccinated", has caused uproar.
To najlepszy sposób, aby rozstrzygnąć wątpliwość: "szczepić się czy nie szczepić". pic.twitter.com/emqObSSucE

— Leszek Miller (@LeszekMiller) December 31, 2020
As with most EU countries, the coronavirus vaccination effort in Poland began on December 27, following the delivery of the first batch of 10,000 doses of the Pfizer vaccine on December 25. A further 300,000 doses were delivered a few days later.
However, until mid-January at least, vaccines are in theory only available to eligible frontline healthcare workers, a so-called "Group Zero". If no shortage of doses is reported, the family members of medical staff as well as the parents of newborn babies are also eligible.
Mr Miller, prime minister from 2001-04 and currently an MEP, is not a frontline health worker, nor the parent of a newborn, leading to questions being asked as to how he managed to be vaccinated so early. According to the rules, he should have waited until after January 15, when Poland is scheduled to receive a further 1.5 million doses.
Jumping a jab queue
Mr Miller is not alone.
Krystyna Janda, one of Poland's most prominent actresses and a long time critic of the Law and Justice (PiS) government in Poland also shared news of her vaccination, this time on her Facebook page.
"Yes, I am one of these happy individuals vaccinated for the purpose of the promo campaign. I am truly happy about it and feel great," she wrote in a short statement to which she attached a link to a press release from Warsaw Medical University in which the school confirmed that several cultural figures such actors, actresses, directors and music composers, has been invited to get their Covid-19 jabs.
According to the university's press release, the campaign has been organised in accordance to guidelines of Poland's National Health Fund and Health Ministry.
Warsaw's Medical University claims that inviting Janda and Miller, amongst other VIPs, to get their jabs was also an answer to health official calls for the efficient use of doses – as from one Pfizer dose, up to six people can receive shots.
According to reports in the Polish media, a total of 18 non-medical staff received the vaccine. Aside from Janda and Miller, and other well-known artists, a board member of the US-owned TV station TVN, Edward Miszczak, was also given the jab.
Medics complain
Part of the national outcry stems from the fact that several medics have taken to social media to complain that there is still a large number of medical staff who cannot get the vaccine.
The logistics behind the vaccination effort in Poland have also been criticised, as only around 47,000 people have been vaccinated with the first round of anti-Covid-19 shots. Neighbouring Germany has already vaccinated 238,000 people.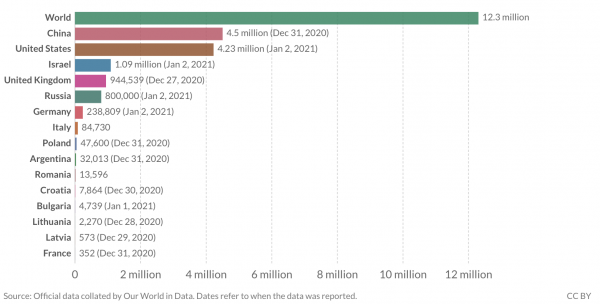 According to Tomasz Matynia from the Polish government's information centre, the 18 VIPs vaccinated at Warsaw Medical University had been not invited to take part in a vaccination promotional campaign, which is scheduled to start only after medical staff have received their jabs.
Poland's current PM Mateusz Morawiecki, as well as Health Minister Adam Niedzielski, have called on the university to fully disclose the selection process for those who received the vaccine.
Vaccination sceptics
What is not in doubt however is that Poland needs a campaign to promote the benefits of vaccination, as the country's population is one of the most sceptical in Europe about receiving the Covid-19 jab.
In a survey published in October, out of 19 countries, the Poles, Russians and the French were the most negative towards the vaccine.
Towards the end of December, an IBRIS poll for the daily Rzeczypospolita suggested that less than half – 47 per cent – of Polish adults were willing to receive the jab.
This did, however, represent a 10 per cent increase from a previous poll.
—
Unlike many news and information platforms, Emerging Europe is free to read, and always will be. There is no paywall here. We are independent, not affiliated with nor representing any political party or business organisation. We want the very best for emerging Europe, nothing more, nothing less. Your support will help us continue to spread the word about this amazing region.
You can contribute here. Thank you.