One of Bucharest's least-fashionable neighbourhoods, Pantelimon, is being transformed by an art project that tells the history of the area in the form of large murals.
Once resembling a village, Bucharest's peripheral Pantelimon neighbourhood went through an intense period of urbanisation in the 1970s, when small houses, once prevalent in the area, were replaced by strings of multi-story apartment buildings to house the many thousands of workers brought to the capital from elsewhere in Romania to work at the many industrial plants and factories that had been built in the area.
Using prefabricated concrete panels, the vast majority of the new buildings looked almost identical, yielding the copy-paste effect that communist-era abode construction is typically associated with.
---
---
Following the collapse of the Nicolae Ceaușescu regime in 1989, the area saw a new wave of demolitions take place as industry collapsed, and factories closed.
Aside from the newly built 55,634-seat soccer stadium, the Arena Naționala, abandoned factories were replaced by malls, fast-food restaurants, and gambling parlours. And yet while the Arena attracted major crowds at sporting events and live concerts, Pantelimon remained devoid of many cultural activities.
As part of an awareness-raising campaign meant to shed light on the neighbourhood, the first edition of Giants of Pantelimon took place in October 2017.
Make a Point
This collective art project was developed by local NGO Make a Point. Over the course of three days, street artists created a series of large-size murals using the roofs of former factories as canvases for their art. The murals are based on real stories told by locals and gathered by event organisers. Stemming from collective memory, they reflect slices of life under communism as well as ongoing survival struggles.
Portuguese-born artist Victor Ash chose to depict fear in his work. While in Berlin, his Astronaut Cosmonaut, the world's largest stencil mural, hints to the Cold War between the USA and the USSR, in Bucharest, Ash's two sets of piercing eyes (pictured below) are a stark reminder of the illegal abortions performed in Romania between 1965 and 1989, when legal abortions were outlawed.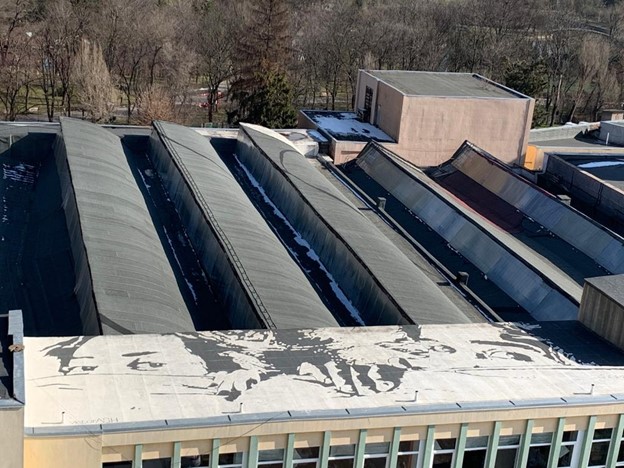 Moreover, the half-hidden faces point to the lack of heating in apartments during communism. People used to sleep all bundled up, tucked under several sets of covers.
Street art duo Ella & Pitr draw cramped, sleepy giants. Known for creating some of the world's largest murals, the latest on the rooftop of Parc Expo in Paris, the artists adorned Pantelimon with a contorted giant wearing a funnel on his head. Their inspiration was an old porcelain trinket depicting a drunk man holding a bottle of wine. Most Romanian households owned a version of it during the so-called "Golden Age" of communism.
Arguably the most Instagramable work belongs to Romanian duo Mihai Paul Comănescu and Mona Cretza, a.k.a. Boemona. In this mural, an elderly woman uses a sewing machine to piece together her past. As a young girl, she left her village and came to the city. The textile factory needed people, so she became a seamstress. Years went by and she kept sewing. One day she looked in the mirror; her youth was all gone. Then she looked around; the place she remembered was gone, too. Instead of small colorful homes, all she saw were rows of apartment buildings, grey and dull.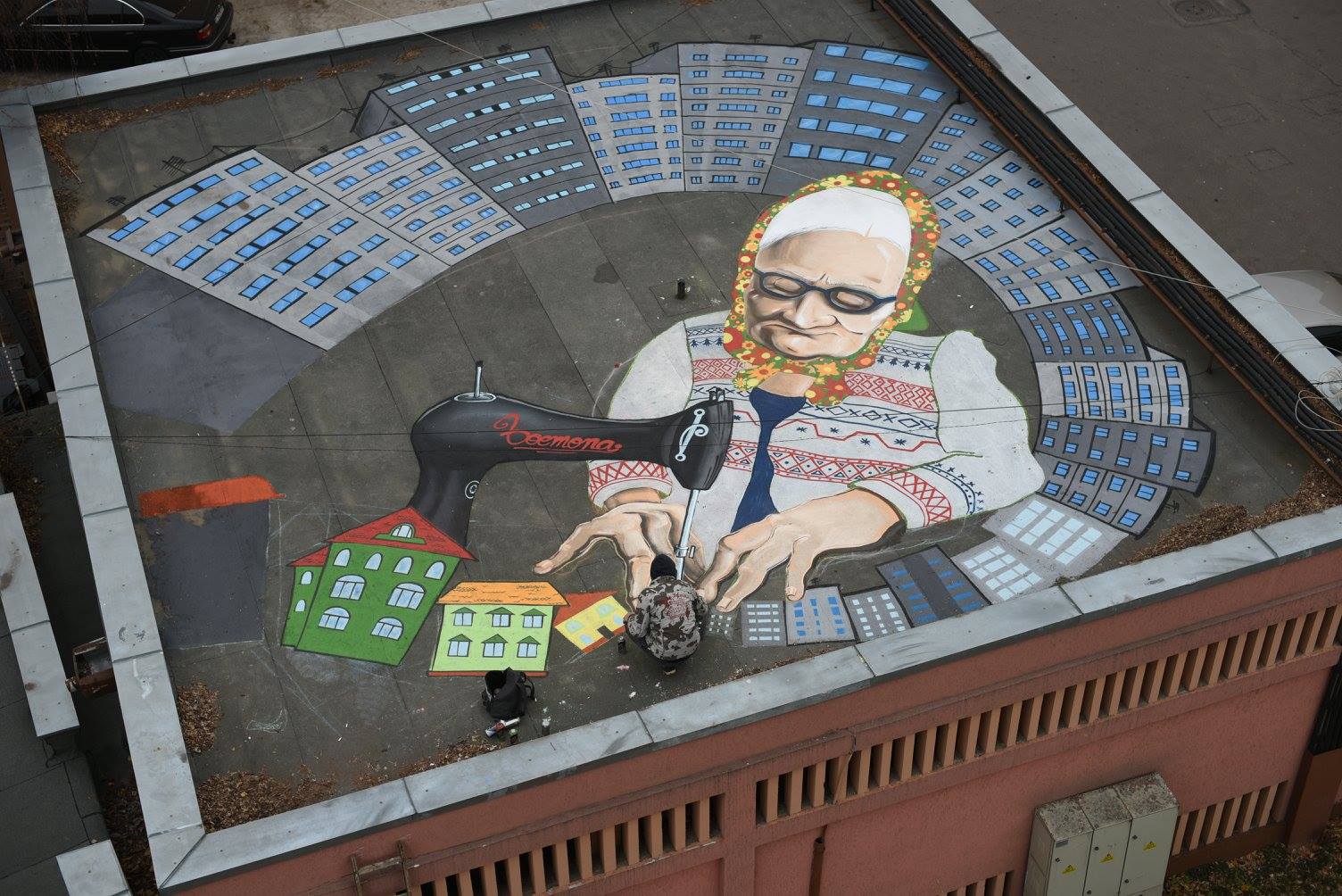 Soon after the Chernobyl disaster of 1986, a woman was asked to measure the levels of radiation in Pantelimon. She had no protection. The lack of adequate equipment, stemming from a lack of official care towards people's well-being, left a deep mark on local survivors. Robert Obert chose to paint the tale of that woman. A note of irony notwithstanding, the woman's unflinching courage seems to come from a life spent struggling.
To the tower
Fellow artist Nomado raised the question of building rehabilitation through his work. In Romania, rehabilitation always meant the facades underwent colorful facelifts. Gloomy grey became dazzling orange, red, purple, or green. Still, for those inside the buildings, life didn't change. Their clothes continued to clutter on clotheslines in front of the newly painted buildings.
Giants of Pantelimon is the brainchild of documentary artists and husband-and-wife team Mădălina Roșca and Paul Arne Wagner. To see the murals, one has to climb a long, spiral staircase that winds around a 37-meter-high water tower.
The tower is itself part of Pantelimon's industrial past, serving the former Postavaria textile factory. Last year it was adorned with a huge Belarusian flag in solidarity with that country's fight against the dictator Alexander Lukashenko.
The view from the top is truly outstanding: an open air art gallery that sprawls over an area of 6,000 square metres. Contact Make a Point via its Facebook page to find out when you can visit.
---
Top photo: Make a Point official Facebook page.
---
Unlike many news and information platforms, Emerging Europe is free to read, and always will be. There is no paywall here. We are independent, not affiliated with nor representing any political party or business organisation. We want the very best for emerging Europe, nothing more, nothing less. Your support will help us continue to spread the word about this amazing region.
You can contribute here. Thank you.