Christo and partner Jeanne-Claude Denat de Guillebon's latest project, L'Arc de Triomphe, Wrapped, has been completed a year after the artist's death, and 60 years after it was first imagined.
L'Arc de Triomphe, Wrapped is just that: the iconic Arc de Triomphe in Paris, France, wrapped with 25,000 square metres of recyclable polypropylene fabric in silvery blue, and with 3,000 metres of red rope.
It is open to the public until October 3.
---
---
The piece was designed and planned by artists and life partners Christo and Jeanne-Claude.
Some of the best-known examples of their previous work include the the wrapping of the Berlin Reichstag building in 1995, which Christo described as symbolic of his upbringing in communist Bulgaria, The Gates in New York City's Central Park, and The Umbrellas simultaneously set up in Japan and California.
Although Jeanne-Claude passed away in 2009, and Christo in May of last year, both had made it clear that the projects they had begun should to be carried out as planned.
Christo and Jeanne-Claude's nephew Vladimir Yavachev, who has worked with the couple on various art projects, made L'Arc de Triomphe, Wrapped come to life and fully financed the project – worth 14 million euros – through the sale of various pieces of art by Christo and Jeanne-Claude.
The idea of wrapping the Arc de Triomphe was born in 1961, when Christo and Jeanne-Claude rented a room opposite the monument. During this period they began experimenting with the wrapping of objects, depriving them of function and allowing them to be seen from a new perspective.
From Gabrovo to Paris
In Paris, Christo became part of the Nouveau Réalisme art collective, but his journey to France was long and strenuous.
Born in the small town of Gabrovo, Bulgaria, in 1935, Christo moved to Sofia in 1953 where he began studying at the National Academy of Arts. There, he was taught to paint realistic works and communist propaganda, which he found to be tedious and uninspiring.
Being asked to complete his military service was the last straw for Christo and with the help of connections he made at the academy, he travelled to Prague where until 1956, when the revolution in neighbouring Hungary made him realise that he had to flee the Eastern Bloc entirely.
Christo went first to Austria, to study at the Vienna Academy of Arts, and gave up his Bulgarian passport and sought political asylum. In 1958 he was granted a visa to settle in France, and in the same year he first began completing his signature works which involve the wrapping of various objects, which progressively grew in size and complexity.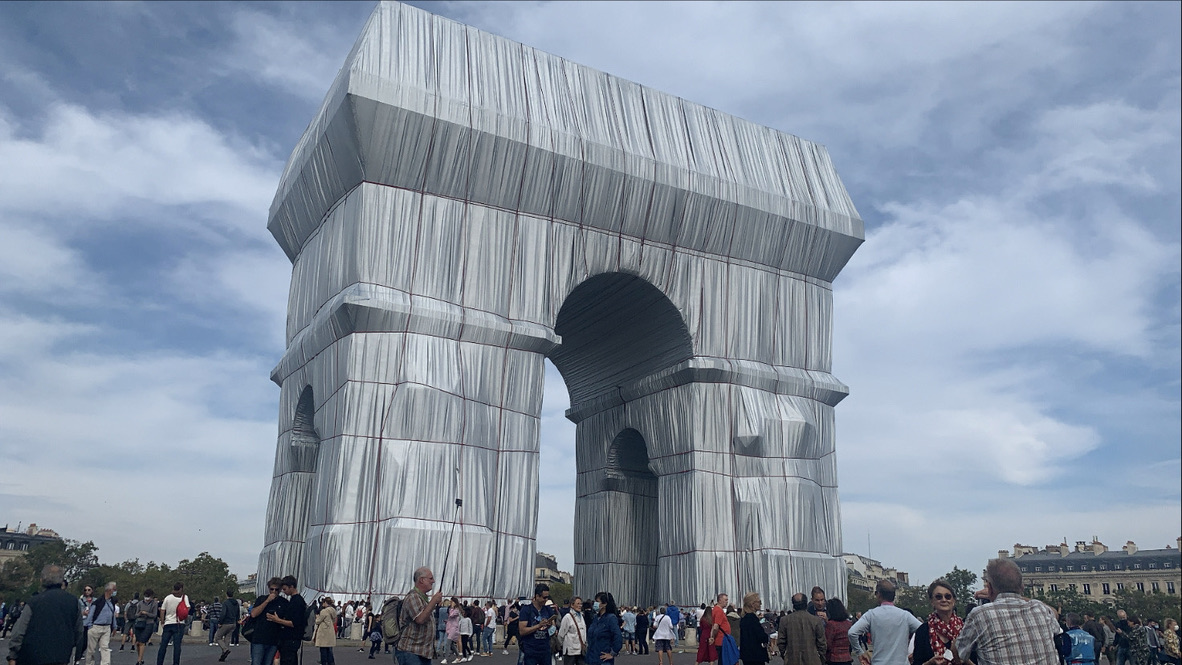 Controversy
According to Vladimir Yavachev, "Christo and Jeanne-Claude believed their work was ultimately about freedom. Nobody could own this [temporary] work of art, not even them. Everyone could have their own meaning and every meaning was important and right."
In regard to the L'Arc de Triomphe, Wrapped, Yavachev argues that, "one important thing is that people can come and walk around the Arc de Triomphe and touch the material. It's a work of art that is alive, moving with the wind."
Delphine, an art student from Paris visiting the instalment offers a similar interpretation of the piece.
"I'm a really big Christo fan and I think this project exposes aspects of the monument's beauty that otherwise remain hidden. It reveals the beauty of the shapes, the lines and the curves that are normally severely overshadowed by the facade. The light and shadows created by the sun during the day, or the city lights cast at night completely transform the monument," she tells Emerging Europe.
However, not everyone has reacted to the grand project with such effusive praise. The news that the Arc de Triomphe is being covered up was met with anger by many Parisians, with some suggesting that the monument now looks as though it is under construction, and others expressing pity for the tourists visiting Paris during the duration of the installation.
"The three key reasons why some locals are against it is because they say that it is not beautiful, and art is meant to be beautiful, that it will destroy the monument, and that it is wasteful," says Delphine.
"However, beauty is subjective, and I think that this is a beautiful artwork. The two other points are also invalid because there is a protective structure between the Arc and the cover, and the cover is made of recycled plastic that will be reused," she adds.
Was Christo Bulgarian?
In Christo's native Bulgaria, there was also a negative reaction to L'Arc de Triomphe, Wrapped, further exacerbated by the artist's complicated relationship with the country.
Although Christo did describe himself as originally coming from Bulgaria in more than one interview, there is a widespread belief in the country that he did not identify as Bulgarian or that he did not take any pride in his ethnicity.
On September 18, as L'Arc de Triomphe, Wrapped was revealed to the public, one popular thread on Bulgarian Twitter asked, "Which Bulgarian building would Christo wrap if he wasn't ashamed of being Bulgarian?"
Christo's family, the Yavashevi, were once wealthy Bulgarian merchants based in Thessaloniki, Greece, who fled to Bulgaria during the Balkan Wars of 1912-13 to escape ethnic persecution.
When the Bulgarian Communist party took power in 1944, the family's possessions were seized, and Christo's father was imprisoned for being part of the intelligentsia while the artist, his siblings and mother faced poverty and constant surveillance.
After fleeing the country at the age of 21 he did not once return, even after the collapse of the communist regime.
Rene Beekman, a Dutch artist and curator, who has lived and worked in Bulgaria for nearly 20 years, tells Emerging Europe that, "the relationship between the Bulgarian contemporary art scene and those Bulgarian artists who left the country is problematic in most cases."
"The relationship with Christo was especially so. For most of his life, both Christo and Bulgarian society stubbornly looked in opposite directions. While Christo transcended borders, boundaries and nationalities in every possible sense, the Bulgarian contemporary art scene has pretended for decades he did not exist," Beekman argues.

Reintroducing Christo
Christo and his family's stories were largely erased from the public consciousness during the communist era, but recently there have been attempts to reintroduce him to the Bulgarian contemporary art scene.
Throughout the past decade, Chisto's hometown of Gabrovo has held several exhibitions dedicated to the legacy of Christo and Jeanne-Claude.
In 2013, Christo, Stefan, and Anani Yavashevi donated 50 artworks to Gabrovo, and the town has committed to opening a contemporary art centre named Christo and Jeanne-Claude by 2023.
Last weekend, the Institut Français de Bulgarie and Sofia municipality organised a live screening of the wrapping of the Arc de Triomphe at Sofia's Slaveykov Square and at the National Gallery, as part of a series of lectures, film screenings and workshops dedicated to the legacy of the two artists which are taking place in Sofia until November.
According to Beekman such projects should not facilitate the whitewashing of Christo or his family's history: "During the last decade, there has been a wave of attempts to appropriate Christo as a 'Bulgarian' artist that is driven by something that I cannot characterise in any other way than provincial nationalism."
"Christo's influence on contemporary artists everywhere has always been precisely his borderless-ness, his transgression of all these limitations," says the artist.
The next Christo and Jeanne-Claude project which Vladimir Yavachev plans on completing is a 150-metre-tall pyramid-shaped mastaba in Abu Dhabi, using blueprints created by the couple.
---
Unlike many news and information platforms, Emerging Europe is free to read, and always will be. There is no paywall here. We are independent, not affiliated with nor representing any political party or business organisation. We want the very best for emerging Europe, nothing more, nothing less. Your support will help us continue to spread the word about this amazing region.
You can contribute here. Thank you.