Animation in Kosovo was a decade ago viewed as little more than cartoons for kids. Now it is increasingly seen as a valid form of art, and it's the change in perception is all down to a festival in the small town of Peja.
The Anibar International Animation Festival out of Peja in Kosovo is set to kick off its 12th edition, centered around a fitting theme for Covid-19 times — isolation.
Audiences will have more than 300 films to look forward to, the biggest selection yet and like every year additional activities such as workshops, lectures, and masterclasses will be organised.
---
---
From humble beginnings, Anibar has become one of the largest cultural events in Kosovo, and of the largest animation festivals in the Balkans.
"Anibar was started in 2010 by a young group of activists and teenagers — it was founded by 18-year-olds," says Arba Hatashi, the festival director.
"The reason they founded the festival was that in Kosovo we don't have any education, schools, or institutions teaching animation."
She says that the landscape Anibar and its organisers found themselves in was one of indifference and even prejudice towards animation as an art form.
"Everybody saw animation as cartoons for children and they didn't have any kind of respect when it comes to artistic animation," Ms Hatashi tells Emerging Europe.
"It has been one of our biggest challenges to change the perception of the audiences when it comes to the films that we screen."
Nevertheless, the young people who originally founded the festival persevered in their intention to bring animation to the masses and to create a forum for animation lovers.
"It started in 2010 by gathering all their friends and their relatives into working for the festival and doing screenings at only one cinema — the cinema Jusuf Gërvalla," Ms Hatashi explains.
"They were very passionate when they were teenagers in learning about animation and with the difficulties that Kosovo had, the easiest way to get introduced to and learn about animation was to create a festival and bring foreigners to Kosovo to teach them."
And it worked, because in previous years, professionals working on acclaimed animated series have visited to Kosovo to hold talks at the festivals, with Bryan Newton and Matt Taylor from the hit show Rick and Morty and Amy Winfrey and Peter Merryman from the Netflix powerhouse Bojack Horseman just a few examples.
While the Jusuf Gërvalla cinema in Peja remains the festival's headquarters, it has now grown to another indoor venue and three outdoor cinemas where various animations are screened — from features to short movies, animated music videos, and more.
Defying the lack of cultural events in Peja – Kosovo is highly centralised and most things happen in the capital Prishtina – Anibar has brought engagement and a sense of community for film lovers in Peja — not to mention filled the city's coffers with additional income.
Community
The community aspect is especially pronounced for the animation scene in the country, of which the festival was and remains a main driver.
"I don't mean to brag but I think the animation medium started being introduced in Kosovo with the festival," says Ms Hatashi.
Ms Hatashi herself got involved with the festival at the age of 14, as a volunteer. She recounts that it was a learning experience.
"It's like a point where youngsters can come and it's like a place where they can learn more that they can learn through the school system. It served as an education point for all of the volunteers and all of the people that got involved. It helps you professionally develop a lot and it offers you access to a lot of information and a lot of non-formal education opportunities."
While she notes that production of animation in Kosovo is still minimal, Ms Hatashi says that in recent years, there has definitely been an increase in local animators producing work in the country.
"We are seeing an increased number of productions happening," she says.
And in one way or the other, most of the people who are creating animated films in Kosovo are connected to Anibar.
"They have either been participants of the workshops or have worked with the festival and now they are producing films that will be screened here," Ms Hatashi explains. "But also they have the ability to introduce those animations to a wider international audience."
As Ms Hatashi explains, the growth of the animation scene in Kosovo happened in reverse.
"First you start with the school where you teach people how to do animation and then you enable them to produce animation, and then you open a festival for them to be able to screen those films and get access to wider audiences," she explains.
But in Kosovo, it was the festival that came first, thanks to a group of enthusiastic young people. And Anibar now runs two animation academies where young people can learn the craft — one in Peja and one in Prishtina.
Animating education
Now, the challenge for the organisers is to have an impact on policymaking and get funding for the next generation of animators.
"We see huge potential in our youth here to create animation and to produce highly valuable works. The next challenge for the festival is to facilitate points where we can grow the funds available for animators," Ms Hatashi says.
When it comes to animation, Anibar has recognised not only for its artistic merit but also the potential that the medium has for education and for transmitting important ideas such as human rights and gender equality.
"We're firm believers in using animation as an education tool and we want through this gathering to transmit some messages that are very important to our audience here," Ms Hatashi says.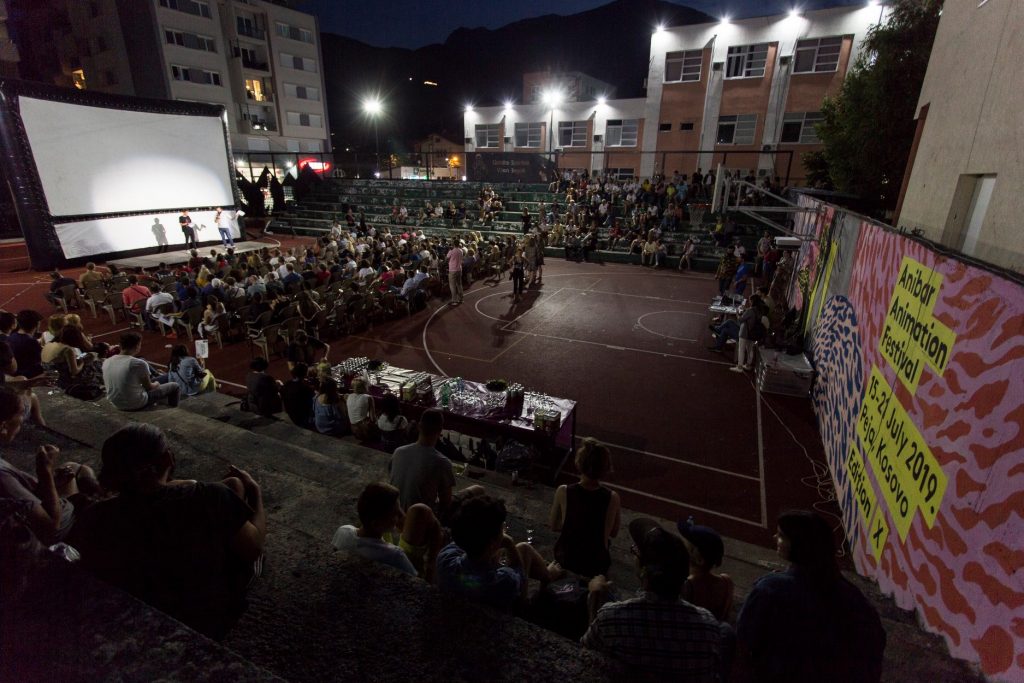 Since 2014, the festival has had a human rights category and since 2015 there has been an overarching theme to each festival edition. In the past, Anibar has raised awareness on issues such as climate change, migration, and gender equality.
This year, the theme is isolation. Visa liberalisation, a long-held dream for the newest Western Balkan nation, has yet to materialise and the country is one of few in Europe whose citizens cannot travel freely into the Schengen area without a visa.
"In a sense as solidarity with everyone — that they do feel like us now that nobody can travel to any countries and they do feel the isolation that some populations have had," Ms Hatashi says while explaining the theme of the 2021 edition.
Like most cultural events, 2020 was challenging for Anibar, when the festival was online-only. This year, they are taking a hybrid approach — part online, part in physical locations around Peja.
"I think that despite all of the difficulties of this period with the coronavirus, it has enabled a lot of animators to work because everybody was in lockdown and animators in some sense benefited from that lockdown in creating their work," Ms Hatashi concludes.
With more than 300 films to be shown, as well as workshops, lectures, and other activities, the audience in Peja will have a lot to look forward to this year.
---
The 12th edition of the Anibar International Animation Festival will be held from July 23 to July 30. Due to the ongoing Covid-19 pandemic, it will be held in a hybrid format: both live in Peja as well as online.
---
Unlike many news and information platforms, Emerging Europe is free to read, and always will be. There is no paywall here. We are independent, not affiliated with nor representing any political party or business organisation. We want the very best for emerging Europe, nothing more, nothing less. Your support will help us continue to spread the word about this amazing region.
You can contribute here. Thank you.