Almost 40 years since it was published, there is no more faithful description of communist-era Central and Eastern Europe than Malcolm Bradbury's brilliant Rates of Exchange.
First, a classic communist joke:
Why is Slaka like America?
Because in America you can criticise America, and in Slaka you can criticise America too.
And another:
Why is Slaka like America?
Because in America you can't buy anything with vloskan, and in Slaka you can't buy anything with vloskan either.
Rates of Exchange – first published in 1983 – takes its name from the various official exchange rates offered to foreigners wanting to change their hard currency into vloskan, the fictional currency of the fictional communist country of Slaka. Across the communist world, it was normal practice for governments to offer various exchange rates for their worthless currencies: one for trade, one for diplomats, another for tourists. And then there was the black market, the best rate of all.
The History Man
Malcolm Bradbury, probably best known for The History Man, was one of Britain's finest 20th century comic writers. In 1965 he joined the University of East Anglia in Norwich, and would later help found the its now world famous creative writing course. Among the talents Bradbury taught and nurtured were Ian McEwan and Kazuo Ishiguro.
Bradbury's fictional Slaka, is early 1980s Eastern Europe – all of it. The country's capital, also Slaka, is perhaps more Sofia (or Bratislava?) than Budapest, Warsaw or Bucharest, although the language issues Bradbury touches on in the novel (sudden changes of official spellings, etc.) are far more resonant of Romania, especially the country's attempts to have the official UN spelling revert to Romania from Rumania in the mid-1970s.
However, many of the names of the book's Slakan characters are more Slav than Latin, and the fictional Slakan language (or what we learn of it, at least) bears more than a passing resemblance to the Serbo-Croatian of Yugoslavia. It was largely invented over several years by the combined contributions of the polyglot participants of the British Council's annual Cambridge seminar of contemporary writing, of which Bradbury was the founder and, for many years, chairman.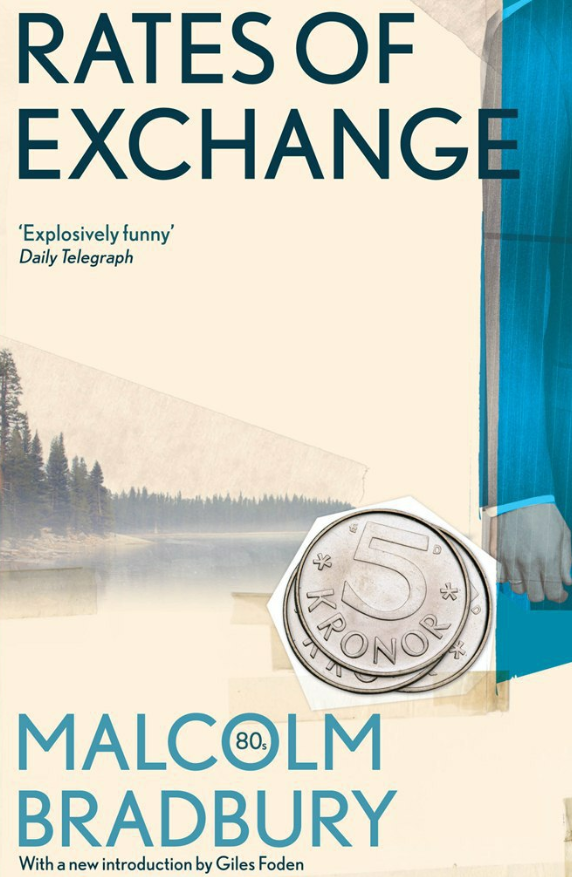 Indeed, as with all of Bradbury's work, language is at the heart of the novel, and most of its humour.
'Juggi Juggi'
Welcome here please on Comflug 155, destiny Slaka. We shall flight at a high of ninety-two pornys, airspeed forty vlods an hour. Our delay is because of economic inconsistencies in Britain, so we do not apologise. Through window, notice please grey sky and raining. For Slaka, forecast very sunny. In disaster, always obedience please your stewardess.
Prefaced by the disclaimer This is a novel, and what it says it not true, Rates of Exchange follows a British linguistics lecturer, Angus Petworth, on his first ever visit behind the Iron Curtain, to said Slaka, where he is looked after by an ever-present interpreter and guide, Marisja Lubijova.
In the violet dusk, the showpiece buildings line the great street, in glass and steel; there are office blocks and stores, goods in half-lit windows, high flashing neon signs saying WICWOK and JUGGI JUGGI, MUG and COMFLUG. 'Our department store, MUG, you must buy some glass there,' says Lubijova. 'Also the foreign currency store Wicwok.'
Slaka is of course fictional, but Petworth's arrival, the paranoia of his hosts, the changing moods of Lubijova, the secret tryst with an attractive female novelist (who persuades him to smuggle a manuscript out of the country), his increasingly desperate attempts to phone home and the fall-off-the-chair-laughing diversion into British diplomatic circles are brilliantly written vignettes that can only be based on real events.
(The sight of the UK's ambassador to Turkmenistan, Hugh Philpott, singing a song – in Turkmen – in front of a green-screen backdrop of the country's many natural treasures this week is pure Bradbury).
The vignettes that Bradbury describes may or may not of course have happened in Sofia or Bratislava or Bucharest or Ashgabat, for Slaka ultimately borrows a little from every country once behind the Iron Curtain.
Men in long coats
Anyone who visited any of the region's countries before (or even immediately after) the changes of 1989 and 1990 will immediately recognise any number of things.
Especially good are the descriptions of the hotels: dark wood everywhere, omnipresent men in long coats reading newspapers, peroxide-blondes smoking at lobby bars, terrible service and Byzantine bureaucracy.
And how's this for a description of communist-era dining:
It is over an hour later, and Petworth still sits in the vast, chandeliered dining-room of the hotel, awaiting, as he has long awaited, the meal he has once ordered. It is a grand room, with some sixty tables, each spread with white tablecloths, which cast up a damp smell of recent laundering in the water of some brackish river. The tables are laid, creating an atmosphere of vast vacancy, for all but six of them are empty. Nonetheless the maître, in the way of maîtres, has chosen to seat Petworth in a dark corner, under a noisy air vent, and next to the smells of the kitchen.
It is a work of comic genius and a must for anyone fascinated by what the visitor experience in emerging Europe was like before the end of communism.
John le Carré, who sadly died this week, may have painted a more sincere picture of how sinister Central and Eastern Europe under the communists could be, but his wonderful novels dealt more with the characters involved and their own internal battles than the region itself.
So popular was Rates of Exchange – nominated for Booker Prize – that a follow-up, Why Come to Slaka? – a spoof travel guide and phrase book – was published in 1986. It is now sadly out of print.
Rates of Exchange, almost 40 years since it was first published, and 20 years since Bradbury died, most certainly is not.
If you are still hunting for Christmas presents for anyone with an interest in Central and Eastern Europe, it's a guaranteed winner.
—
Unlike many news and information platforms, Emerging Europe is free to read, and always will be. There is no paywall here. We are independent, not affiliated with nor representing any political party or business organisation. We want the very best for emerging Europe, nothing more, nothing less. Your support will help us continue to spread the word about this amazing region.
You can contribute here. Thank you.