A band fronted by a Congolese refugee is bringing African rhythms to Kyiv's live music scene. 
With a war going on in the east of Ukraine, the country does not immediately appear to be an ideal destination for refugees and asylum seekers.
However, a well-sized refugee community nevertheless exists: according to statistics from the United Nations High Commissioner for Refugees (UNHCR), as of January of this year, there were 2,255 "refugees and persons with complementary protection" in Ukraine.
---
---
These people come from all over the world. Around half are from Afghanistan and Syria, two countries currently embroiled in their own high-profile civil conflicts and both with historical ties to Ukraine and the Soviet Union. Others are from conflict-torn parts of Africa.
One of these is Noda Dindi, multi-instrumentalist and frontman of the African-dominated band Horoshoe Nastroennie (meaning "good mood" in Russian).
Noda, 39, arrived in Ukraine from the Democratic Republic of Congo (DRC) in 2011 in extraordinary circumstances: along with other prospective immigrants, he boarded a cargo ship docked in Matadi, the DRC's only seaport, and embarked on the months-long journey which landed him in Odesa.
"I didn't even know where the ship was headed," Noda says, in fluent, French-tinged Russian, "it just so happened that we ended up in Odesa."
Noda was previously a painter and artist in Kinshasa, the sprawling capital city of the DRC. He holds a Masters of Fine Arts from the University of Kinshasa and made a living selling his artwork.
"It's actually easier to get by as a painter in Congo than it is in Ukraine," Noda laughs. "I always had a steady stream of tourists interested in my artwork. Here, it's a lot tougher."
Something new
After arriving in Ukraine, Noda initially found work at Autolux, a private postal carrier, quickly picking up Russian in the process. However, his passion was always in art: now, he is engaged in music and painting full-time, and lives in southern Kyiv with his Congolese wife and two year old daughter.
It didn't take long for Noda to find like-minded Africans living in Kyiv interested in making music. Today, Noda's band has 10 members, mainly university students, hailing from various countries: Ivory Coast, Cameroon, Congo-Brazzaville, Angola. There are even two Ukrainian members. Noda primarily plays guitar and sings.
The band is regularly booked for concerts at various venues across Kyiv. They have played at the iconic National Opera and several Ukrainian music festivals, including Ritmi Sontsya and Trypilske Kolo.
During the summer they can also be seen busking in some of Kyiv's busiest streets and squares.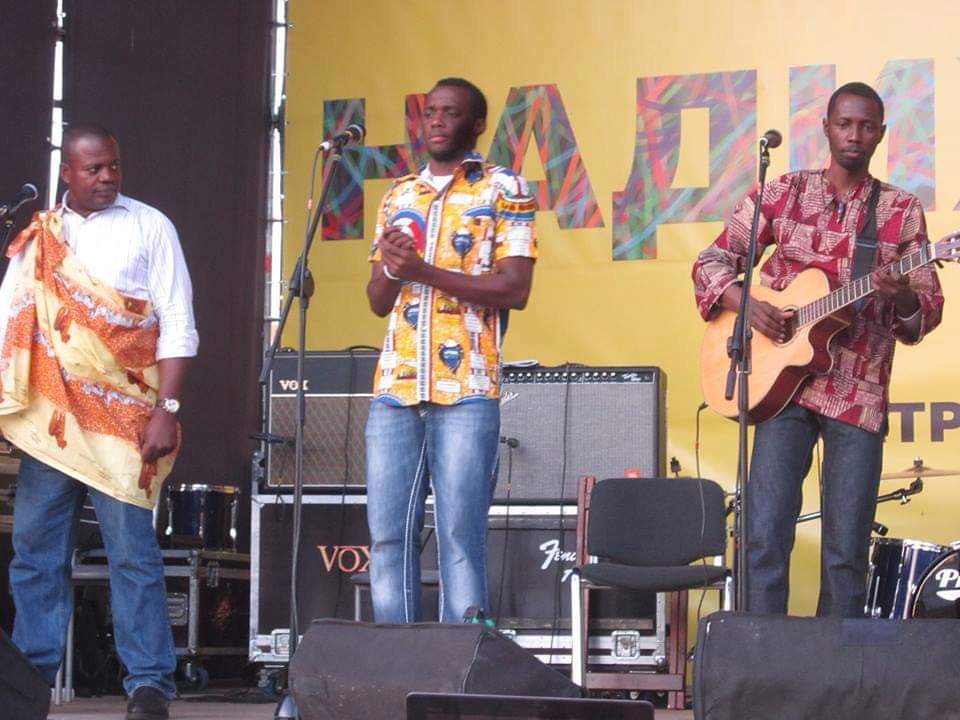 —
Horoshoe Nastroennie play a mix of covers and original songs, the latter composed by Noda. While his country, the DRC, has a rich musical heritage with artists like Lokua Kanza, Fally Ipupa and Papa Wemba, Noda's band plays a more eclectic style, to accommodate its cosmopolitan lineup. The songs are primarily based in Afrobeat, pioneered by the Nigerian Fela Kuti, and Zouk, a music style from the French Caribbean that has become hugely popular throughout Francophone Africa. The band then blends these elements with reggae, hip-hop and soul.
"We feel we are bringing something new to Ukraine," Noda tells Emerging Europe. "There are no other groups making and performing African music in Ukraine. Ukrainians are not exposed to this, they are not exposed to many outside cultures, so what we do interests people here."
Beyond introducing people to new musical styles, Noda also hopes that his band can have a positive effect on people's perceptions of Africa and African people.
Changing attitudes
Ukraine unfortunately has a reputation, both in Europe and in the rest of the world, for racism. And while unpleasant incidents are much rarer than portrayed (outside football stadiums at least), the perception lingers.
Indeed, Noda believes Ukrainians' attitudes are changing for the better.
"There are problems everywhere. In Congo, in the US, in France, and in Ukraine. What is important is how you perceive these and how you respond to them. Yes, when I first arrived, I could hardly walk past a police officer without being asked for my documents. But Ukrainians today have really changed their mentality, and how they interact with foreigners, from 10 or even five years ago."
Jacques, a singer with the band, agrees.
Jacques, also from Kinshasa, came to Ukraine in 2004 as an engineering student, and stayed after meeting his Ukrainian wife.
"When I first came, outside campus, it was a bit unpleasant. Like people were not willing to accommodate our differences, or be patient with me when I couldn't express myself in Russian," he tells Emerging Europe.
"Today, people are more open. I'm comfortable here and I have a family here."
Both men identify the 2014 Maidan Revolution as a turning point, and they are likely not the foreigners to see it as a catalyst for the creation a more tolerant country.
In their own way, they too have contributed, however.
Jacques and Noda believe that they are spreading a positive image of Africa to Ukrainians through their music.
"Somebody told me, every person is an ambassador of their family," says Jacques. "In the same way, we represent Africa here. People only hear about Africa and Africans, and usually bad things. We bring a piece of Africa here, and we want to show the best we have to offer."
---
Photos courtesy Noda Dindi.
---
Unlike many news and information platforms, Emerging Europe is free to read, and always will be. There is no paywall here. We are independent, not affiliated with nor representing any political party or business organisation. We want the very best for emerging Europe, nothing more, nothing less. Your support will help us continue to spread the word about this amazing region.
You can contribute here. Thank you.