Cold War Conversations brings together some of the most incredible and moving stories from a period of history that continues to fascinate audiences across the world. Emerging Europe speaks to its founder, Ian Sanders.
Ian Sanders is fascinated by the Cold War. "It's a personal passion," he says. "The Cold War was the backdrop to my formative years, and I clearly remember the fall of the Berlin Wall."
Based in Manchester, Sanders created the Cold War Conversations podcast "to capture oral histories of the Cold War from those that were there".
---
---
The podcast now has a back catalogue of over 175 episodes and Sanders is assisted by colleagues James Chilcott and Peter Ryan.
They interview a huge range of fascinating characters about their experiences of the Cold War.
Some are locals, who lived behind the Iron Curtain, others are diplomats who served at western embassies, while others still are those sent to work in a variety of Communist countries. Not the least of these is a young engineer who installed machinery making ladies tights in various locations in East Germany and all points east, including Frunze (today Bishkek) in Soviet Kyrgyzstan.
Journalists and historians also feature in the diverse yet never less than utterly fascinating podcast.
"I have a passion for history, and a passion for audio and there is nothing like hearing history from a person who was there," says Sanders, whose relaxed style allows his interviewees to speak at length about their experiences.
Sanders is particularly interested in Berlin, but his fascination started while travelling elsewhere in Eastern Europe in the 1980s.
"I was in Poland in September 1980, a month after the August strikes in Gdańsk," he says.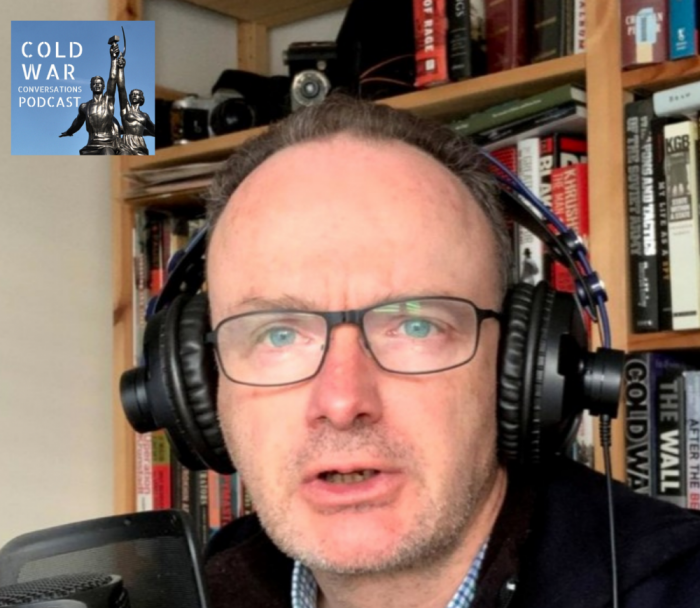 Preserving personal history
The podcast, now in its fourth year, hit one million downloads in March and Sanders expects two million listeners this year.
About one third of downloads are in the UK, the same in the US. Germany provides the largest non-English-speaking audience.
Stand out interviews, Sanders says, were those with the son of Nikita Khrushchev, a Hungarian now living in Wales who stormed Budapest's radio station during the uprising of 1956 and a British soldier imprisoned in Korea in 1951.
However, the podcast is not just about the military story of the Cold War. Sanders has also captured the civilian experience. Among his favourite episodes are an interview with the daughter of a Romanian dissident, which Sanders found "unexpectedly moving and powerful."
"Essentially we're about recording the personal stories and lesser-known aspects of the Cold War. We want to preserve the stories of the Cold War before they're lost," Sanders says.
---
Unlike many news and information platforms, Emerging Europe is free to read, and always will be. There is no paywall here. We are independent, not affiliated with nor representing any political party or business organisation. We want the very best for emerging Europe, nothing more, nothing less. Your support will help us continue to spread the word about this amazing region.
You can contribute here. Thank you.