From zero to sixty in just 1.85 seconds, the Rimac Nevera will be one of the fastest cars on the road. Costing a cool two million euros, it's all-electric, and it's made in Croatia.
Croatian car manufacturer Rimac Automobili has unveiled an all-electric supercar that will soon go into production in Croatia and become available for purchase for speed enthusiasts who can afford the two million euros price tag.
Dubbed Nevera, after a type of storm common in the Adriatic Sea, the car is the production-ready version of the C_Two concept which was first revealed at the International Geneva Motor Show in 2018.
Originally set to debut in 2020, the car's launch was postponed due to the coronavirus pandemic.
---
---
Now, the car is ready and it boasts technical specs that are bound to turn heads in the automotive world. With 1914 horsepower and a top speed of 415 kilometres per hour, the Nevera joins the ranks of other electric supercars such as the Aspark Owl and the Dendrobium D1.
According to the Croatian firm, the majority of the car's key components are made in-house in Croatia and all systems have been improved in comparison to the C_Two concept.
"This is it. This is the car I had in mind when I embarked on the 'impossible' journey ten years ago. All our hard work has resulted in the Nevera – our record-breaking hypercar. This car was born to outperform, and to raise the bar, redefining the norm for performance cars. And not only in performance – but as an all-around package," says Mate Rimac, the founder and CEO of Rimac Automobili.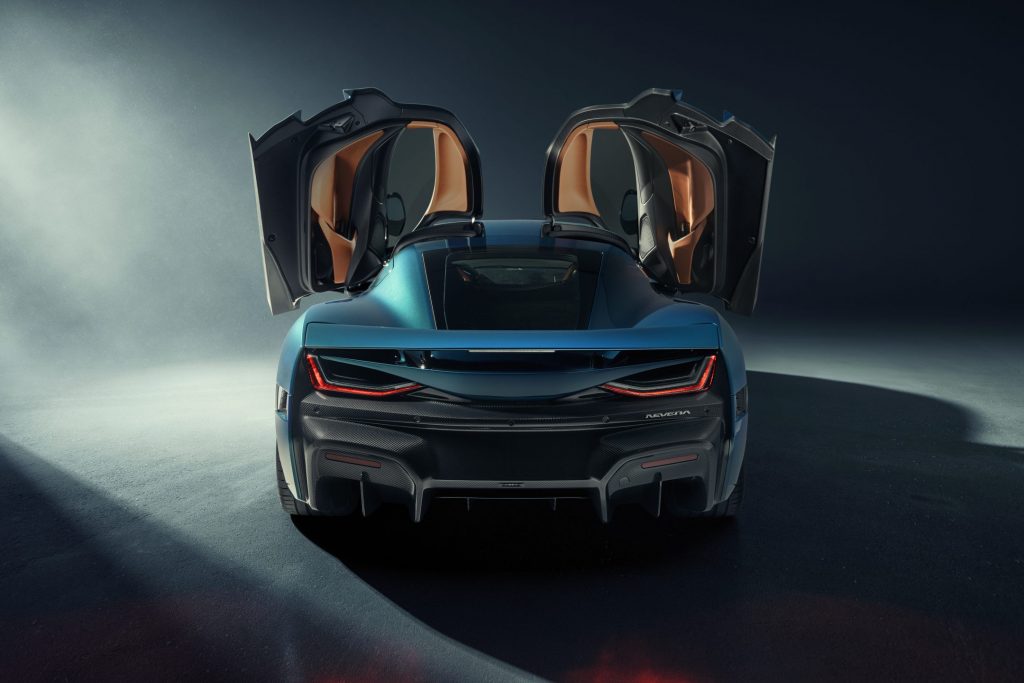 Rimac Automobili says that the key to the Nevera's performance is the "pioneering" electric powertrain. The car is powered by a bespoke 120kWh (kilowatt hour) 6960-cell battery cable of producing 1.4 megawatts of power.
Other advanced and bespoke features include the advanced battery cooling system and the four surface-mounted magnet motors that drive the four wheels individual enabling the 1914 horse power and 2360 NM (Newton metres) of torque which the company says is triple the output of a supercar with a conventional engine.
Additionally, Rimac claims the Nevera's electric motors are 97 per cent efficient compared to 40 per cent for their internal combustion counterparts and are also maintenance free throughout their operating life.
Zero to sixty in 1.85 seconds
True to its supercar ambitions, the Nevera can accelerate from 0 to 60 miles per hour (96 kph) in 1.85 seconds and from rest to 100 mph (161 kph) in 4.3 seconds.
"Everyone at Rimac is driven by curiosity and a desire to push things to the absolute limit. With its combination of everyday use and 1914 hp performance, the Nevera proves what is possible when there are no restraints placed on technology, development, or ambition," adds Rimac.
For the staggering two million euros price, those lucky enough to be able to snap up one of the 150 units that will be produced will also get access to what the company is calling a "world-first AI driving coach".

Equipped with twelve ultrasonic sensors, thirteen cameras, six radars, and the Nvidia Pegasus operating system, the feature can overlay selected race circuits in real time offering guidance that should enable drivers to perfect their racing lines, breaking and acceleration points, and steering inputs.
Targeted at the highest possible sector of the automotive industry, the Nevera may not help the adoption of electric cars in Croatia (like most emerging Europe countries, it is lagging) but it is proof that electric vehicles can be as fast as traditional ones.
From humble beginnings as a one-person garage start-up, Rimac Automobili now employs more than one thousand people and is considered one of Croatia's most successful start-ups.
The firm in April committed its long-term future to Croatia, unveiling designs for a new, state-of-the-art facility including an on-site test track and a museum close to Rimac's current home in Sveta Nedelja, west of Zagreb.
It is expected to be operational by 2023.
---
Unlike many news and information platforms, Emerging Europe is free to read, and always will be. There is no paywall here. We are independent, not affiliated with nor representing any political party or business organisation. We want the very best for emerging Europe, nothing more, nothing less. Your support will help us continue to spread the word about this amazing region.
You can contribute here. Thank you.