Bulgaria's climate and soil are ideal for the growth of truffles, but the cultivation and commercialisation of this most expensive of delicacies are being hampered by a lack of government support.
Used as a base for rich, delicious sauces or freshly shaved over a simple pasta dish, truffles are, pound-for-pound, one of the world's most expensive foods.
Associated primarily with France and Italy, both in provenance and cuisine, retail prices can top 700 euros per kilogramme for winter black truffles and over 3,000 euros per kilogramme for white truffles. Some rare truffles can sell for far higher sums.
Now, however, there is potentially a major new player on the European truffle scene: Bulgaria.
---
---
"The Bulgarian truffle is no different to French or Italian truffles," Dimitar Dimitrov, chair of the Bulgarian Truffle Association, tells Emerging Europe. "In fact, many of our truffles bought from Bulgaria are then resold as Italian or French."
What makes truffles so expensive is their scarcity, short seasonality, and the difficulty in harvesting them (a task traditionally carried out by truffle hogs, today more commonly by specially-trained dogs). Truffles cannot be easily planted and grown, although cultivation is possible under the right conditions. And parts of Bulgaria boast the exact conditions necessary for successful truffle farming.
Kiro Prodanov of the Varna-based Kipro organisation offers starter kits and advice for people looking to get started in the industry. "We offer mycorrhised saplings of five types of Bulgarian and Italian truffles," he tells Emerging Europe.
The existence of Kipro, which offers research and consultation alongside recommendations for the successful construction of a truffle farm, as well as complete technology for truffle cultivation, in itself reveals the growing interest amongst Bulgarians to set up their own enterprises.
It marks a notable change to truffle farming in the not-so-distant past.
"Many truffle plantations were created by accident during times of afforestation," Dimitrov explains.
According to him this is proof that the purposeful cultivation of truffles in the country has real potential.
"The conditions for cultivating truffles in our country are wonderful," he says.
Prodanov agrees, while further pointing out that these conditions could beget far higher levels of production.
"There are soils and areas with very favourable morphological indicators for various types of truffles," he says. "In this sense, their quality is not inferior to those in Italy and France, but in terms of quantity, the yields are still far below the possibilities."
Regulation, or lack of it
According to Dimitrov this is a consequence of the Bulgarian government's lack of support for what could be a highly lucrative industry.
"Unfortunately, Bulgaria does not provide subsidies for the cultivation of truffles, unlike Italy, France and Spain, where there is substantial financial support available for the planting of the trees needed to grow truffles, covering much of the initial cost of setting up a plantation. They then provide further financial subsidies in the long-term," he says.
Dimitrov says that while this lack of financial support discourages many people who might be interested in cultivating truffles, interest in the business is nevertheless growing fast.
However, what poses an even greater challenge is the lack of any sort of legislation that would allow what is now essentially (quite literally) an underground industry to become legitimate.
"In Bulgaria, the truffle does not exist as a crop, truffle producers cannot even register as farmers," says Dimitrov, adding that there have so far been several failed attempts to pass a truffle law to cover all areas of the industry, from wild hunting to trade and cultivation.
Most recently, GERB, a right-wing, populist party widely associated with high levels of corruption, attempted to regulate aspects of the industry just prior to stepping down from power in 2021.
"To be honest, it's good that [the law] was not adopted, as there were many aspects of the proposed legislation that would have only hindered the newly developing industry," argues Dimitrov.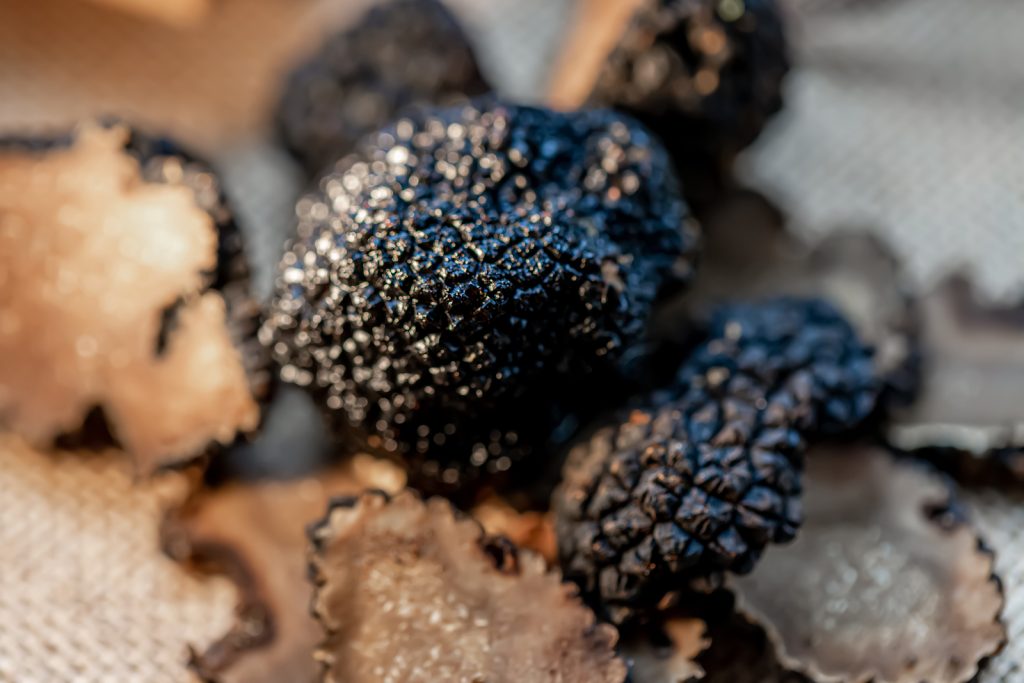 Truffle hunting
The lack of regulation not only obstructs the country's economy as a whole from benefiting from the highly profitable business, but also makes it close to impossible to brand Bulgarian truffles as such.
As such, many of the less transparent truffle merchants in the country still choose to falsely label their product as originating in Italy and other destinations when exporting the product abroad, where the vast majority of Bulgarian truffles are sold.
Despite the lack of almost any governmental recognition of the truffle business, Dimitrov says that there are now more and more farmers and sellers who want to grow a brand based on transparency about their product and farming practices, hoping that they can eventually become fully legitimate.
"The individuals and businesses members of our association are active in all areas of this industry including foraging, trading, cultivating and selling truffle products, and we recently even began to see a truffle hunting adventure tour being offered."
The Varna-based brand Thracian Truffles, whose name links the contemporary cultivation of truffles on Bulgarian lands with the ancient Hellenistic Thracian civilisation, is one of the first to attempt to popularise truffles among Bulgarians.
It offers truffle hunting and tasting tours in the outskirts of the Black Sea resort town of Albena, just north of Varna.
Nonetheless, the main destinations for its products remain the markets of Europe, North America and Asia.
"The demand for [Bulgarian] truffles is mainly from external customers," says Kiro Prodanov.
Even if Bulgarians themselves are only now learning about the delights of cooking with this rarest of delicacies, what's clear is that if Bulgaria's government gets behind the nascent industry, truffles could become as well known – and lucrative – as its celebrated rose oil.
But for that to happen, Bulgaria first needs a stable, functioning government; something that in recent years has proven as elusive as, well, truffles.
---
Unlike many news and information platforms, Emerging Europe is free to read, and always will be. There is no paywall here. We are independent, not affiliated with nor representing any political party or business organisation. We want the very best for emerging Europe, nothing more, nothing less. Your support will help us continue to spread the word about this amazing region.
You can contribute here. Thank you.