Emerging Europe's Andrew Wrobel speaks with Anna Grabowska, CCO of Poland's largest modern convenience retail chain, Żabka, about the firm's commitment to sustainability and responsibility for the environment.
One of the largest and greenest chains of convenience stores in Central and Eastern Europe, with 7,600 manned and unmanned facilities, Żabka has developed its business model by focusing on the growth of the convenience format and on technological advances, while simultaneously integrating those activities with values of Żabka brand.
---
---
At the core of its philosophy are responsibility and sustainability, says Anna Grabowska, Żabka's Executive Vice President (EVP) and the firm's CCO.
"We do not treat the responsibility and sustainability agenda as something extra, they are a vital, integrated part of our business strategy," she tells Emerging Europe.
Grabowska says that as a business, Żabka creates value by making people's lives easier.
"We aspire to become the largest, best and greenest convenience chain in Central Europe. It is a bold statement but the world belongs to the brave: those with an innovative, forward thinking and responsible approach."
She says that the company's responsibility strategy consists of four pillars: a sustainable lifestyle; mindful business impact; responsible organisation; and green planet, meaning responsibility towards the environment.
"We believe that green and sustainable living for all of us, every day, is possible. This is our commitment It requires engagement, time, resources and, above all, good teamwork: both within the organisation and with external partners, such as our suppliers."
Grabowska adds that Żabka designs and deploys its activities by integrating environmental, social and governance (ESG) related factors in its decision making processes.
"We also strive to enhance our human, intellectual and social capital," she says. "We create financial and non-financial value for all our stakeholders. One of our goals is to minimise negative environmental impact throughout the entire Żabka Group value chain."
The Żabka Group Responsibility Strategy, adopted in early 2021, confirms the approach the firm is taking, defining its ambitions and identifying the directions it intends to follow in regards to corporate responsibility and sustainability.
Grabowska describes it as "a declaration of our willingness to further develop our business while fully respecting the natural and social environment."
Żabka wants to become climate neutral in just a few years' time, and in 2020 spent record levels of investment in optimising its supply chain. Bottles in which its own brand products are sold – Foodini, Wycisk, S!, OD NOWA – are made of 100 per cent recycled materials.
"We have been placing great emphasis on green innovation – an approach that is best reflected by an environmentally friendly store in Warsaw, fully powered by 100 per cent green energy," explains Grabowska.
"The store is testing quantum dots technology and has a kinetic floor that generates energy from customers' steps. Anti-smog pavement blocks are installed in front of the store, and a green wall made of live plants absorbs harmful exhaust fumes. The store serves as an innovation laboratory in which environmentally friendly solutions for commerce are tried and tested."
Cutting down food waste
It is increasingly clear that consumer habits will need to change in order to bring about the widespread changes needed to help mitigate the impact of climate change, and the retail sector, Grabowska says, has a key role to play, particularly in the reduction of food waste.
"Żabka is working to reduce food losses in its value chain. We have implemented appropriate processes during product picking and deliveries to stores. During transport, we maintain a cooling line – thanks to this, we can be sure that the products are transported in the right temperature conditions and will retain their properties and freshness."
"Twelve million Poles live in the vicinity of Żabka stores," she explains. "We are committed to promoting smaller and more frequent purchases to reduce food waste. The convenience model in which our stores operate helps customers buy what they need at a given moment without stockpiling and, consequently, preventing food waste. We support this approach by introducing well-sized product packaging. Already, 90 per cent of the products in Żabka stores are intended for immediate consumption, which do not contribute to food waste."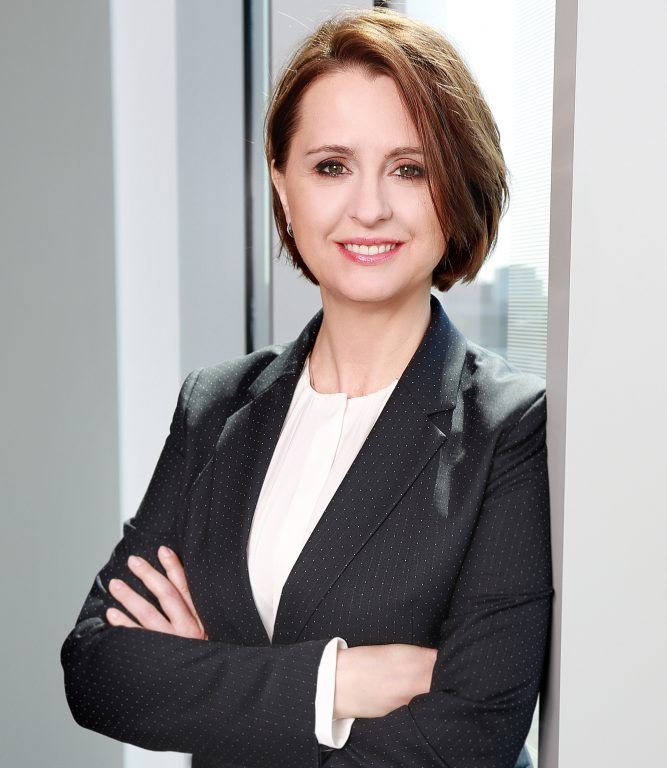 But with so many people increasingly conscious of the need to eat healthier food, how can a retail chain ensure that they are eating the right thing, even when time is short? Again, Żabka is doing its bit, Grabowska says.
"We are aware that people are often in a rush: that's why we offer them a lot of healthy snacks they can grab and eat."
She cites Żabka's Foodini smoothies, based on fruit, and grains, as well as the Dobra Karma brand offering a range of light lunch meals and snacks with a short ingredient list, "but including a lot of vegetables, which do not contain any preservatives, flavour enhancers, sweeteners or colouring agents".
Then there are two companies Żabka recently acquired to enhance its dietary portfolio: Maczfit – the leader in the box diet segment; and Dietly.pl – Poland's biggest platform allowing customers to compare and order meal plans.
"In this way we are making sure that Żabka creates value by simplifying people's lives. We already have over 7,600 franchise stores around Poland. Every day over 2.5 million Poles visit our stores. We listen to their needs, observe and react to those needs, and sometimes come towards those needs before they become visible. We are leading through innovation."
Alongside other retailers, Żabka also donates food, to the Polish charity organisations Caritas, the Federation of Polish Food Banks and the Camillian Social Welfare Mission. In 2020, its donations reached over 550 tonnes of food.
Promoting positive behaviour
Grabowska says that since the beginning of the Covid-19 pandemic, consumers have been paying more attention to their health – they tend to analyse how certain products influence their well-being, including mental health, and their immunity.
"They want to know how the environment affects us, as well as how we impact the environment," she says. "Trust and responsibility are now at the centre of attention for a lot of people. There are studies showing that around 90 per cent of consumers would pull out of an online purchase if a brand or company had bad reputation. That's why brand reputation is so important. And this reputation is not gained overnight. It takes years of consistency, new initiatives, coming forward with new ways to positively influence the environment, society, employees."
But where Żabka has excelled is in realising that while the majority of consumers are declarative about environmental protection, additional effort, expense or compromise on quality can put them off.
Grabowska points to a Żabka initiative which places eco-labelling on packaging to indicate which bin it should be placed in.
"Such action does not require additional expense from the customer," she says. Meanwhile, Żabka has introduced a policy of making sure that healthy products, that have no preservatives, are produced and designed in such a way that they are affordable while maintaining their high quality.
"In order to make sustainable choices mainstream we need to spend a lot of time and effort on the ecological education of customers," she says. "Żabka has been doing that for quite a while now. We have the opportunity to remind them of the right choices, offer responsible products and educate them. This is also done by means of modern digital devices, such as a dedicated application called żappka. Customers are granted points for returning plastic bottles and cans to EKOmat devices, provided by our chain, which promotes positive behaviour which in the end become habits. The points can be later exchanged for products or donated to a chosen charity if the customer wishes to do so."


Sustainability is not a trend
All companies, especially big players on the market, must see the necessity of implementing the ESG agenda in their everyday activities and strategies and plans for the future.
As Grabowska puts it: "Taking any business decision should be preceded by a question – is this a responsible and sustainable action?"
Given that financial institutions are also now asking the same question, her point becomes increasingly valid, as companies which conduct their business in a sustainable way are more likely to obtain funding for new projects and investments.
"Sustainability has become one of the most important criteria," says Grabowska. "Both the general market as well as financing institutions would rather support companies that conduct their business in a sustainable manner. Responsible business practices and contribution to sustainable growth also support more trusted and reliable relationships with stakeholders incl. business partners, employees or local communities. They also drive innovation and value creation both in financial and non-financial terms."
As part of its own commitment to making a difference, Żabka has vowed to make the packaging of all its own brand products recyclable by 2025.
"Żabka was the first company in Poland to start testing circular economy solutions for its own brand products," says Grabowska. "We offer our customers water in bottles and labels made from fully recycled materials. We called it OD NOWA from the Polish  for 'fresh start' or 'regeneration'.
Grabowska says that ultimately, there will be no future for companies that are not forward thinking.
"Sustainability is not a temporary fashion or a trend – it is a must," she concludes.
---
Unlike many news and information platforms, Emerging Europe is free to read, and always will be. There is no paywall here. We are independent, not affiliated with nor representing any political party or business organisation. We want the very best for emerging Europe, nothing more, nothing less. Your support will help us continue to spread the word about this amazing region.
You can contribute here. Thank you.