Serbia's roll-out of the Covid-19 vaccine is now the fastest in continental Europe. Vaccines supplied by China, not the EU, are making the quick roll-out possible.
In the two weeks since Serbia became the first country in Europe to approve and take delivery of the Chinese-made Sinopharm Covid-19 vaccine, the Balkan state has quickly become the most proficient vaccinator in Europe.
---
---
As at January 30, Serbia had administered at least one dose of the vaccine to 6.43 per cent of its seven million population, ahead of every country in the European Union. Indeed, only Malta, where 6.3 per cent have been vaccinated, comes close.
Among those countries in emerging Europe which have begun to roll-out mass inoculation, Romania – which began its vaccination campaign two weeks earlier – trails far behind in second place with a rate of 3.75 jabs per 100 people.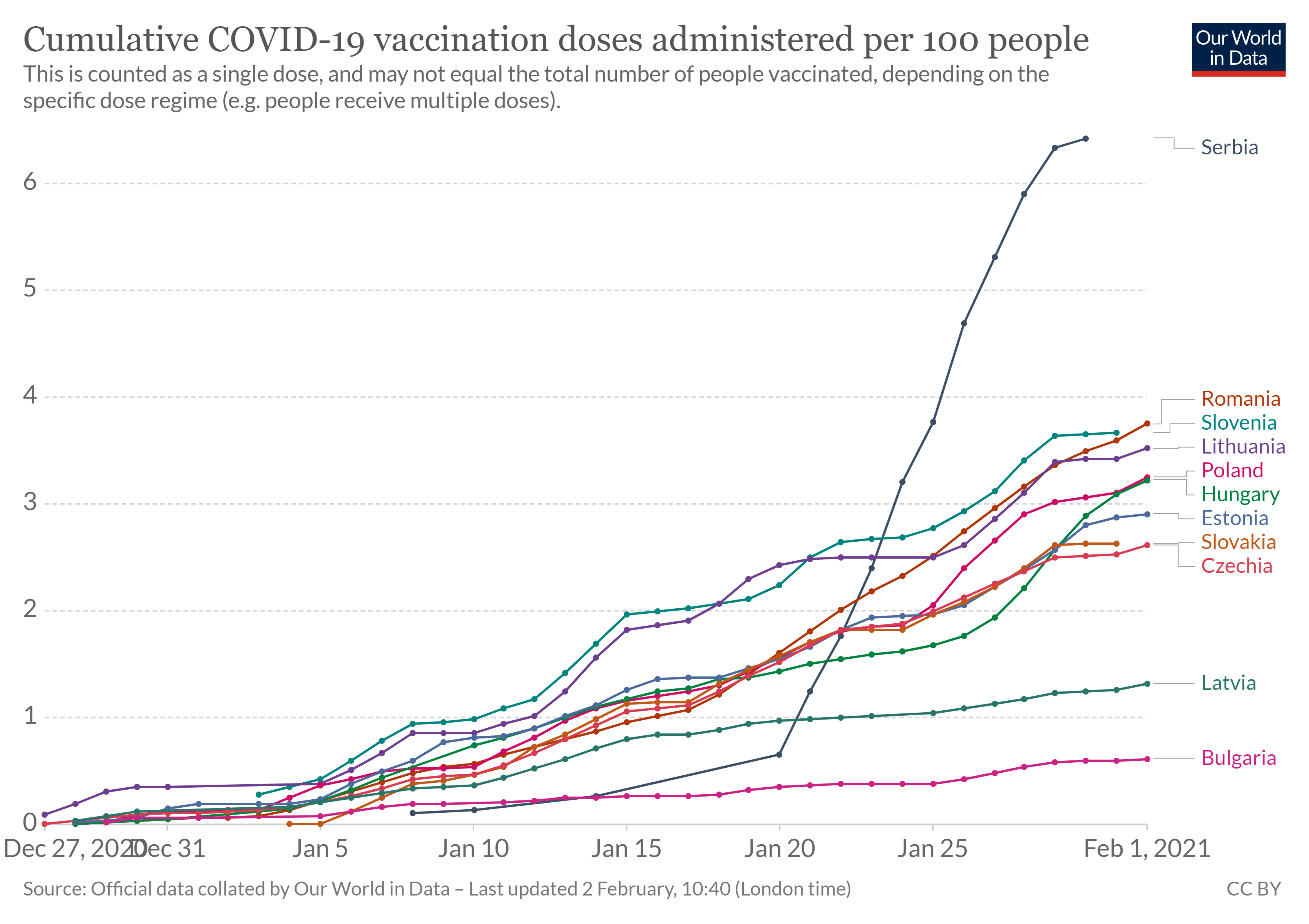 Serbia took delivery of more than one million does of the Sinopharm jab on January 16, and its fast roll-out now has other countries in the region looking to China as a possible source of vaccines as supplies from the European Union fail to materialise in the required numbers.
The country's president, Aleksandar Vučić, personally welcomed the shipment at Belgrade's airport, accompanied by Beijing's ambassador to Serbia.
"I would like to thank President Xi Jinping and Chinese leadership for sending us one million doses of the vaccine," said Vučić, who has been forging closer ties with China for several years.
'A healthcare, not political issue'
On February 2, the country's prime minister, Ana Brnabić, an ally of Mr Vučić, played down any political significance of China supplying the country with vaccines.
"I think Serbia was one of the few countries that looked on vaccine purchase and distribution as a healthcare issue and not a political issue. That's why we are successful," the prime minister told Euronews.
"The only relevant matter for us being is that [the vaccine] is safe and effective."
The EU has pledged to give six prospective members in the Western Balkans — including Serbia — 70 million euros to buy Covid shots from suppliers the EU has approved, but deliveries across the bloc are facing delays.
Serbia & China: Ever closer
The supply of vaccines is the latest move in China's offensive to gain a foothold in the Western Balkans.
In October 2020, 39 countries, including Bosnia and Herzegovina, Bulgaria, and Poland, made a statement of concern to the United Nations over China's treatment of the Uighur minority in Xinjiang province and attacks on democratic freedoms in Hong Kong. Serbia was not among them.
When President Vučić said last year – during during the early months of the coronavirus pandemic – that the EU was not helping enough, China sent experts to Serbia to aid in country in its fight against coronavirus.
Billboards then appeared across Serbia with the message, "Thank you, brother Xi", in reference to China's leader Xi Jinping.
The Chinese tech giant Huawei is also involved in a controversial project that will see hundreds of facial recognition cameras pop up all around the Serbian capital Belgrade, and it is understood that once 5G comes to the country, it will be Huawei's equipment forming its backbone.

Elsewhere in the Balkans, China is – at least at the moment – less welcome.
Having signed a memorandum of understanding with the United States in 2019 concerning 5G network security, Romania this week adopted a new memorandum that, if signed into law, would exclude Chinese companies from all public infrastructure projects.
While the new memorandum does not mention China explicitly (the 5G memorandum didn't either), it would block contracts being awarded to companies from any country with which the EU does not have a bilateral trading agreement.
"We only want to ensure that we will not have bidders that cannot respect EU standards, so that we would be then forced to lose money, cancel auctions and see more delays, in a period when Romania desperately needs to start infrastructure works," says Romania's deputy prime minister, Dan Barna.
Hungary to follow?
However, the success of China's vaccine in Serbia may prompt other countries in the region to roll it out.
On January 29, Hungary's medicine and food safety regulator approved the Sinopharm vaccine for emergency use, making it the first country in the European Union to do so.
The decision followed a government decree that streamlined Hungary's vaccine approval procedure. Any vaccine that has been administered to at least one million people worldwide may now be approved for use in Hungary — without being assessed by the country's medicines regulator.
"Today, the National Institute of Pharmacy and Nutrition approved the Sinopharm vaccine, which means that in addition to Pfizer, Moderna, Sputnik and AstraZeneca, we can now count on Sinopharm as well," Chief Medical Officer Cecila Muller told a virtual press conference.
A week earlier, the Hungarian authorities also became the first in the EU to approve the Russian Sputnik V vaccine, and jumped ahead of the European Medicines Agency in approving the AstraZeneca jab.
Serbia has also approved the Sputnik V vaccine.
---
Unlike many news and information platforms, Emerging Europe is free to read, and always will be. There is no paywall here. We are independent, not affiliated with nor representing any political party or business organisation. We want the very best for emerging Europe, nothing more, nothing less. Your support will help us continue to spread the word about this amazing region.
You can contribute here. Thank you.