In some countries of emerging Europe, Covid-19 vaccines are being wasted, while in others vaccines are few and far between. Technology is helping to ensure this precious resource is distributed efficiently and equitably.
Ever since the UK became the first country in the world to approve the Pfizer/BioNTech coronavirus vaccine for widespread use on December 2, it has been clear that the logistics involved in distributing a vaccine that needs to be kept at extremely low temperatures will be as challenging as the development of the jab itself.
---
---
The vaccine is distributed from Pfizer's own centres in the US, Germany and Belgium, from where it needs to travel both on land and by air, then stored in cold chain distribution centres, before being delivered to anywhere the vaccine will be given.
Prone to wastage
Almost all vaccines are notorious for being prone to wastage through poor stock management and breakage in transit. Given the importance of the coronavirus vaccines, coupled with the huge demand and the extra-cold storage requirements of Pfizer's formula, the global supply chain is expected to be stretched beyond capacity.
In some of the UK's vaccination centres, as many as one in six jabs that are being thrown away. The French Directorate General of Health has stated that it is operating with the cautious estimate of a 30 per cent wastage rate on Covid-19 vaccines distributed in the country.
Across emerging Europe, several high-profile cases of vaccines being wasted have been reported, a particular concern in a region where there are currently not enough vaccines to go around: some countries have yet to receive any.
In the Romanian city of Petroșani, a nurse on January 18 placed a batch of vaccines in an inappropriate storage facility, rendering them useless. At a clinic in the Polish capital Warsaw, a batch of 90 vaccines were left in a reception area for hours: they had to be thrown away.
"We are concerned about the high number [of doses] that are wasted," Michał Kuczmierowski, president of Poland's Material Reserves Agency said at a press conference in mid-January, after the number had exceeded 800 doses.
"We are trying to analyse the causes each time. We know that part of that results from the damage of vials, something was broken, unsealed, spoilt. Unfortunately, these things happen even though we ask clinics to avoid such incidents."
Poland administers six doses of the vaccine from a single vial. The European Medicines Agency recommends that syringes and needles with low dead volume be used to take the sixth dose. Using traditional syringes and needles is another reason why a high number on doses is wasted, according to the agency.
'It's a sin to throw them away'
In another case, also in Romania, a doctor who had been left with around 80 doses of the vaccine after administering jabs to all high-risk patients in a hospital, offered it to any medical staff in the immediate vicinity in order to ensure that the doses were not wasted, even though they had not been scheduled for vaccination that day.
"The cost of the vaccine is high, 12 euros a dose. It would be a sin to throw them away," said the doctor, Laurențiu Belușică, a former military surgeon who values order and discipline.
Vaccine wastage is not unusual. In a 2005 paper, the World Health Organisation (WHO) reported vaccine wastage at over 50 per cent around the world, a number still cited by the United Nations Environment Programme today. Some waste is unavoidable.
But a good understanding of where waste occurs in the vaccine supply chain – and targeted action at crucial points of that chain – can help to minimise it. Doing so has never been more crucial.
While the countries of the European Union should have enough vaccines to go round, those to the south and east of Europe, including the Western Balkans and the six Eastern Partnership countries – Ukraine, Georgia, Belarus, Moldova, Azerbaijan, and Armenia – have been left scrambling to procure vaccines from whatever sources they can.
For these countries, news of even one dose being wasted is a tragedy.
How technology is helping
With careful planning, some of the key causes of vaccine waste can be avoided. Having a pool of available substitutes to receive vaccinations for those who do not show up for appointments ensures maximum use of stock and lower levels of waste: such a system would mean that enterprising medics such as Dr Belușică would not need to run around his hospital looking for people to vaccinate.
Technology can also help.
One solution has been developed by a Finnish firm, Logmore, which recently rolled out a new product for monitoring sub-zero vaccine shipments, including the Covid-19 vaccines. In emerging Europe, Logmore has already onboarded logistics analytics customers in Bulgaria, Lithuania, Latvia, Estonia, Croatia and Serbia.
Capable of monitoring shipments as low as -100°C, Logmore Dry Ice features sensors that allow cargo to be remotely monitored with extreme precision. Logmore's tags send condition data to secure servers using an innovative QR code display solution, which allows anyone with a smartphone to help keep stakeholders updated.
In Logmore's native Finland, it has already saved Covid-19 doses from the rubbish bin. Its sensors alerted medical staff to the fact that the cold chain had broken during the transportation of one batch, that then needed to be used within 30 minutes.
"The world has been waiting desperately for vaccines to finally push the pandemic away," says Niko Polvinen, Logmore's COO. "It's not only a shame if the vaccines that are produced are wasted, it costs lives, businesses and has long-lasting effects on peoples' health.
"The regulations demand constant temperature monitoring of vaccines, but that's not enough. By having true transparency into the distribution chain, it's possible to prevent spoilage and make safe yet fast decisions."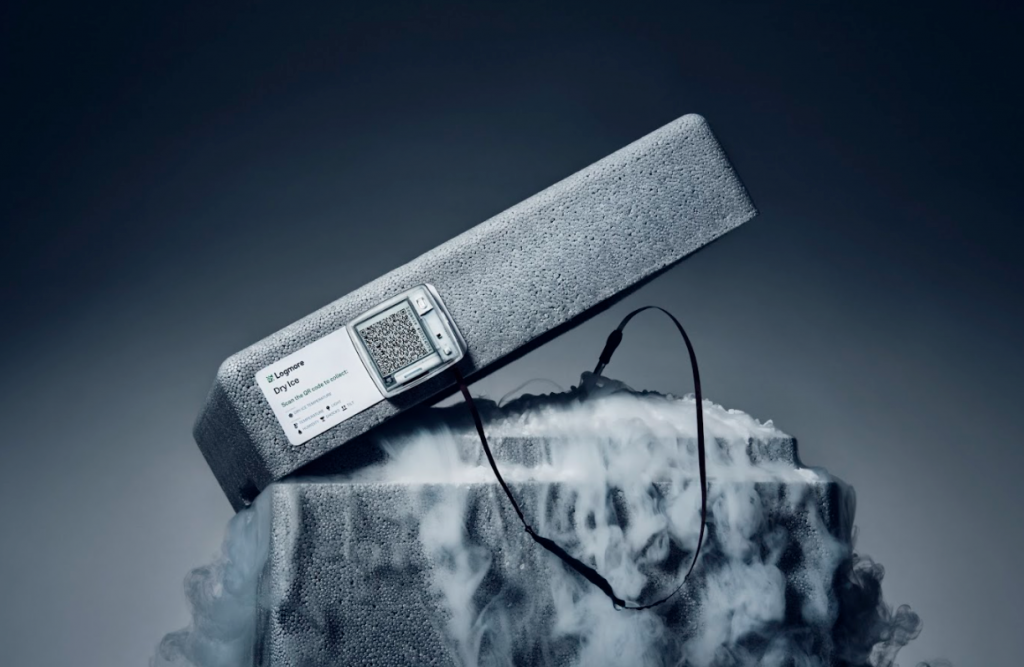 With some of the countries in emerging Europe already sharing vaccines with their neighbours – Romania has offered 200,000 doses to Moldova, Serbia has promised North Macedonia 8,000 – it is imperative that they are delivered efficiently, safely, and that wastage is kept to a minimum.
Just a few doses administered to the right people – medical staff and high-risk patients with chronic illnesses – can make a huge difference.
They would do well to make use of all the technological solutions available to them.
---
Unlike many news and information platforms, Emerging Europe is free to read, and always will be. There is no paywall here. We are independent, not affiliated with nor representing any political party or business organisation. We want the very best for emerging Europe, nothing more, nothing less. Your support will help us continue to spread the word about this amazing region.
You can contribute here. Thank you.