With a score of 92.11 out of a possible 100, Enterprise Estonia, the Estonian government's agency responsible for promoting foreign direct investment into the country has come out on top in a major new report looking at investment promotion agencies (IPAs) across the emerging Europe region. Invest Lithuania, the winners of the previous two editions, ranked second, with the top five being completed by CzechInvest, the Investment and Development Agency of Latvia (LIAA) and UkraineInvest.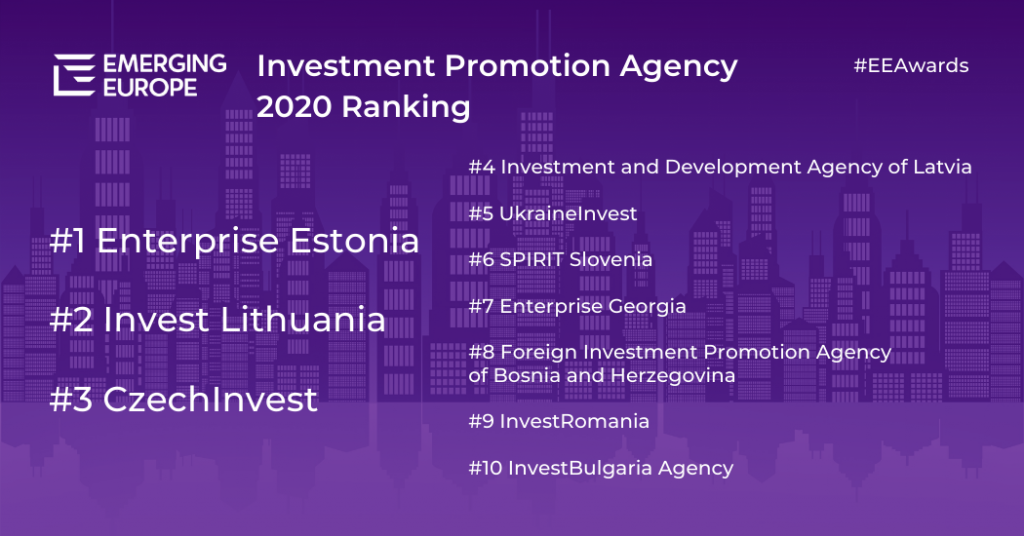 —
"As soon as countries went into lockdown, it was clear that the Covid-19 pandemic would cause a drop in global foreign direct investment flows," says Andrew Wrobel, founding partner of Emerging Europe, the London-based intelligence, news and community platform which produced the report.
"It was clear that the support and preparedness of IPAs throughout the crisis – and subsequent recovery – could have a lasting effect on their relations with investors, and that digital channels will play a key role in the process. That's why this year's edition of the Emerging Europe Investment Promotion Report focused on online communication and support," adds Wrobel.
"Over the course of the past quarter, the role of investment promotion agencies has never been more important. Being able to stabilise existing investment, while still taking proactive measures to drive new investors to their jurisdictions has remained a key priority for those locations that are committed to dynamism and a diversified economy," Peter Ryan, principal at Ryan Strategic Advisory, tells Emerging Europe.
"Those that did this well were cities, provinces and countries that embraced digital channels to communicate seamlessly with those firms already on the ground, while luring new ones with a well-rounded value proposition. The fact that those countries rated in this year's top five IPA listings were able to achieve such rankings speaks to the motivation and ingenuity of the teams within each of those national organisations," adds Mr Ryan.
"As much as it might be difficult budget wise, as much as it stresses or stretches the resources of an IPA, if you see the business community changing around you, isn't that the time to start thinking what that means to my business?" asks Elias van Herwaarden, principal at Locationperspectives, in a recent episode of the podcast Emerging Europe Talks, adding that everyone is doing after care but the battle for foreign direct investment will continue.
"A friend in need in need is a friend indeed. If you are absent from the conversation now, don't come knocking on my door when the dust has settled. I need you right now as a friend and as a conversation partner and don't be scared to admit that you don't have all the answers, nobody has," he added.
That approach is not always evident amongst emerging Europe's national IPAs.
Some, like Enterprise Estonia, have launched new initiatives, such as Suve, a chatbot driven by artificial intelligence helping Estonia's citizens and foreign direct investors find official information about the coronavirus situation, keeping emergency phone lines free for those in the most need. Other IPA's seem to have ignored the pandemic, or are going through yet another restructuring process and sending mixed messages to potential investors.
Global foreign direct investment (FDI) flows are forecast to decrease by up to 40 per cent in 2020 from their 2019 value of 1.54 trillion US dollars, according to UNCTAD's World Investment Report 2020. This will bring FDI below one trillion US dollars for the first time since 2005. In addition, FDI is projected to decrease by a further five to 10 per cent in 2021 and to see a recovery only in 2022.
"The outlook is highly uncertain. Prospects depend on the duration of the health crisis and on the effectiveness of policies mitigating the pandemic's economic effects," said UNCTAD Secretary-General Mukhisa Kituyi.
The full Investment Promotion Report 2020 will be available in early July. To secure a complimentary copy, email [email protected].
The third edition of the Emerging Europe Awards, showcasing the best of the emerging Europe region: individuals, public and private organisations as well as projects and initiatives, had been scheduled to take place on June 25 at the European Parliament in Brussels. Due the Covid-19 pandemic, winners are being announced digitally.
This year's laureates already include the European Public Prosecutor Laura Codruţa Kövesi, named as Emerging Europe's Public Figure of the Year at the end of April, while former Swedish Prime Minister Carl Bildt and Bosnian musician Goran Bregović were awarded Emerging Europe's Remarkable Achievement Awards for 2020.
The city of Budapest, has been chosen as the most business-friendly city in the region in a survey carried out by over 50 site selection experts and FDI advisers.
More winners will be announced in the coming days.
—
Unlike many news and information platforms, Emerging Europe is free to read, and always will be. There is no paywall here. We are independent, not affiliated with nor representing any political party or business organisation. We want the very best for emerging Europe, nothing more, nothing less. Your support will help us continue to spread the word about this amazing region.
You can contribute here. Thank you.