There may be much tension at present between Belarus and Russia, as a row over energy supplies escalates and with negotiations between the two governments regarding closer integration seemingly at an impasse, but the Minsk-Moscow air connection has never been more popular.
According to data from Flight Connections, a portal which monitors flights across the globe, more than 550 flights take off from Minsk for one of Moscow's four airports every month. A further 138 head for St Petersburg. By contrast, the most popular destination heading west, Warsaw, is served by just 61 flights per month – the same number of flights that take off for the Russian exclave of Kaliningrad.
Belarus may not be ready for closer integration with Russia just yet, but if the flights which take off from its airports represent any kind of accurate gauge, it's not yet ready to move closer to the west either.
Of course, flights do not tell the full story. Minsk is geographically closer to Warsaw than it is Moscow, and many travellers will drive or take the bus. It is closer still to Vilnius, in Lithuania, just over two hours away in a car. Belarusians also need visas when heading west: when travelling to Russia they do not.
However, even a casual glance at the data Emerging Europe has prepared, looking at flight connections across the region, offers more than a few clues about current geopolitical relationships. Overall, London (and its many airports) is the most popular destination for flights from the region (especially Bulgaria, Lithuania, Poland and Romania), a reflection of how many emerging Europeans have migrated to the UK over the past decade. It will be interesting to see if the number of flights to London is reduced post-Brexit.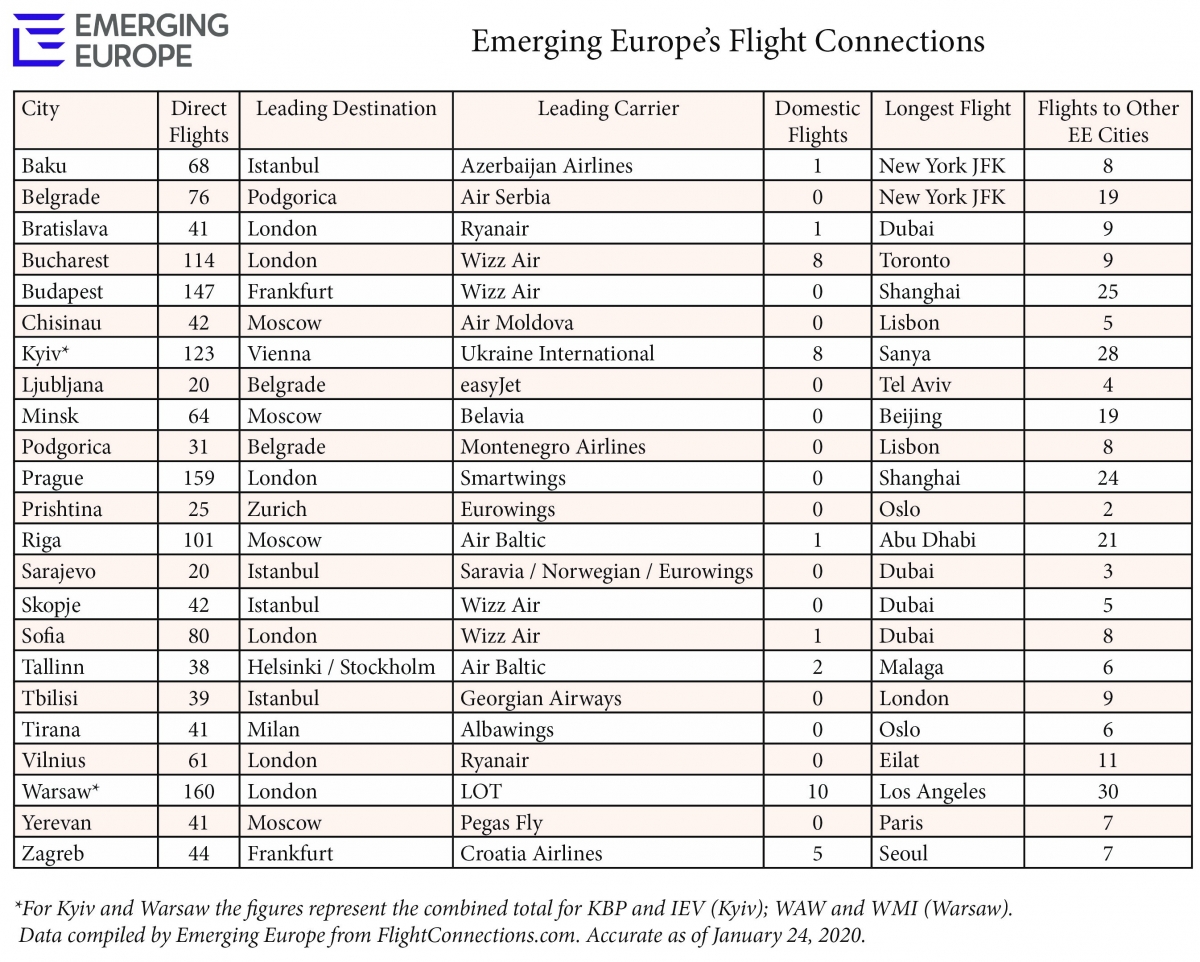 Besides Minsk, Moscow is also the most flown-to destination from Yerevan, Armenia; Riga, Latvia; and Chișinău, the capital of Moldova.
The most popular destination from Tbilisi, Georgia, however, is currently Istanbul: until Vladimir Putin imposed a ban on flights to and from Georgia last summer, it too would have been Moscow. Likewise, there are currently no flights from either of Kyiv's airports to anywhere in Russia.
You can, however, fly direct from Kyiv to Sanya in Hainan, the southernmost province of China. Asia's – especially China's – increasing interest in emerging Europe is clear from looking at the number of direct flights which now link the region with the Far East.
From Prague, direct flights operate to four cities in China as well as Seoul in South Korea. Warsaw has connections to China, South Korea and Japan (not to mention Malaysia, Sri Lanka and India). Budapest offers flights to five Chinese cities and to Seoul. Even Zagreb, the Croatian capital, has a direct flight to Seoul.
You can't, however, fly from Zagreb to Baku, Budapest, Bratislava, Chișinău, Minsk, Podgorica, Prishtina, Riga, Sofia, Tallinn, Tbilisi, Tirana or Yerevan.
Indeed, if you want to travel by plane within emerging Europe your options in most countries are limited.
Warsaw offers the best connections, flying direct to 30 other cities in the region. At the other end of the scale, from Prishtina your only options in the region are Budapest and Tirana. A deal may have been struck in principle to set up a flight to Belgrade, but as we wrote here: do not hold your breath.
Prishtina is not, however, the most poorly-served airport in the region overall. That distinction is shared between Sarajevo and Ljubljana, each served by just 20 direct flights.
The best served airport overall? Warsaw, again, whose 160 direct connections just pip Prague's 159.
And the longest flight you can take from an airport in emerging Europe? Warsaw to Los Angeles, 9,658 kilometres.