In a bid to boost Romania's faltering Covid-19 vaccination campaign, hit by widespread vaccine hesitancy, one mayor has turned to a tried and tested method of persuasion: free meatballs.
For the first time this year, the price of a kilogramme of cherries at Bucharest's largest and probably best-known market, Piața Obor, has fallen below 10 lei (just over two euros).
But on June 12, the longest queue at Obor was not for cherries, nor was it for the mici (meatballs) for which the market is famous. Instead, it was for Covid-19 vaccines.
---
---
This weekend, Radu Mihaiu, the mayor of Bucharest's Sector 2, in which Obor is found, has set up a mobile Covid-19 vaccination centre in the heart of the market, offering the Pfizer and Johnson & Johnson jabs on demand to anyone who wants it. No appointment is necessary.
It's the latest of many so-called "vaccine marathons" that have been operating in Romania's towns and cities in recent weeks, as the country seeks to boost its flagging vaccination campaign.
Piața Obor's vaccine marathon however comes with a bonus, above and beyond appointment-free access to the Covid-19 jabs: a free portion of the same mici (grilled meatballs) which for many have long been the market's main attraction.
The idea of offering free meatballs with the vaccine was not entirely Mihaiu's own.
A satirical website, Times New Roman, what might be called a Romanian version of The Onion or The Daily Mash, had previously published a spoof story mocking the flagging vaccination campaign, suggesting that offering free beer and meatballs might help.
Local authorities in Romania often organise events at which free beer and meatballs are the order of the day, usually on public holidays – May 1 especially – and in the run up to local elections.
"Times New Roman, your humour is contagious," said Mihaiu when announcing the "vaccine and meatballs" campaign. "Piața Obor will indeed have a new attraction: vaccines with free mici, and no, this time it's not a joke."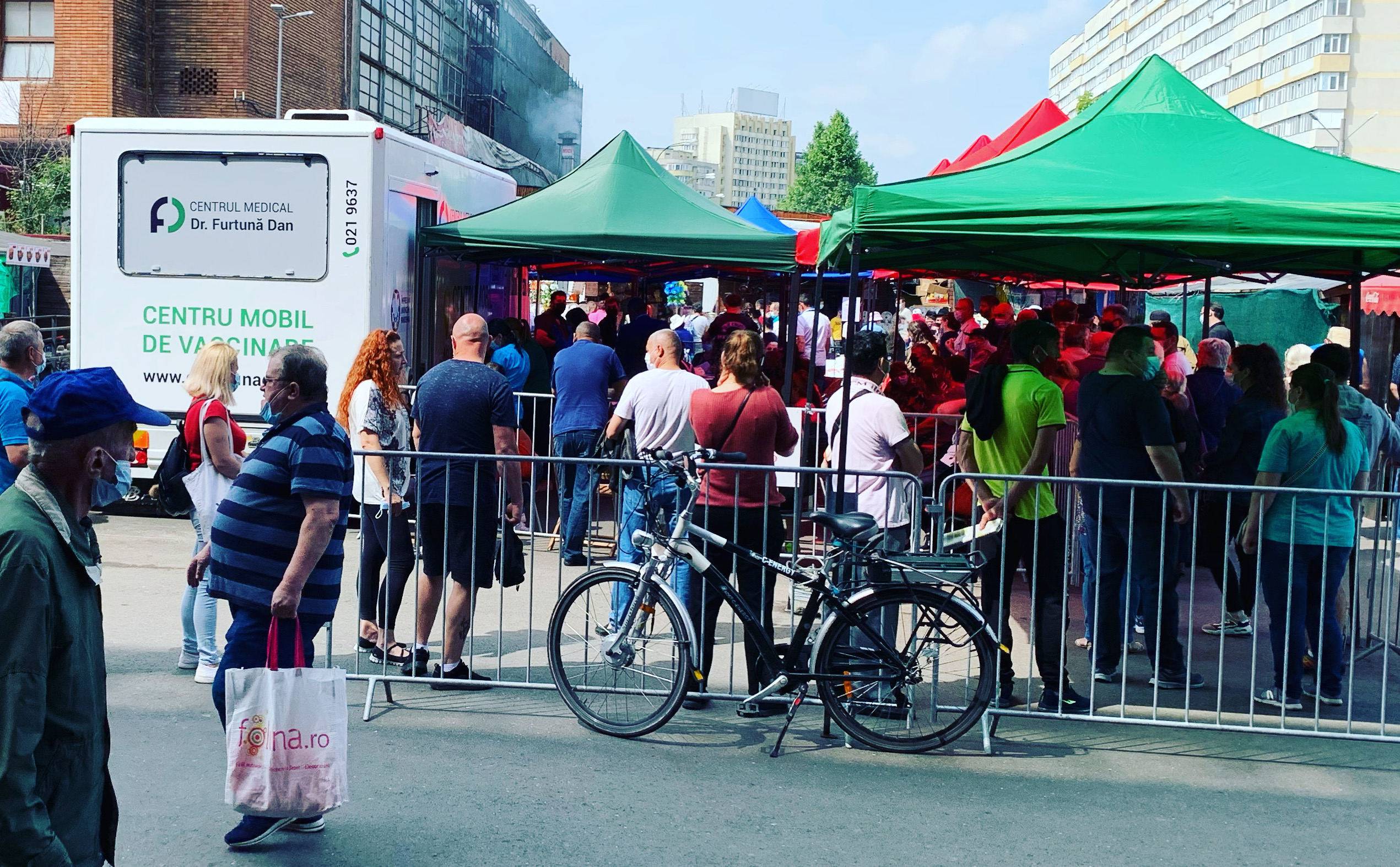 Johnson & Johnson the main attraction
Mihaiu says, however, that on June 11, the first day of the Obor campaign, just half of those who received the vaccine took up the offer of free mici, suggesting that they were not the only reason so many queued up for a vaccine.
The real attraction, it would appear, is the Johnson & Johnson jab, administered in just one dose, not two as in the case of Pfizer, Moderna and AstraZeneca.
"There was great demand for Johnson & Johnson; 87 per cent of those vaccinated chose that jab," says Mihaiu.
As for his idea to set up a vaccination centre in a busy, Mihaiu says that "vaccines should be available close to home, simply and quickly. This market is a place full of colour and aroma that brings together people from all sectors of society. We've seen that today more than ever."
One of those getting the jab was Rodica, a retired textile factory worker who lives in one of the tall, communist-era blocks that overlook the market.
"I didn't come for the mici," she says, I came for the Johnson vaccine. I don't like needles and only want to be vaccinated once. But I will certainly use the mici voucher: I will take them home for my husband."
Romania trails most of the EU
Having started its vaccination campaign at a far quicker pace than most countries in Europe, Romania has in recent weeks fallen behind most of the European Union. It has so far managed to jab just 22 per cent of the population: only neighbouring Bulgaria has vaccinated a lower percentage of its people.
There are, however, wide regional variations in the number of vaccinations being carried out.
In Bucharest, home to more than 10 per cent of the population, the number of people who have received at least one jab is now over 40 per cent. Other major urban centres, such as Cluj-Napoca, Timișoara, Brașov, Sibiu and Constanța can also boast similar rates of vaccination.
In the north east of the country however, the counties of Botoșani and Suceava are struggling: fewer than 15 per cent of the population has been vaccinated.
Last week, Romania became the first country in the EU to offer a vaccine – Pfizer – to children aged under 16.
---
Unlike many news and information platforms, Emerging Europe is free to read, and always will be. There is no paywall here. We are independent, not affiliated with nor representing any political party or business organisation. We want the very best for emerging Europe, nothing more, nothing less. Your support will help us continue to spread the word about this amazing region.
You can contribute here. Thank you.