The Three Seas Initiative offers its 12 members an opportunity to build resilience and increase foreign investment. But to truly succeed it needs to take a collective, cooperative approach that recognises each member's individual strengths, says the head of Latvia's investment and development agency.
Ahead of the latest Three Seas Initiative (3SI) summit, held in Riga, Latvia, in June, host country president Egils Levits said that it was high time to take the initiative to the next level.
This year's gathering appears to have placed the 3SI firmly on the international agenda, not least as Ukraine – not currently a member of the 12-country initiative – was offered "partnership" status with Levits himself underlining the importance of "exploring the best ways to connect Ukraine with the rest of Europe".  
---
---
Ukraine's president, Volodymyr Zelensky, who addressed the summit via video, said that the 3SI was his country's "connection with the free world".  
"The supply of weapons to Ukraine, the supply of fuel, transport flows, green corridors for the export of Ukrainian food, the migration of people – all this works through the territory of the states participating in this initiative," Zelensky said.
It was a huge vote of confidence in an organisation that has often been dismissed by many as a talking shop. The Riga summit was evidence that in fact, the 3SI is becoming increasingly relevant.
Launched in 2016, the 3SI aims to facilitate the development of energy, infrastructure, and investment ties among the 12 nations – all EU members – that make up its current cohort (Austria, Bulgaria, Croatia, Czechia, Estonia, Hungary, Latvia, Lithuania, Poland, Romania, Slovakia, and Slovenia) while strengthening trade and political cooperation among countries bordering the Adriatic, Baltic and Black seas.
Together, the 12 countries in the 3SI account for almost 30 per cent of European Union territory and 22 per cent of its population, but only for about 14 per cent of its GDP. 
One of the reasons for this low percentage is the current state of infrastructure connecting the 12 countries: most infrastructure in the region runs east to west, stymieing greater regional trade and cooperation.
'A better, joint investment environment'
It's a problem that the 3SI wants to help solve, and that can only be done, suggests Kaspars Rožkalns, director of the Latvian Investment and Development Agency, collectively.
"We need to align policy among the 12 countries to create a better, joint investment environment," he tells Emerging Europe. "We shouldn't be competing with each other for investment but pulling together so that everybody has something to gain."
According to Rožkalns, the key is in recognising each country's strengths. "Each of the 3SI countries can find a niche," he says.
Latvia, he says, is leader in the field of engineering, "we are ahead of Estonia and Lithuania", and has been successful in recent years at attracting both foreign direct investment and talent, the result of good investment legislation and an attractive living environment.
"We can see that this combination is starting to work," he says. "But the biggest challenge is to get that message out there."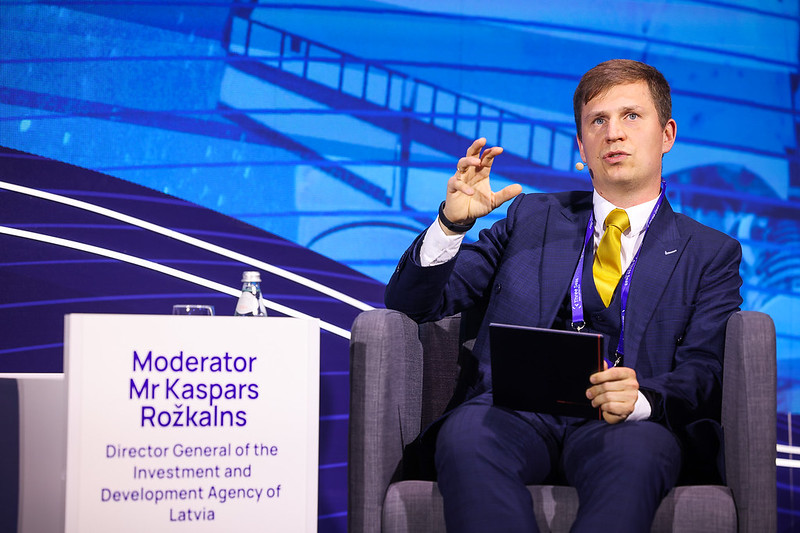 Accepting that Estonia is ahead when it comes to IT and Lithuania in the field of biomedicine, he says that what all three Baltic states offer, as does the 3SI as a whole, is "a window to the European Union" and an ability to adapt to crises.
Russia's invasion of Ukraine is not the first crisis in recent years. Besides the Covid-19 pandemic, he points to events in Belarus in 2020, when mass protests and a government clampdown on the country's opposition following a rigged presidential election saw many talented people, and businesses, flee the country. Many chose to relocate to Latvia.
"We attracted companies from Belarus, who have now established their operating bases in Latvia," adds Rožkalns. "But every crisis is different. What is important is to put in place procedures and legislation that build resilience and which allow you to easily adapt to whatever challenges a particular crisis throws up."
Cooperation is key
For the 3Si to succeed, Rožkalns returns to the idea of collective cooperation. It's something that the three Baltic states already do very well, he says.
"It is not a question of 'every country for itself' but a wider, collective mission. A higher goal. Staying unified is the key to attracting more investors."
Latvia, along with Estonia, earlier this month formally pulled out of China's 16+1 initiative, a loose alliance of states in emerging Europe that Beijing hoped to use as a means of increasing its economic influence in the region, joining their Lithuania which left last year amid a row over the opening of Taiwanese representative office in Vilnius.
Neither Latvia nor Estonia gave specific reasons for their withdrawal, and the foreign ministries of both countries – in what looked like carefully coordinated statements – insisted that they would continue to work towards "constructive and pragmatic relations with China". But they will from now on do so within the framework of broader, European Union cooperation with China.
It leaves the format with just 14 members (the original 16+1 platform, launched in 2012, had become 17+1 when Greece joined in 2019), and more withdrawals are now likely.
For China, the message from the Baltic states could not be clearer: 16+1 can no longer be used to court individual European nations with eyewatering but often misleading offers of investment. If, as has long been mooted, 16+1 was only ever intended to stoke division among EU members, it has failed.

A clear and immediate opportunity
Filling the Beijing breach as 16+1 disintegrates offers a clear and immediate opportunity to the 3SI, while assisting with the reconstruction of Ukraine is a further opportunity to boost the initiative's relevance.
Once again, Rožkalns returns to the idea of ensuring that efforts are coordinated.
"We need an approach that will not only make Ukraine more resilient, but which will support our own, collective interests, making all of us more resilient and sustainable in the long term," he says.
"Of course, the European Union is going to take a leading role, but the 3SI is one of the instruments it will have at its disposal. What we want to see now is the EU and 3SI align. The opportunities are there."
---
Unlike many news and information platforms, Emerging Europe is free to read, and always will be. There is no paywall here. We are independent, not affiliated with nor representing any political party or business organisation. We want the very best for emerging Europe, nothing more, nothing less. Your support will help us continue to spread the word about this amazing region.
You can contribute here. Thank you.