Montenegro is Central and Eastern Europe's best performer on the latest edition of the ILGA-Europe Rainbow Europe Map and Index, which monitors LGBTI rights across the continent. Azerbaijan is the worst.
The latest Rainbow Europe Map and Index, published today by LGBT+ rights organisation ILGA-Europe, finds that over the past 12 months advances in LGBTI rights have come to – almost – a complete standstill.
However, with legislative proposals and action plans on the table in some countries, the organisation says that governments now have the opportunity to ensure the map will look very different this time next year.
---
---
Released every year since 2009 on International Day Against Homophobia, Transphobia, Biphobia, and Intersexphobia (IDAHOBIT), the ILGA-Europe Rainbow Map ranks all 49 European countries on a scale of zero (gross violations of human rights, discrimination) to 100 (respect of human rights, full equality).
Unfortunately, the past 12 months have marked an unprecedented year in the map's 12-year history, with almost no positive legislative change for LGBTI people in Europe.
"It is deeply worrying to report an almost complete standstill on LGBTI rights and equality, especially at such a critical time for LGBTI communities," says Evelyne Paradis, executive director of ILGA-Europe.
"In the past year, we've seen increased political repression against LGBTI people, a stark rise in socio-economic hardship, and the spreading of LGBTI-phobic hatred on the streets and online across the region. Against this backdrop, the response from governments has to be more and better concrete action, to make sure people are more protected, not less. The human rights of LGBTI people simply cannot be something that you drop when circumstances are challenging."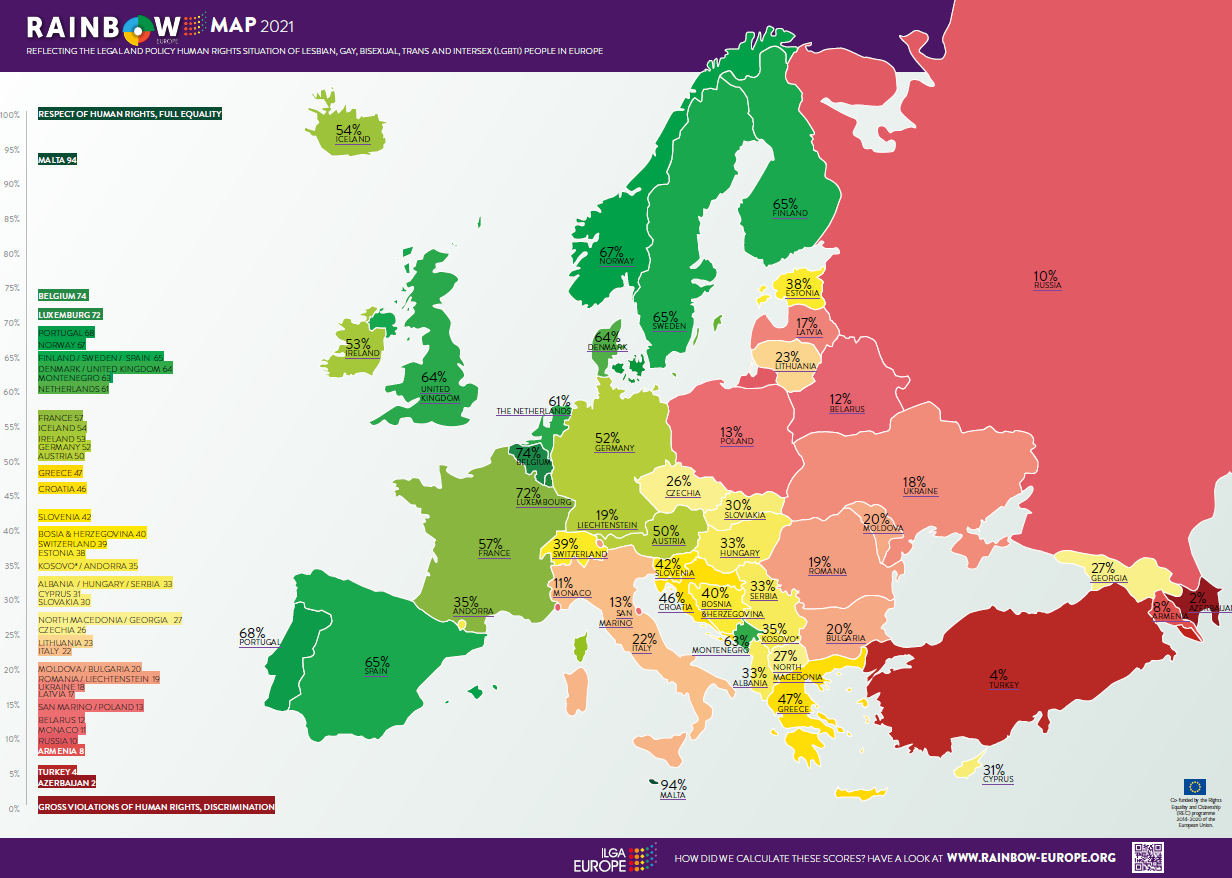 Paridis adds, however, that there is a silver lining to the story.
"If governments actively choose to do the right thing and take real action, our Rainbow Map can look positively different by this time next year. At least 15 countries, including France, Kosovo, Bosnia and Herzegovina, Czechia and Ukraine, have legislative proposals, action plans and policy discussions already on the table. Others, such as Montenegro, have to make sure the laws they adopted effectively come into force, while many more know what they can and need to do to make sure their laws and policies have the desired impact for LGBTI lives.
"At a juncture in history when anti-LGBTI forces are rife, not only in headline-grabbing countries like Poland and Hungary, but across Europe, LGBTI people need all governments to seize this moment and make sure Europe remains a committed and active leader in the arena of human rights for everyone."
LGBTI rights in Central and Eastern Europe
Among the key findings from this year's index for the emerging Europe region is the continued poor performance of Azerbaijan (which scores just two per cent) and Armenia (four per cent), which occupy two of the bottom three places (the other is Turkey), and Poland, which remains the lowest-ranked European Union member with a score of 13.
Ukraine has gone down four places from 36 to 40, due to the expiration of its government's action plan, while Georgia has gone down two places, from 30 to 32, due to the lack of clear procedure for legal gender recognition and the risky situation of LGBT+ human rights defenders in the country.
There is better news from North Macedonia and Bosnia and Herzegovina however, which are among the countries with the biggest jump in scores.
Albania meanwhile also improved its position by including sex characteristics protection in anti-discrimination legislation.
Montenegro, which boasts a score of 64, is by quite some distance the highest-scoring country in the region, in 10th place overall, outperforming the Netherlands, France, Austria and Iceland, among others.
---
Unlike many news and information platforms, Emerging Europe is free to read, and always will be. There is no paywall here. We are independent, not affiliated with nor representing any political party or business organisation. We want the very best for emerging Europe, nothing more, nothing less. Your support will help us continue to spread the word about this amazing region.
You can contribute here. Thank you.