There is no single panacea, be it automation or remote working, to solve the various problems confronting the world of work. Instead, firms that make the best use of the tools now on offer, and which involve their staff in any key decisions, are likely to prosper.
The Covid-19 pandemic accelerated a huge number of workplace trends, not least remote working and flexible working hours.
Labour shortages – accelerated, amongst other factors, by what has become known as the Great Resignation – may offer employees more bargaining power, but most workers in emerging Europe remain lower paid than their western counterparts, and often with fewer rights.
---
---
According to PwC's Global Workforce Hopes and Fears Survey of more than 52,000 workers in 44 countries and territories, carried out in March 2022, pay is unsurprisingly the main factor in people wanting to change jobs, with 71 per cent citing it as a key reason.
Yet money isn't enough by itself to retain workers, who were almost as likely to cite intangible factors related to meaning. Job fulfilment and the ability to be one's true self at work were ranked second and third among employees considering a job change.
Margareta Mucibabici, public affairs and social impact director at UiPath, a Romanian-founded unicorn that makes robotic process automation software, says that solving these problems forms a key part of the company's philosophy.
"How can we make sure that in addition to productivity, efficiency, return on time, engagement, we can help our customers, but also their employees, leverage automation to become a force for good?", she says.
Talking to Sam Burke, managing editor and senior host at Real Vision during the Future of Emerging Europe Summit and Awards in Brussels in June, she confirms that Covid-19 was a turning point. 
"During the pandemic a very important thing happened: we realised we that have very little time to transition to digital."
One of the areas that saw a great deal of automation during the pandemic was healthcare.
"In the health care industry, it was very important to care for the patients," adds Mucibabici. "What we witnessed was the automation of an impressive amount of paperwork and bureaucracy, of repetitive tasks that doctors and nurses have to deal with in addition to looking out for the patients. This was one of the first kind of automation solutions for good that UiPath has developed."
Do not fear automation 
If there is one message that Mucibabici is keen to get across, it is that automation should not be feared, by employers or by workers.
"Automation automates tasks, not jobs," she says.
Indeed, contrary to popular fears that robots are destroying jobs, the rise in automation of European economies actually increased employment by one-two per cent from 2004-18, a research paper published in January claims.
Ronald Bachmann and Myrielle Gonschor from the RWI – Leibniz Institute for Economic Research in Germany and Piotr Lewandowski and Karol Madoń from Poland's Institute for Structural Research (IBS) studied how the increase in robot installation influenced worker flows, such as layoffs and new hirings, and therefore employment and unemployment levels in European economies.
"The general message that comes from our research is that adoption of robots in Europe hasn't led to a rise in unemployment," Gonschor said when publishing the study. "The number of industrial robots per 1,000 workers quadrupled from 2000 to 2017, and the effects on employment have been seen as mixed. But it turns out that robots aren't stealing our jobs – they're changing them."
The challenge for employers is to ensure that this change is for the better.
Andreea Baciu is UiPath's Chief Culture Officer and says that old job descriptions are obsolete.
"When people are thinking about jobs, they should think about allowing the employee to come in with their best self and contribute in a meaningful manner."
She believes that where work is done – at home or at an office – is now less important than the work being done.
"It is about the work that they do," she says. "If that work is meaningful, purposeful, if it puts their strengths to work, if it is something that they can contribute to, something bigger than themselves – then that will make them happy, regardless of where they are."
It's an idea that Michael Green, CEO of the Social Progress Imperative, agrees with.
"Old dinosaur economists like me traditionally always thought that economic growth and low employment were a guarantee of good social outcomes. I think what we are seeing is that quality of work is the critical issue going forward. We need to talk about the quality of work, we can't just have lots of people in bad jobs," he says.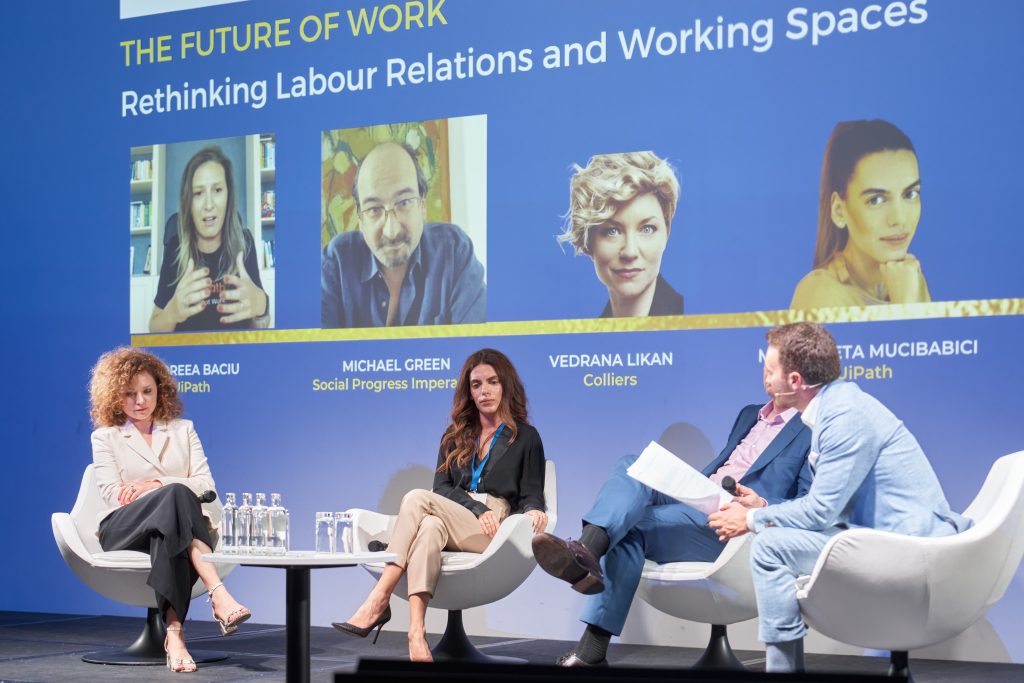 Quality of life 
In the context of emerging Europe, perhaps the biggest challenge with the future of work is keeping people in the region.
A 2020 study by medical journal The Lancet suggested that if current trends continue, the region would see a massive 55 per cent decrease in its population by 2100, from 185.35 million people to just 83.25 million.
Even before Russia's invasion, Ukraine was forecast to experience a 60 per cent decrease (more than 27 million people) to 17 million, with Romania also set to see a 60 per cent drop to just 7.77 million, while Poland will see its population reduced 59 per cent to 15 million.
Bulgaria's population, which now stands at seven million (down from 8.9 million in 1988), will drop even further to just 2.62 million, a 62 per cent decrease. In terms of percentage of population lost, Latvia will be the hardest hit in the region however, with a 77 per cent decrease that will see its 2.6 million people whittled down to just 430,000.
The trend is much the same across the region. Montenegro, Estonia and Albania will experience the smallest decrease, 27 per cent, still slightly higher however than the European average.
But Michael Green is optimistic that these trends will not continue. "Perceptions lag behind reality," he says.
"There has been an extraordinary story of convergence across Europe that people outside the region haven't really noticed yet.
"Countries like Czechia and Estonia have already overtaken United States in real quality of life. Poland is coming up behind, Bulgaria and Romania are a bit behind but converging. That is already happening."
He adds that migration patterns are explained better by social progress than by economic patterns.
"People move to where there is a better quality of life. If we are thinking about retaining talent and attracting talent back, it is not just about the economic factor."
Investors, he says, have a role to play is they want the desired stable environments where there is a reliable workforce.
"Investing in social progress factors is such an important part of a development strategy. Fortunately, we see that emerging Europe is on the right trajectory," he suggests. 

Let your employees choose 
But does location even matter anymore?
"We have seen in the business process outsourcing (BPO) space that working from anywhere is becoming the norm," says Peter Ryan, an influential and trusted BPO and CX research analyst and principal at Ryan Strategic Advisory.
Vedrana Likan, managing partner for Croatia, Slovenia and Bosnia and Herzegovina at Colliers says employees should be given the choice as to their place of work.
"Companies that decided to involve employees and test their preferences are prospering, they are actually doing better than those who imposed policies.
"The hybrid life that we will live from this point onward and probably forever, is that we have the right to choose," she adds.
This shift, she suggests, will change office buildings and spaces.
"Common areas, power areas, creative and innovation zones are becoming more open and inviting. The greatest advantage of office space is the chemistry, energy, creativity and innovation that can hardly be recreated on online meetings. We work way better when we are together."
This all leads to the conclusion that there is no single panacea, be it automation or remote working, to solve the various problems confronting the world of work. Instead, firms that make the best use of the tools now on offer, and which involve their staff in any key decisions, are likely to prosper.
"I wouldn't consider technology as the only key enabler in this conversation," says Margareta Mucibabici. "It is a lot about how the relationship with work is evolving. How do we want to position ourselves in this new relationship and new social contract?"
And just as companies that answer that question successfully will prosper, so will those that fail to do so likely suffer.
---
Margareta Mucibabici, Andreea Baciu, Michael Green, Peter Ryan, and Vedrana Likan were speaking with Sam Burke at the Future of Emerging Europe Summit & Awards in Brussels in June. You can watch the full discussion below.
---
Unlike many news and information platforms, Emerging Europe is free to read, and always will be. There is no paywall here. We are independent, not affiliated with nor representing any political party or business organisation. We want the very best for emerging Europe, nothing more, nothing less. Your support will help us continue to spread the word about this amazing region.
You can contribute here. Thank you.