The global real estate market is starting to recover from the pandemic slowly. Covid-19 has inevitably left some marks on the industry. What challenges is it facing, and what new opportunities are out there?
National governments have taken various steps to stop the spread of the virus, leading to the decline of real estate business activity. However, the market is expected to recover from the shock as the decrease is not due to its weakness but external factors. Overall, the market is expected to grow from some 2,687 billion US dollars in 2020 to over 2,774 billion in 2021.
---
---
Bouncing back
Some markets are bouncing back faster, others will take a bit longer to reach the pre-pandemic figures, as vaccination programmes differ from country to country. Experts believe the growth will speed up in the second half of the year because of pent-up demand.
Thus far, the global leasing activity of non-residential property has remained relatively slow as most people still work remotely. The first quarter of 2021 showed a decrease in leased volumes of 31 per cent compared to the same quarter in 2020, but rental activity in China has already returned to the pre-pandemic level, and the United States, the United Kingdom and Germany are expected to reach that level later this year. Australia has also shown signs of improvement. India still seems to be holding back.
In 2020, multiple market restrictions and supply chain disruptions resulted in delays in delivering many construction projects. In most cases, works have now resumed and, in 2021, the number of completed projects is expected to go up by 41 per cent, compared to 2020, the highest level of deliveries since 2008.
Office life again
Having worked remotely for over a year now, people seem to want to return to the pre-pandemic working system. CBRE says that employees might find their work from home productive, but they still wish to go back to offices as that gives them an opportunity to create a healthier work-life balance, build personal connections with colleagues, and have a comfortable working environment.
It is clear that the role of modern office space is evolving. They are places where employees communicate, work in groups and network. In the future, they're expected to host educational events and career development activities. Employees will be less attached to an office, but it will still play a big role in supporting corporate culture and cooperation.

These new needs are quickly being catered to. Tenants want business centres where people can spend an entire day in comfortable conditions. Clients wish for a children's zone, lounge zone, cafés and restaurants both in a building and within walking distance.
In Ukraine, a typical office is a "product of the 20th century" with a small lobby, limited parking spaces, almost no additional services, which cannot fulfil the demands of post-COVID work.
Investors are now turning to a hybrid office model, which includes a chain of main offices and a chain of small satellite ones close to large apartment complexes. This allows employees to work within walking distance from home, and it has everything they need to relax after work. Hours spent in a hybrid office are flexible – workers can meet only when they feel that ongoing projects need discussing. To respond to these needs, hybrid offices offer flexible discussion rooms – or co-workings – which can be booked by appointment.
A new model
However, not all companies are big enough to need a chain of offices. That is where co-working spaces come in. Apart from allowing flexible working hours, this format attracts clients with negotiable lease periods, various sizes of rented spaces and the ability to quickly change their working format.
Co-working spaces are an option not only for small companies of up to 10 employees but also for freelancers who want to benefit from a productive atmosphere and network. Art-zavod Platforma, one of the first co-working spaces, was opened in Kyiv specifically for that purpose. We wanted to give start-up founders and young entrepreneurs, especially in IT, a place to find like-minded people, extend their network and come up with ideas for start-ups. It was followed by Korolenkovskaya Business Centre and the next Platforma is scheduled for completion with the next two years, at the latest.
I believe it is important that Ukrainian IT talent has a place to communicate, exchange their experiences and support each other. We want that space to become a city in a city where great IT products see the world for the very first time – like in Silicon Valley.
If co-working spaces are not an option, start-up founders can try the so-called co-living spaces. These are apartments where each resident has a single private room and shares common places with other residents. Similarly to co-working spaces, co-living gathers people with similar ideas and values, except in the latter, they also share household chores and spend free time together.
I believe residential premises and co-living spaces have proved to be a great place to find a community. We are now planning to open the first such spaces in Kyiv, both in an urban and rural-like format. The sense of community seems to be an important component of a quality lifestyle. Young families and single professionals choose this option as they want to extend their social network and exchange ideas. They want to dive into their project and quickly progress.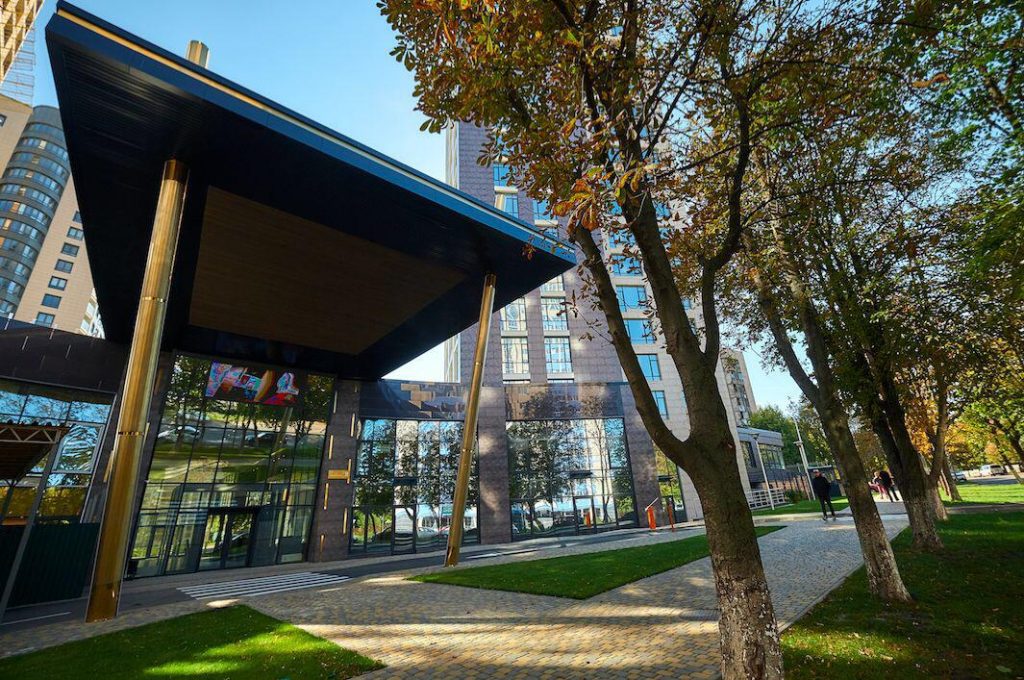 Investment opportunities 
Analysts expect that globally office rents will rise in the first quarter of 2022 and return to pre-crisis levels in 2025. This means that 2021 could be the right time to invest in business centres. It is possible to find developments at reasonable prices, especially considering that the market was overheated in 2019 and early 2020.
In Kyiv, the trend for a hybrid office model can kick-start new projects on the left bank of the Dnipro River. The industrial space can be transformed into up-to-date business centres. Low capital costs for purchase and renovation, along with a shorter project duration and smaller market density, will enable investors to offer quality office space at two-thirds of the B-class rental price near the city centre.
It is important to keep in mind, though, that unlike stable global markets where it is typical to sign a 10-year lease contract, in Ukraine, three-to-five-year rental periods for smaller spaces are more common.
Meanwhile, co-living spaces will switch to medium and long-term leases as they are less risky for landlords.
---
Unlike many news and information platforms, Emerging Europe is free to read, and always will be. There is no paywall here. We are independent, not affiliated with nor representing any political party or business organisation. We want the very best for emerging Europe, nothing more, nothing less. Your support will help us continue to spread the word about this amazing region.
You can contribute here. Thank you.