There was good news for football fans this week when UEFA announced that fans will be allowed to attend this year's European football championships, UEFA 2020. It was also good news for the three cities in emerging Europe that will be hosting matches: Baku, Bucharest, and Budapest.
Albert Camus, one of the 20th century's greatest philosophers but – in his youth – a distinctly average goalkeeper, once wrote: "only in a football stadium can I feel like a child again", a reflection perhaps of his absurdist view that the human inability to find any meaning in a purposeless, chaotic and irrational universe was perfectly encapsulated by the spectacle of thousands of people screaming from the stands as men kicked a ball around on a pitch below.
For the last 12 months Covid-19 restrictions have deprived us of that opportunity, with football around the world being played out in mostly empty stadiums.
---
---
Last week, however, there was some welcome news.
European football's governing body, UEFA, announced on April 9 that fans will be allowed to attend this year's European football championships – UEFA 2020, still known as such despite having been delayed a year by the Covid-19 pandemic – which is a positive development for emerging Europe.
What sets UEFA 2020 apart from previous tournaments – besides the fact that it will take a place a year late – is that for the first time in its 60-year history, there is no host country. Instead, matches will take place in all corners of Europe.
Three of the host cities – Budapest, Bucharest and Baku – are in the emerging Europe region.
In Budapest, a full house
Currently, eight of the host cities (including Budapest, Bucharest and Baku) have confirmed stadium capacities based on their projections of an improved health situation in their countries in June and July. A number of factors, including a country's vaccination roll-out, its planned measures for reopening the economy and the projected slow-down in the virus due to the warmer season have been taken into consideration.
Four others (Munich, Rome, Bilbao, Dublin) have until April 20 to provide additional information on their plans, and final decisions will be made on that date regarding the staging of matches in those four cities.
Budapest is currently the only UEFA 2020 host city aiming to fill its stadium, the Puskás Arena, to capacity, subject to spectators fulfilling strict entry requirements. Baku has confirmed a capacity of 50 per cent, with the travelling fans of participating teams required to present a negative Covid-19 test result to enter Azerbaijan.
Bucharest has confirmed a capacity of 25-33 per cent, but is keeping open the option of potentially raising capacity, depending on the general pandemic conditions in Romania.
Fans wishing to travel to the the three cities to watch the matches will of course find it challenging due to ever-changing restrictions. They will have to comply with border entry restrictions and requirements in force at the time (possibly including quarantine), and no exemptions will be granted for ticket holders.
What fans will not want for are magnificent stadiums. The three arenas in emerging Europe are amongst the most impressive in Europe.
The Puskás Arena
Of the three stadiums in emerging Europe, the Puskás Arena in Budapest is the newest, having hosted its first match, an international between Hungary and Uruguay, in November 2019. Previously, the Népstadion had occupied the site, and witnessed some of the most memorable victories of the great Hungarian team of the 1950s, led by the legendary inside forward, Ferenc Puskás, for whom it is named. England were battered here 7-1 in 1954, Puskás scoring twice. England approached the game in the hope that a 6–3 defeat to Hungary in London the previous year had been an aberration; instead, the Marvellous Magyars provided a masterclass of football in front of more than 100,000 fans. It remains England's heaviest defeat in international football.
Despite the historic value of the Népstadion for Hungarian football supporters, by the time of its demolition in 2016 it had become obsolete. Its capacity had been reduced to less than 30,000 due to safety concerns, and its replacement inevitable. Fortunately, the new stadium, which accommodates 67,000 people, is a direct tribute to the old. The main entrance to the old stadium has been preserved and is set to become a museum of Hungarian sporting achievement.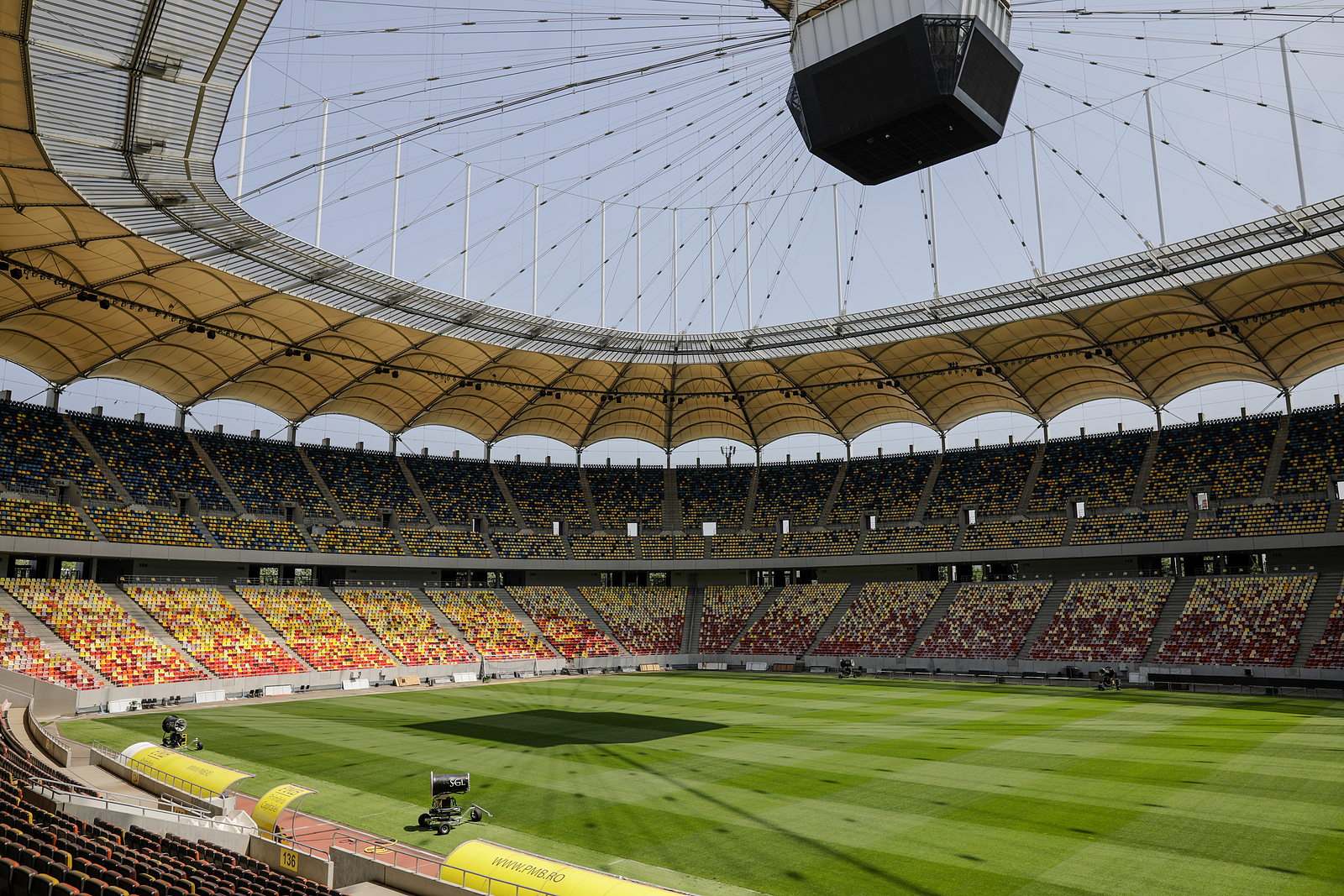 Arena Națională, Bucharest
At the Arena Națională in Bucharest, nothing remains of the August 23 Stadium that it replaced. Like the Népstadion, August 23 opened in 1953, and like most stadiums built in Eastern Europe in the 1950s it could be a bleak place, one of what football stadium architecture expert Simon Inglis dubbed "the socialist superbowls."
Its one redeeming feature was a kitsch neoclassical loggia from which former dictator Nicolae Ceaușescu would watch 'mass game' displays of coordinated gymnastics, usually on August 23 – the day in 1944 on which Romania switched sides in World War II – a national holiday during the communist period.
It was also the scene of some of Romanian football's finest victories, in the days when they had a decent team. Again, England feature prominently in any history of August 23: England never won in the stadium in any of their three attempts, and were defeated 2-1 in 1981.
Liverpool fans will have happier memories of a victory against Dinamo Bucharest on their way to winning the 1984 European Cup.
August 23 – by then something of a wreck and known as the Lia Manoliu Stadium – was demolished in 2007. It had long become more a concert venue than a place where football was played: Romania's national team preferred to play home matches elsewhere. The Rolling Stones, Depeche Mode and George Michael all performed here.
Late and enormously over budget (like just about every stadium that will host Euro 2020 matches) the Arena Națională hosted its first match in 2011. A year later the UEFA Europa League final between Atlético Madrid and Athletic Bilbao was played at the stadium: the most prestigious match ever held in Romania, at least until UEFA 2020 finally hits town in June.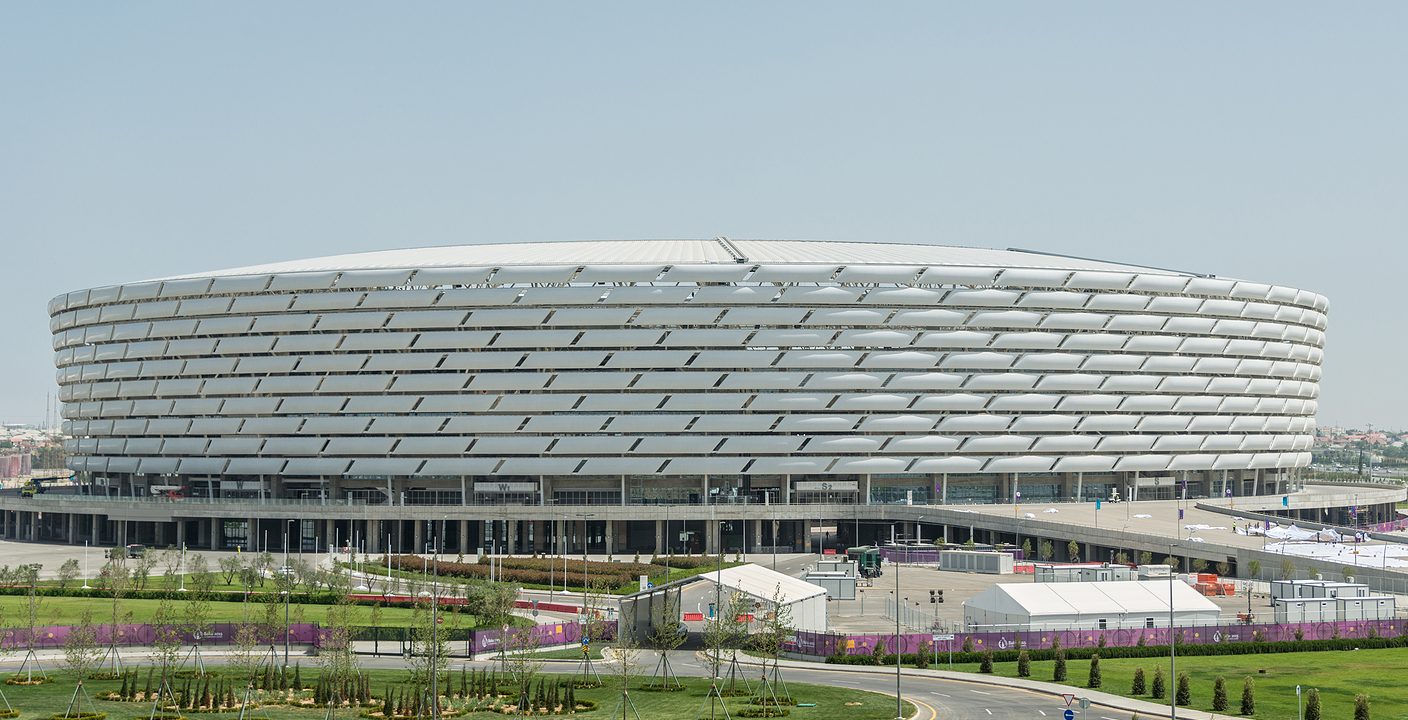 Olympic Stadium, Baku
I know what you are thinking: Azerbaijan has never hosted the Olympics, so why does Baku have an 'Olympic' stadium?
The country has three times bid to host the Olympic Games: 2016, 2020, and most recently 2024. It has yet to succeed, but looks set to continue campaigning until it eventually prevails. In all of its previous bids, it has made much of the fact that several Olympic-standard facilities already exist. Its showpiece is the Baku Olympic Stadium, which opened in 2015 in time to host the less prestigious European Games of that year.
When full, the stadium can hold 68,000 spectators. The need to accommodate athletics makes it less ideal for football than the arenas in Budapest and Bucharest (both of which dispensed with running tracks during their rebuilds) but its architecture is arguably the most eye-catching of any sporting arena in Europe.
The stadium has already hosted key football matches, most notably the 2019 Europa League final between Chelsea and Arsenal, which caused something of a stir given how difficult it is to get to Baku from London. Even before Covid-19 presented its own particular challenges to international travel, Baku was served by just three direct flights from London a week, meaning that most fans were forced to fly via Istanbul, Kyiv or Moscow.
Wales will play two games in Baku during UEFA 2020: Welsh fans, upbeat at the news that some will be allowed to attend, would be well advised to start planning their journeys soon. They may need to set off long before their first scheduled game, on June 12.
---
Photos:
Baku Olympic Stadium (top) by Eminn (BY-CC-4.0) and (bottom) Elnur at BigStockPhoto.
Puskás Arena by OD Pictures Kiemelt Kormányzati Beruházások Központja Nonprofit (BY-CC-4.0).
Arena Națională by MoiraM at BigStockPhoto.
---
Unlike many news and information platforms, Emerging Europe is free to read, and always will be. There is no paywall here. We are independent, not affiliated with nor representing any political party or business organisation. We want the very best for emerging Europe, nothing more, nothing less. Your support will help us continue to spread the word about this amazing region.
You can contribute here. Thank you.