Protests in Belarus since a rigged presidential election last August have been characterised by their creativity. So much so that as well as inspiring works of art, the protests themselves have often resembled performance pieces.
In the run up to the 2020 Belarusian presidential election, few expected it would be different from that in 2015 — predictable and uneventful.
Soon, however, huge queues of voters waiting to sign nomination ballots in support of opposition candidates became the first sign that this campaign was going to be special – and creative.
---
---
According to Belarusian law, any would-be president must gather 100,000 signatures in order to be officially registered as a candidate. If earlier members of candidates' teams had to go door-to-door asking for signatures, in 2020 thousands of voters showed initiative and formed long queues along the streets of Belarusian cities, often waiting for hours to sign.
Queuing turned out to be the most Belarusian method of protest: 26 years of dictatorship had taught people to be careful and creative when expressing their political opinions. What's more, Belarusians are obsessed with peaceful protests that don't break any laws. When a regime is tough, creativity must be brought into play.
Queues transformed into solidarity chains when Viktor Babaryko — a prominent opposition candidate — was arrested and barred from standing in the election. Thousands poured in to the main avenue of Minsk to join a human chain several kilometres in length.
This form of non-violent protest was revived a few days after the election when women dressed in white and holding flowers formed a chain in the centre of Minsk. Devastated by the three nights of terror and unprecedented violence that followed the August 9 election, nobody expected this demonstration to happen.
People would say that it was women who saved Belarusian protests in a very creative way. The culmination of the solidarity chains was reached when Lithuanians — including the current and former Lithuanian presidents — lined up from Vilnius to the Belarusian border in support of Belarusians, and in tribute to the famous Baltic Way of August 1989.
The cockroach
The 2020 election and subsequent protests were rich in visual symbols which made them special.
Among the most striking was a cockroach. This annoying and disgusting insect was used as a euphemism for the country's president Alexander Lukashenko. Voters standing in queues brought slippers with them — to swat the cockroach. Belarusians treated the regime with humour and creativity since laughter is the best medicine for dictatorship. Cockroach graffiti still appear on walls throughout Belarus.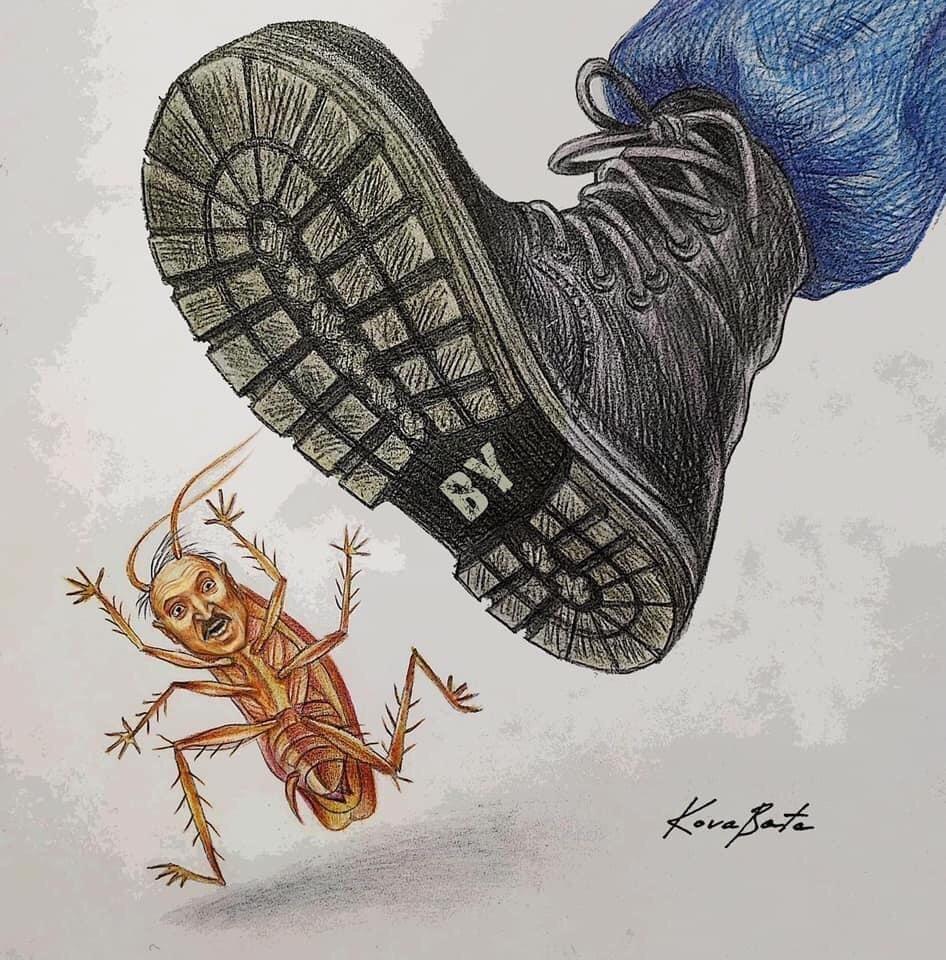 The presidential campaign affected art directly when Babaryko was arrested along with a corporate art collection owned by a bank of which he was chairman. As a well-known philanthropist, Babaryko had brought to Minsk paintings by world-famous Belarusian-born artists and built up a collection.
Among the "arrested" artworks was Eva — a portrait of a woman by Chaïm Soutine — which immediately became a symbol of the ongoing campaign. In order to express indignation and solidarity with Babaryko people designed T-shirts and tote bags with an imprisoned Eva.
Actors from the Belarus Free Theater dressed as prisoners, and wearing Eva masks gave a performance on the streets of London. It could be said that Eva was an omen of the future role of women in the campaign.
The most creative twist occurred when the staff of three opposition candidates, represented by three women, announced a joint campaign.
A photo of Maria Kalesnikava (a musician and Babaryko's companion), Veronika Tsepkala (the wife of Valery Tsepkalo, the founder of the Belarusian High-Tech Park and another potential rival to Lukashenko) and Svetlana Tikhanovskaya (a housewife who ran for president instead of her imprisoned husband, and by any objective measure won the election) became legendary.
The next day three hand gestures — a heart, a fist, and a V-sign — by the women in the photo appeared on T-shirts, posters, flags and hundreds of artworks, becoming a symbol of the joint campaign. A spontaneous and sincere move made by three brave women without any political background sparked Belarusians' creative energy.
A huge exhibition of protest art
The peaceful protests that took over Belarusian cities after the election can be considered a huge outdoor exhibition of protest art. Thousands of posters and other creative artefacts — including masks, dresses, and different kinds of installations — played the role of weapons. Numerous performances were also supposed to express people's emotions. A group of young people dressed as OMON (the brutal riot police unit) and wearing pig masks staged a mock massacre of protesters.
The three women continued to inspire art. Designers, illustrators, and graphic artists joined the Belarusian creative protest online and shared their work. Kalesnikava — a hero of many illustrations — tore up her passport on the Belarus-Ukraine border after being kidnapped and forced to leave the country. This brave and spontaneous move made her a hero and a political prisoner, and can be seen as an art performance itself.
Graffiti depicting heroes of ongoing events appeared in different neighbourhoods in Minsk. They became landmarks and united neighbours who met around them to spend some time together discussing the current situation, sharing home cooked food and supporting each other.
It was something that had never been seen before in Minsk — murals created a sense of togetherness in local communities. "We chipped in for paint and brushes and fought our fears together," says Ania, a creative director in Minsk. "When there are no rights and freedoms, you turn to your humour and creativity."
Music, along with visual arts, played an outstanding role in the Belarusian protests. While a couple of satirical bands inspired by the absurdity of the regime were formed after the election, existing bands released tracks devoted to the protests.
Perhaps the most impressive musical performances were those given by the Free Choir. Its participants gathered in the most unexpected public places — like train and subway stations, post offices and shopping malls — and performed Belarusian anthems.
As the protests continue and take on new forms of creativity, police look for protest creativity where there is none — arresting people simply for wearing red-and-white socks or holding red and white roses.
Meanwhile, Belarusian protest art travels around the world inspiring exhibitions, articles, and books.
Sources of Belarusian creative energy are yet to be depleted.
---
This article was co-written by Anton Vasiljeu.
---
Unlike many news and information platforms, Emerging Europe is free to read, and always will be. There is no paywall here. We are independent, not affiliated with nor representing any political party or business organisation. We want the very best for emerging Europe, nothing more, nothing less. Your support will help us continue to spread the word about this amazing region.
You can contribute here. Thank you.