With the Ukrainian government now calling on IT professionals to join the so-called IT Army of Ukraine, the country's technology sector is very much a part of Ukraine's concerted effort to fend off Russia's invasion.
In a world first, Ukraine is assembling a cyber army of volunteers to defend the country's critical networks as well as strike back against Russia.
Mykhailo Fedorov, Ukraine's vice prime minister and minister of digital transformation, first published an appeal to IT workers on Twitter, on February 26, two days after Russia began its invasion.
"We are creating an IT army. We need digital talents," Fedorov wrote. "There will be tasks for everyone. We continue to fight on the cyber front."
---
---
The tweet linked to a channel on messaging app Telegram where a list of prominent Russian websites was published. As of March 3, 276,000 people have responded to the call and subscribed to the Telegram channel.
Subscribers have been asked to launch distributed denial of service (DDoS) attacks against more than 30 major Russian state organisations and businesses, such as energy giant Gazprom, oil retailer Lukoil or the country's banks.
The official website of the Russian presidency, kremlin.ru, has also been targeted. It has been down for days, although whether this is a result of the work of Ukraine's IT army or sympathisers around the world is unclear.
Pavlo Kartashov, CEO of Ukrainian Start-up Fund tells Emerging Europe that, "we urged people to keep calm, be safe and if they have the possibility, to join the IT army of Ukraine".
At this early stage, it is impossible to tell what any long-term impact of Ukraine's IT army may be, especially as nothing on this scale has ever been attempted before.
The legality of such attacks is also highly questionable. While there is no clear-cut line and legislation varies greatly from country to country, hacking – understood as gaining unauthorised access to data in a system or computer – is considered illegal in most countries around the world.
But it is increasingly clear that the cyber warfare is now part and parcel of modern conflict. Russia itself has a long track record of cyber attacks, and has been targeting Ukraine with malicious data-wiping software and DDoS attacks of its own.
A pillar of Ukraine's resistance
That Ukraine has been able to call up such an effective IT army points to the country's strength in the technology sector.
Prior to last week's invasion, Ukrainian tech was booming. The country's third-largest sector by export value, it grew by a record-setting 36 per cent in 2021.
Ukraine is already home to a number of hugely successful start-ups such as GitLab or Grammarly, and in recent years it has been the region's up-and-coming tech hub.
Just last month, the country showed that its ambitions for the tech sector were bolder than ever.
"Don't be afraid to dream," the country's president Volodymyr Zelensky told the 2022 Diia Summit in Kyiv, a showcase for Ukraine's digital transformation.
"We want to transform Ukraine into a country of start-ups," he said. "We expect the technology share of GDP to grow from four to 10 per cent by 2025, up to 16.5 billion US dollars, making us the largest tech hub in Europe."
According to Nataly Veremeeva, the director of government-backed platform TechUkraine and Tech Emerging Europe Advocates ambassador, the Ukrainian tech sector is unlikely to crack under pressure.
"Ever since Russia annexed Crimea in 2014, we have been learning to live and function with the threat of a Russian invasion," Veremeeva tells Emerging Europe. "The tech community consists of thousands of educated people with a global outlook, and it is one of the pillars of Ukraine's resistance."
However, Veremeeva believes that for the tech sector to ride out the current storm, its clients will need to remain calm even as the war escalates.
"We hope that clients of Ukrainian companies will continue working with us," she adds. "This is especially important in times like these, when it's going to be much harder for the Ukrainian economy and Ukrainian companies to stay afloat."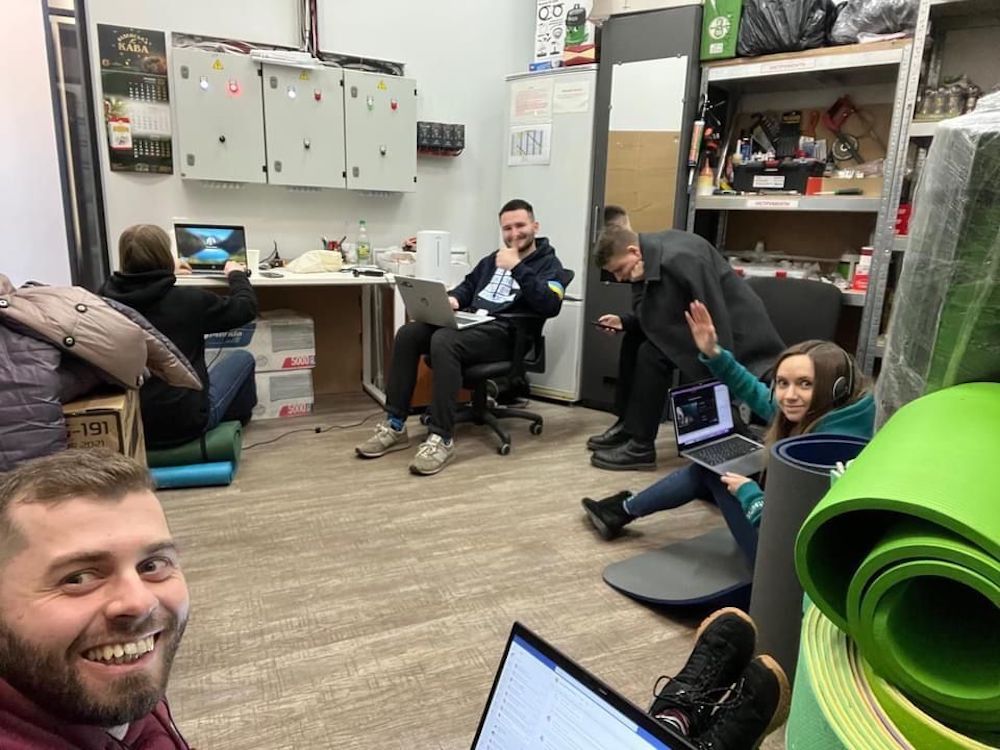 Reality hits
Although most Ukrainian companies have been making contingency plans since the 2014 annexation of Crimea, the reality of the invasion still hit them hard last week.
They have been scrambling for solutions ever since.
"Most tech companies have been forced to reorganise their work completely," Dominique Piotet, the CEO of Unit.City, tells Emerging Europe. "Many of them have been relocating their teams to safer cities such as Lviv, or even to Poland."
Mirroring Piotet's comments were the words of Yuliia Shohan, employer brand lead at AllSTARSIT, who told Emerging Europe that her company was evacuating all employees and their relatives from Kyiv, either to western Ukraine or to Poland.
Others have remained steadfast in their decision to stay in Ukraine, such as the Kyiv-based European Association of Software Engineering, whose CEO Lyubov Mochalova said: "The entire EASE team has stayed in Ukraine and continues to perform their duties as usual. This is our land and we will fight till the end."
Continued support from international partners will remain vital, adds Ukrainian Start-up Fund's Kartashov.
"Supporting everyone in such difficult times is impossible," he says, "but every saved project is a small step towards returning to normality after the war."

Technology to the rescue
In other responses to the Russian invasion, Kyiv wireless security company Ajax Systems has launched Air Alert, an application which instantly informs citizens about civil defence alerts.
The mobile app generates a loud critical alert warning of an incoming airstrike, chemical attack or technological catastrophe.
According to the producer's website, Air Alert receives signals first-hand from regional administrations, allowing people to react as quickly as possible. This can be particularly helpful in more remote areas of the country where civil defence sirens are not as effective as in city centres.
And there is more high-tech help coming Ukraine's way, too.
Digital Transformation Minister Fedorov reached out to Elon Musk in another tweet, asking the billionaire tech mogul to extend SpaceX Starlink access to Ukraine in case the country's network collapses.
Musk was quick to tweet back his support, and has since made good on his promise: the Starlink service is now active in Ukraine and the first satellite internet terminals have already arrived in the country.
---
Photos courtesy Sigma Software and Soft Serve.
---
Unlike many news and information platforms, Emerging Europe is free to read, and always will be. There is no paywall here. We are independent, not affiliated with nor representing any political party or business organisation. We want the very best for emerging Europe, nothing more, nothing less. Your support will help us continue to spread the word about this amazing region.
You can contribute here. Thank you.