Poor enforcement of environmental legislation, combined with climate change, has put the Dnipro river on the brink of an ecological disaster.
Every summer, the "beaches" of the Dnipro, the massive river bisecting Ukraine in two, teem with people escaping from the fierce heat.
Since July, however, they have had to find a new way to cool off, following a decision by Kyiv's authorities to ban swimming in the river due to healthcare concerns.
---
---
Earlier this year, the river was unusually green due to algae, caused by an increase in concentration of phosphates.Ukraine's Minister of Ecology Roman Abramovsky estimates that last year 6,000 tonnes of phosphates from all kinds of sources – ranging from dishwater detergent to pharmaceutical drugs and industrial waste – was dumped into the river.
The algae strangle the river of oxygen, killing off fish and insects and unbalancing its delicate ecosystem.
On June 29, a report in Ukraine's parliament branded the ecological situation of the Dnipro basin as "catastrophic".
Pollution
The Dnipro river originates in the Valdai Hills in Russia, passes through Belarus, and flows through Ukraine into the Black Sea. Its basin covers 42 per cent of Ukraine's territory and around 70 per cent of Ukraine's population uses the river and its tributaries as their main source of water.
"Every major city in Ukraine, other than Kharkiv, Odesa and Lviv, are on the Dnipro. Naturally, such a situation creates problems in terms of pollution if not managed properly," says Oleksiy Vasyliuk, an expert at Ukrainian Nature Conservation Group, am NGO.
With large cities such as Kyiv, Dnipro and Zaporizhzhia all located on the banks of the river, a major source of the pollution is waste from those cities and their residents.
Laboratory tests have found as many as 161 pollutants in the water. Of these, Deputy Minister of Ecology and Natural Resources Mykhailo Khorev identified 19 particularly dangerous pollutants, of which nine are pharmaceutical drugs, including antibiotics, anti-depressants, and steroids.
This "cocktail" of drugs and chemicals contributes to the particularly heavy buildup of algae observed this year.
"This year, the algae also blossomed unusually early," says Oleksandra Khalaim, head of environmental advocacy group Green Wave. "If fifteen or twenty years ago it started around September, this year it began in May. This of course indicates a worrying trend."
Records from the Bortnicheska aeration station just outside Kyiv show a fivefold increase in the concentration of algae in the water coming into it over the last twenty years. This overwhelms filtration and wastewater treatment facilities.
Beyond pollution caused by residents of cities and settlements on the Dnipro, industrial pollution is also a major issue contributing to the decline of the river.
Countless factories and power plants dot the length of the 2,200 kilometre river, each spewing its waste into the water. Europe's largest nuclear power plant, located just outside Zaporizhzhia in the town of Enerhodar, is also built by the Dnipro.
'Good laws go unenforced'
However, according to Anna Danyliak of environmental NGO Ecoaction, there is a third source of pollution which is consistently under acknowledged by authorities: agriculture. Pesticides, agrochemicals, artificial fertilisers and industrial amounts of animal waste all contribute to the pollution of the Dnipro. Furthermore, this type of pollution is much harder to track and monitor.
"With industrial or big city pollution, it always comes from a pipe or a certain physical point in space. With agriculture, the pollution is distributed across the river, which is called non-point or diffusive pollution… this our authorities don't calculate at all," Danyliak tells Emerging Europe.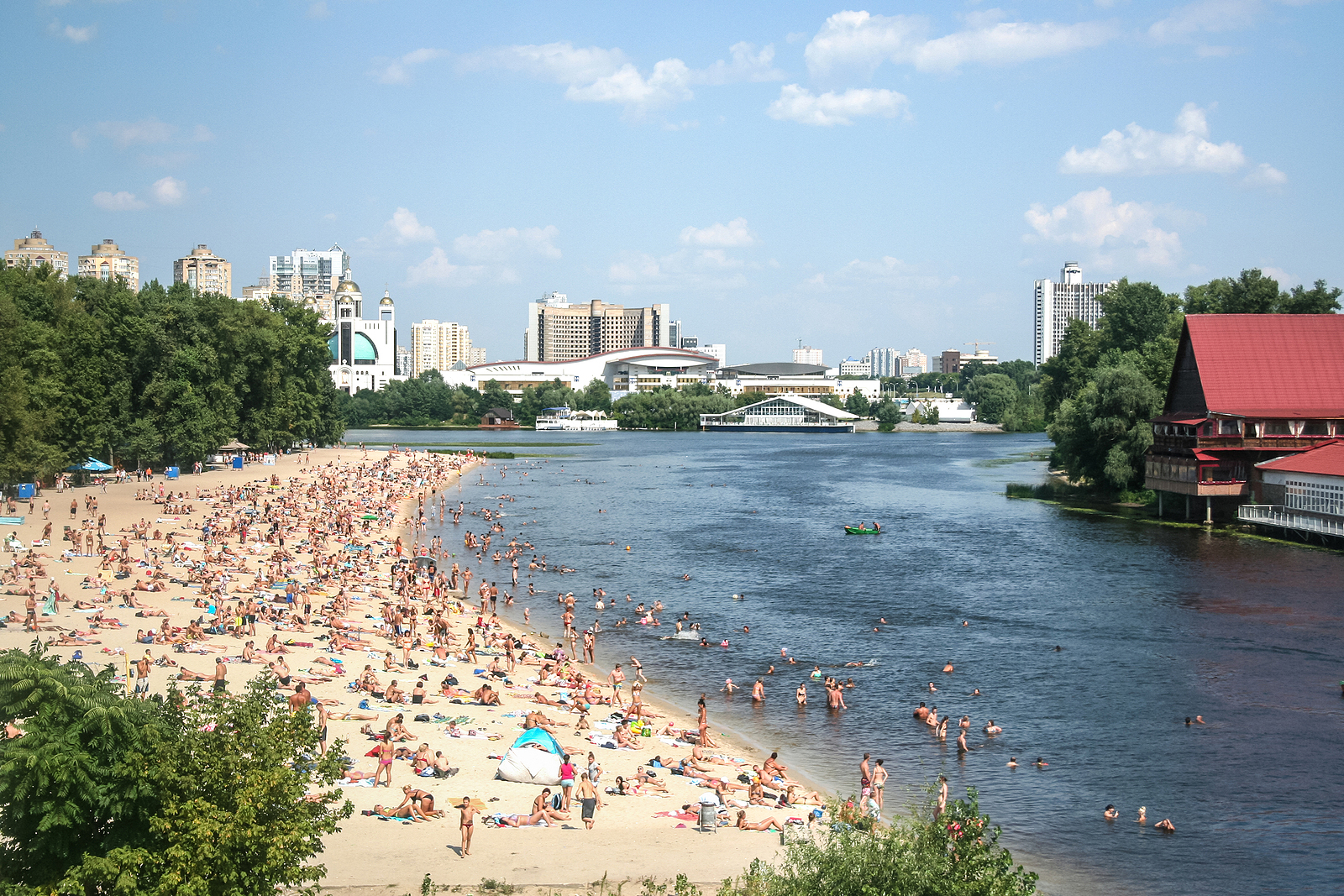 —
Although Ukraine does have environmental laws and regulations in place, complete with corresponding monitoring institutions, these have been insufficient to curb the environmental degradation.
"Everything looks just like an imitation of what they're supposed to do," says Oleksiy Vasyliuk. "We have ecological inspections, but they don't do anything. We have good laws, but they're not enforced."
This recalls an all too common problem in Ukraine, where laws, despite on the surface being strong and progressive, hardly even exist in practice. In reality, the government and its regulators are often powerless in the face of major businesses, while even state-owned enterprises pursue short-term benefits instead of following the laws mandated to them.
"I won't say that the regulators are the only ones not doing their job," says Anna Danyliak. "Often they just don't have the authority. Environmental inspections often have no power to influence businesses that pollute the water, they sometimes can't even do a proper inspection. In the case of agriculture, simply no one is responsible for monitoring the pollution caused by it…the environmental authorities are too weak, and businesses have no interest in changing what is usually a very comfortable arrangement for them."
Climate change is accelerating the deterioration of the Dnipro. This summer saw record breaking temperatures throughout Ukraine, also contributing to the amount of algae on the river.
There is little time for the government to act and reverse what damage has already been done.
Furthermore, it will require an enormous amount of effort, resources and political will. Even then, it may be several decades before substantial results are seen.
Ukrainians may have to give up (safely) swimming in the Dnipro for good.
---
Unlike many news and information platforms, Emerging Europe is free to read, and always will be. There is no paywall here. We are independent, not affiliated with nor representing any political party or business organisation. We want the very best for emerging Europe, nothing more, nothing less. Your support will help us continue to spread the word about this amazing region.
You can contribute here. Thank you.