Emerging Europe speaks with Kazakhstan's Vice Minister of Justice Almat Madaliyev about the legal reforms that are driving the country's emergence as a trusted investment destination.
Since independence in 1991, Kazakhstan has seen remarkable economic growth, fueled by structural reforms, abundant hydrocarbon resources, strong domestic demand, and foreign direct investment, all of which have helped reduce poverty and transform the country into an upper middle-income economy.
Much of this success can be put down to the country's robust legal and administrative system, widely recognised as a regional model of excellence.
---
---
Starting a business is a breeze: there is no minimum capital requirement, and in the World Bank's latest Doing Business report, Kazakhstan ranked 22nd globally when it comes to the ease of setting up a company.
On the World Bank's overall Ease of Doing Business Index, the country jumped from 36th – already a decent ranking – in 2018 to 25th in 2020.
And it is the legal framework that has made this possible. In two of the key metrics used by the World Bank, Kazakhstan is a global leader: it ranks fourth worldwide for the enforcement of contracts, and seventh for protecting minority investors.
Many countries in Western Europe can only dream of such a performance.
The people making it happen
One of the people making that happen is Almat Madaliyev, a vice minister at Kazakhstan's Ministry of Justice.
"[Our ministry] can't take all the credit for our impressive score in the [Ease of Doing Business] index, it was a joint effort involving all ministries, they all chipped in" he says, before smiling and adding, "although the highest-ranking metric, enforcement of contracts, is ours."
Madaliyev, who will be showcasing Kazakhstan's success in strengthening the country's justice system and its reform agenda at a series of webinars, organised with the World Bank, over the next few months, is one of many young Kazakhs who benefitted from a government programme that offers talented students support in order to attend university abroad.
A graduate of George Washington University Law School in the US and a member of the New York Bar, Madaliyev believes that the study aboard programme is important in creating a generation of Kazakhs with broad international experience.
"A wider worldview is beneficial," he tells Emerging Europe. "It's reassuring for investors when they come here and find people who speak their language, in every sense."
A vice minister since 2019, Madaliyev is one of the architects of a new administrative law that will come into effect in July.
While Kazakhstan is not a member of the Council of Europe (COE), the drafters of the law tried to take into account international standards, and in the opinion of the Venice Commission (COE's advisory body, composed of independent experts in constitutional law), "most provisions of the draft are consistent with the Council of Europe's objectives and recommendations in the sphere of legal enforcement of the rights and freedoms of individuals in their relations with the state through effective public administration and administrative justice." High praise indeed.
Importantly, Kazakhstan's new administrative law places the burden of proof on state bodies, as opposed to individuals or companies. This, says Madaliyev, represents a huge shift in the sphere of decision making.
"It will make all state bodies look very carefully at the rules they introduce. They will have to ensure that they get things right from the very start."
The new law also hands a more active role to judges in cases between private individuals and companies, and the state.
"They will be able to intervene. In a dispute between a private individual and a state authority two sides do not have the same muscle power and equal position. The new laws create a level playing field.
"I really see it as a game changer for the justice system in Kazakhstan. The challenge for us now is making it work."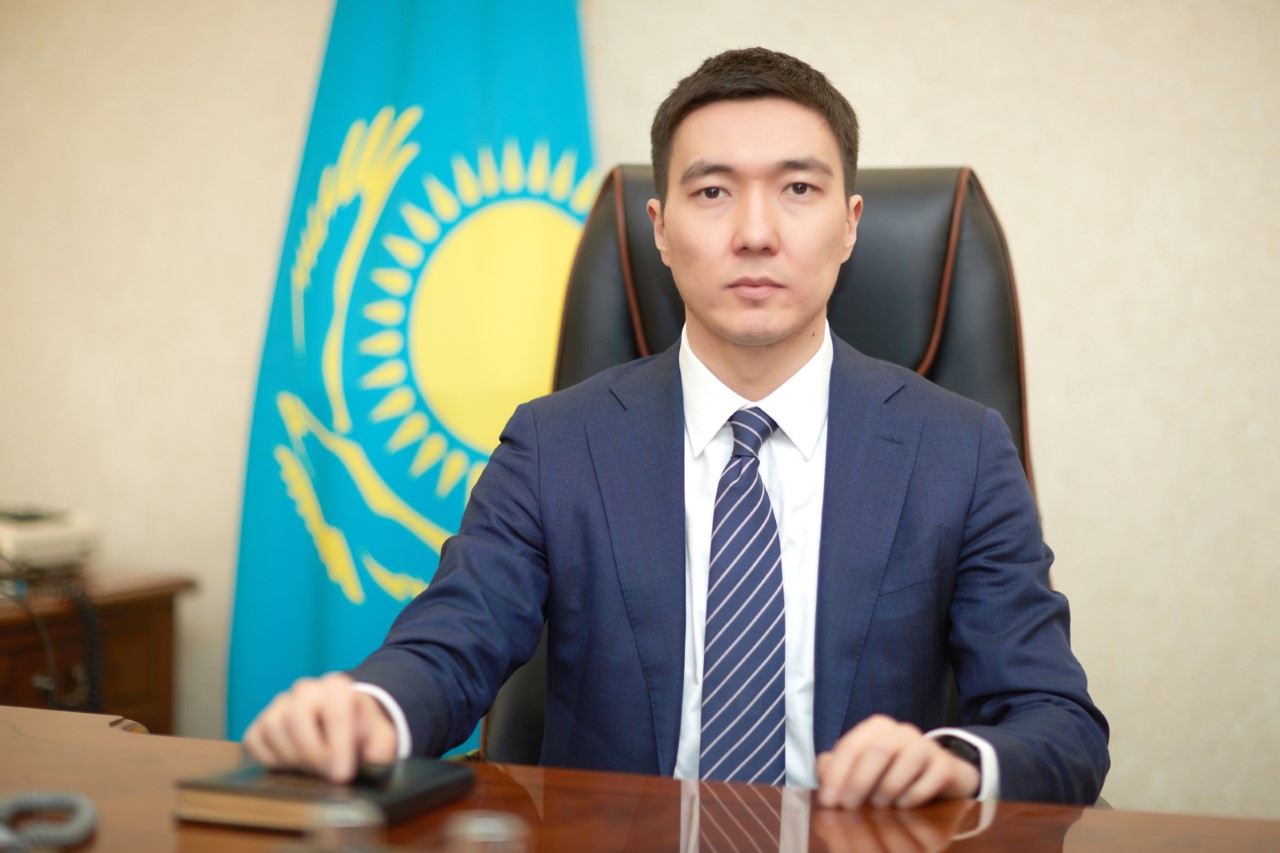 Transparency and digitalisation
One of the ways in which Madaliyev and his colleagues at the Ministry of Justice intend to do that is by ensuring transparency at all levels.
"I am a true believer in transparency and digitalisation," he says. "These are the best weapons we have with which to fight corruption."
Kazakhstan now has cameras in every court room in the country and has simplified procedures at all levels to create a system conducive to the quick resolution of cases.
Long paper trails have been digitalised, part of a national commitment to e-government: more than 80 per cent of government services are now available online, services used by 11 million people annually.
In 2020, the government launched a Smart Bridge project which aims to simplify the integration process of state information systems with the private sector.
"Digitalisation is a trend that started before Covid-19, but the pandemic has certainly accelerated it," says Madaliyev.
The vice minister is also keen on training for state officials at all levels, from judges to police officers and customs officials.
"In some cases, one guy in a uniform can ruin it all," he says.

Investment and diversification
The biggest challenge for Kazakhstan today is diversifying the economy of a country with the ninth-largest oil reserves in the world. Hydrocarbon output constituted 21 per cent of GDP and about 70 per cent of exports in 2020.
Technology is one area with huge potential. Madaliyev also identifies agriculture as an area for growth.
Kazakhstan's capital Nur-Sultan is rapidly becoming a tech hub, with Startup Genome, a research and policy advisory organisation, awarding it a maximum 10 in its latest funding growth index, which measures growth of early-stage funding.
According to Startup Genome, the average seed round of a start-up in Nur-Sultan is around 300,000 US dollars, not too far short of the global average of 494,000 US dollars.
A turning point in the development of the Kazakhstan start-up ecosystem was the founding of the Astana Hub in 2018, an international IT and start-up one-stop-shop that already houses more than 500 IT companies, many of which are start-ups. Residents include the Barcelona-based delivery app Glovo and Polish cybersecurity firm WebTotem.
In 2018, the Nur-Sultan International Financial Centre introduced a fintech regulatory sandbox which includes visa-free entry for residents of 57 countries, including all OECD member nations.
"Our doors are always open," Madaliyev tells Emerging Europe about collaboration with international organisations, such as the World Bank, chambers of commerce, or even individual investors.
"We are trying to create a system that responds to requests, that makes investors a part of the decision-making process."
Dispute resolution
It's no secret that Kazakhstan is currently embroiled in a long-running case with a Moldovan investor, Anatol Stati.
In 2013, Stati was awarded almost 500 million US dollars in compensation by a tribunal after a dispute with Kazakhstan. The award was made within the framework of the Energy Charter Treaty, an international agreement used as a protective instrument by investors. Kazakhstan signed the treaty in 1994 and has been under its regulatory umbrella since 1998.
After the award Kazakhstan exposed what it alleges is serious fraud by Stati and is now defending itself against Stati's attempts to enforce the award in many different jurisdictions.
"It is a highly unusual case of abuse of a system that is designed to protect investments made in good faith," confirms Madaliyev. "A number of globally-leading independent experts have analysed it and there is irrefutable evidence that the award was procured by fraud and the activity conducted by Stati in Kazakhstan was fraudulent – it had nothing to do with bona fide investment. By defending against fraud and money laundering, the Ministry of Justice is protecting the rule of law and guarding a healthy investment climate in the country."
What's important, Madaliyev says, is that investors understand that Stati's case is a remarkable exception, not just in Kazakhstan but generally for investment protection and arbitration which need to be protected from abuse, as the independent experts point out.
"In case of disputes or disagreements with investors," he adds, "in the overwhelming majority the government and foreign investors reach an amicable resolution or compromise swiftly, without even catching the attention of the media."
---
Unlike many news and information platforms, Emerging Europe is free to read, and always will be. There is no paywall here. We are independent, not affiliated with nor representing any political party or business organisation. We want the very best for emerging Europe, nothing more, nothing less. Your support will help us continue to spread the word about this amazing region.
You can contribute here. Thank you.